Wrestlers set to take to the mats again
by
Kent Harris
Stars and Stripes
January 6, 2022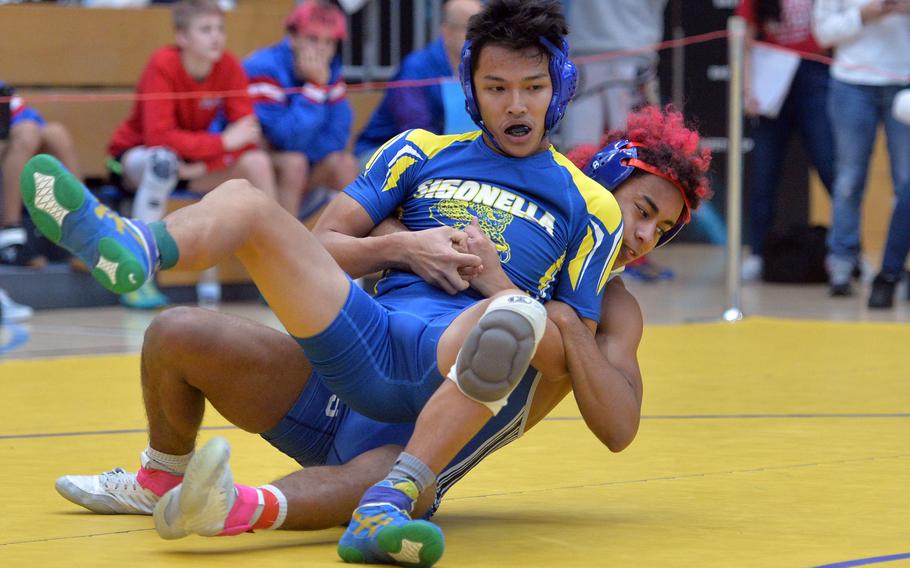 It's been 700 days since Ramstein heavyweight Teddy Ward defended his title at the European championships.
No referee has held up a DODEA-Europe wrestler's hand signaling victory since. But that should change Saturday for nine teams at three locations in Germany.
"I believe the general consensus from a coach's view is that the students are happy to be part of a team," said Brussels sponsor Rebecca Pierce, whose team travels to Spangdahlem Air Base.
The other consensus expressed by the handful of coaches who responded to inquiries on the season is that no one's exactly sure what to expect on the mats.
"I expect all teams to be on the same page this year," Ramstein's Thomas Wright said. "We lost all last season and are now rebuilding."
Wrestlers also lost the first month of this season when basketball and wrestling were put on pause in December. That pause largely eliminated a new twist to the season: dual meets, where teams square off against each other instead of the traditional meet in Europe that's focused on the individual.
That doesn't mean there won't be anything new on the mats this year. In fact, most of the wrestlers – and more than a few coaches – will be making their debuts.
That includes perennial power Stuttgart, which tied Ramstein for the title in 2020 for its seventh straight championship. Matthew Fischer takes over the reins for the Panthers.
But not everything is new. Perennial powers Ramstein and Stuttgart should be well-represented on the medal stand, even if most of the faces are new. Part of that comes down to numbers. With two of the largest enrollments in Europe, the numbers are there. Wright said, for instance, that the Royals have 40 wrestlers out. More than half (25) are new to the sport. But Ramstein also boasts six seniors who were on mats in Europe the last time the sport was contested: Bandon Lapitan, Collin Partington, Cole Marshall, Matt Abel, Michael Dobbs and Lebron Thomas. Add in junior transfer Colton Ploetz and senior transfer Caden Umphlet-Martinez and Ramstein should have more than half the weight brackets filled with experienced wrestlers.
That doesn't mean, however, that smaller schools who can't match those numbers don't have some contenders. Or even favorites in some cases.
Vilseck is counting on seniors Lukas Ahrend and Thomas Clearwater and junior Pierre Fuentes to lead the way and has 30 wrestlers out. Brussels' William Pierce is the only one of eight wrestlers with prior experience. But he placed at the championships in 2020. AFNORTH coach Greg Blankenship lists seven wrestlers he thinks have a shot at wrestling at year's end, some of them new to the school. A lineup of Casey Matthews (120 pounds), Santiago Aponte (126), Deacon Smith (132), Apollo Aponte (152), Caden Snider (160), Tristan Samuelson (195) and Ethan Edwards (220) could match up well with most schools.
With 17 wrestlers, Spangdahlem wouldn't be favored in most dual meets. But two-time defending champion Carson Hicks is back for a final try as a senior and teammate Brenden Castillo also placed in 2020.
Not all teams will be on the mat Saturday. Alconbury and Lakenheath are scheduled to begin the season against each other the following weekend. Aviano and Vicenza may wrestle Saturday. But Naples, Sigonella and Rota aren't scheduled to compete at all in January due to coronavirus concerns.
---
---
---
---