Most DODEA-Europe basketball teams are finally back in action this weekend
by
Gregory Broome
Special to Stars and Stripes
January 6, 2022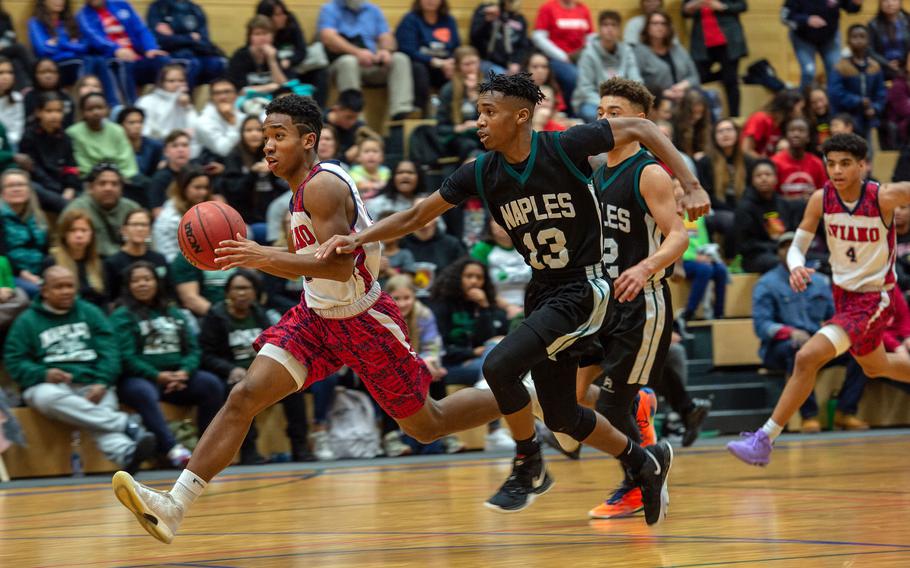 The boys and girls basketball championships in February of 2020 signaled the end the pre-pandemic era of DODEA-Europe sports.
Weeks later, the organization canceled the 2020 spring season due to COVID-19 and has been canceling or curtailing its activities ever since.
DODEA-Europe was largely successful in its fall return. But going back to indoor sports in the winter has already been pushed back a month amid a resurgence of COVID-19 in the form of the Omicron variant. And some schools will start even later.
As the calendar turned to 2022, DODEA-Europe hasn't held a basketball game since crowning its 2019-20 champions. The entirety of its 2020-21 season was canceled; and the December portion of its 2021-22 season was cut from the schedule.
That should change Friday with an extensive schedule of boys and girls games. It won't be complete restart, though, as Vicenza and Aviano are the only schools expected to play games in January after the Navy decided Rota, Naples and Sigonella wouldn't compete – though they'll practice – this month.
If the season proceeds as planned, it will run through championship tournaments Feb. 23-26 in Wiesbaden, Germany.
Basketball programs, meanwhile, are doing their best to prepare for a season of uncertainty and unpredictability. Many teams have new coaches, and most, if not all, have largely new rosters. Sustainability is always an issue in DODEA-Europe, but this season that challenge is magnified.
"Flexibility has been a necessity," first-year Hohenfels boys coach Shannon Filonczuk said.
"I think that this season is somewhat a new beginning for all schools," said Stuttgart girls coach Robin Hess, whose team hopes to resume its Division I dynasty this season.
That means substantial practice time spent on remediation and individual skill development.
"It's back to basics," Ramstein girls coach Nathan Brewster said. "The girls came in rusty and need to work on fundamentals and basics a lot."
The Royals expect to have plenty of company among their DODEA-Europe competition.
"I think most of us are starting from scratch again," Brewster said.
At least one of Ramstein's rivals confirmed that theory.
"We have an entire team of players that have not played in more than a year," Black Forest Academy girls coach Lisa Ebenroth said. "So we have to spend more time on basic skills to bring them up to speed."
New BFA boys head coach Jeff Cyr agreed, adding that it takes some effort to translate young athletes' talent and exuberance for the game into a team culture.
"There are a fair amount of habits learned from open-gym type environments that need to be broken down and relearned to fit a team-based approach," Cyr said. "We have a lot of guys who like to play basketball. Our guys just haven't had a chance to play a lot of basketball in organized environments throughout their lives.
"We are all just trying to figure each other out and bring some organization to good young men who like to play basketball."
Those teams lucky enough to retain some veteran leadership will look to use it to their advantage. Naples coach Craig Lord said he has three players, including two returning starters, back from his 2019-20 Division II boys championship squad.
"The team has to develop quickly," Lord said. "I will rely heavily on the corporate knowledge of the experienced players."
For all the delays and challenges, DODEA-Europe coaches and players are still experiencing the anticipation of a new season. This season, in whatever form it eventually takes, will be particularly rewarding.
"Every practice and every game will be a gift this year," Ebenroth said.
---
---
---
---