Basketball, wrestling will return to Europe in January
by
Kent Harris
Stars and Stripes
December 13, 2021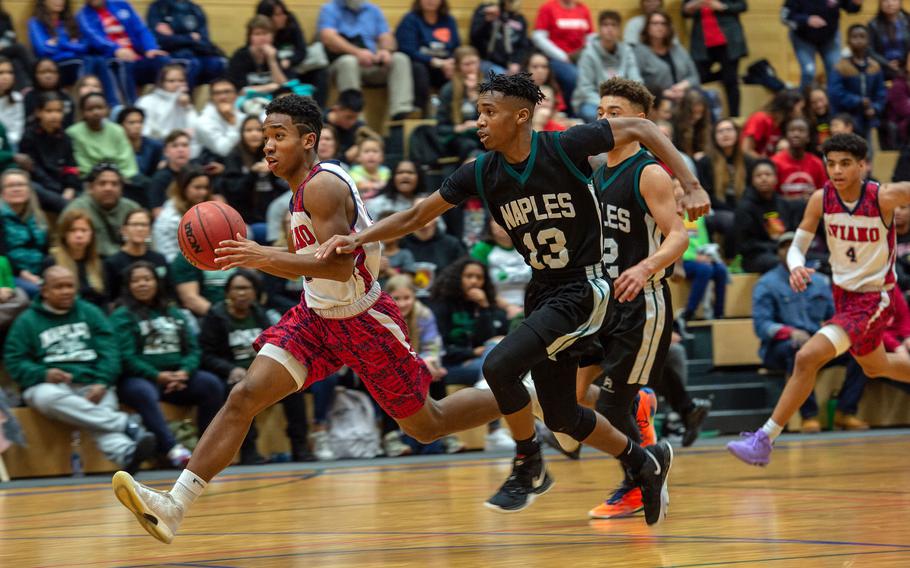 AVIANO AIR BASE, Italy – Less than two weeks after it announced that basketball and wrestling wouldn't be played in December – putting much of the winter sports season in potential jeopardy – DODEA-Europe said Monday afternoon that the sports will be played after the winter break.
"… DoDEA-Europe is moving ahead with our regularly scheduled winter athletic season starting again on the weekend of January 7-8, 2022," Acting DODEA-Europe Director Charles Kelker wrote in a letter dated Monday.
Less than an hour after the release, DODEA-Europe Athletic Director Kathy Clemmons issued revised schedules for basketball. She said she was finalizing new wrestling schedules Monday afternoon.
"This is great news," Clemmons said, giving credit to school and military leadership for coordinating the return to action. "It will send us into the holiday time with a happier heart …"
By eliminating a bye week that was in the schedule, Clemmons said it was possible to add in the missed December contests by extending the season by another week. Basketball championships will now be held Feb. 23-26, with wrestling a week earlier.
That would allow the spring sports season to start in March before spring break. Spring sports – with the exception of a limited, virtual track season a year ago – have not been held for two years due to coronavirus protocols.
A few schools will wrestle on Wednesday, Jan. 5 and be joined by others on Saturday, Jan. 8.
The first basketball games of the season will now be held Friday, Jan. 7 in Baumholder, Vilseck, Hohenfels and Spangdahlem in Germany; Mons and Brussels in Belgium and Aviano and Vicenza in Italy.
In his letter, Kelker stressed that it's important for students and their families to follow COVID-19 guidelines set down in their communities in order for them to avoid contracting coronavirus during the holiday break. Widespread outbreaks could again threaten the season and even smaller ones might limit participation by some teams.
Recent media reports have predicted the omicron variant of COVID-19 could soon become widespread across Europe.
---
---
---
---