Shooters take aim at Saturday to start winter season
by
Kent Harris
Stars and Stripes
December 9, 2021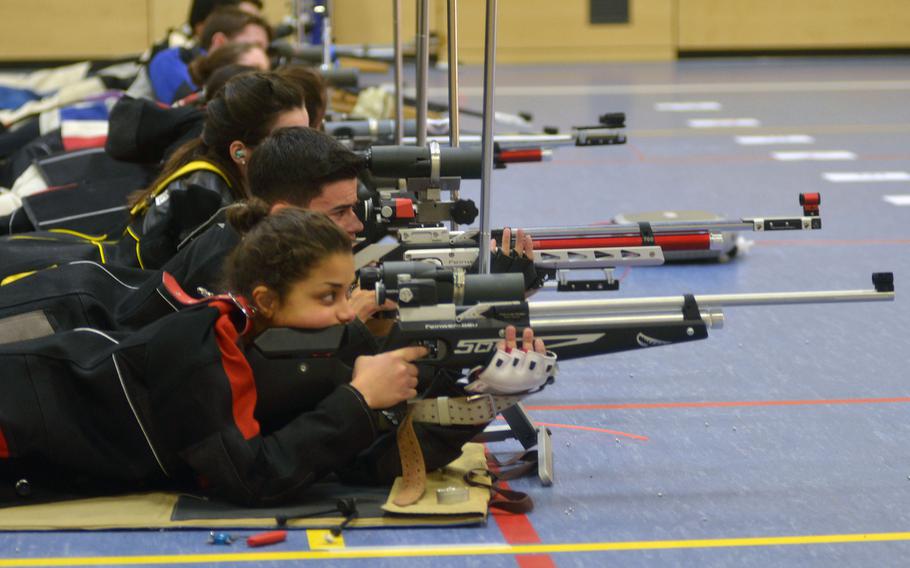 The more things change, the more they appear to stay the same for the top marksmanship programs in DODEA-Europe.
That included last year's switch to remote-only competition because of the coronavirus pandemic. With basketball and wrestling currently on hold because of COVID-19 protocols, marksmanship starts up Saturday only because it can be conducted at separate sites around Europe.
And it would be a surprise if Stuttgart and Kaiserslautern aren't the ones fighting it out for the title again. The Panthers have won eight straight DODEA-Europe titles. The Raiders have finished second the last two years.
Stuttgart's team went on to take third place among all American JROTC programs in the spring, retaining its Army JROTC title, while Kaiserslautern successfully defended its Air Force JROTC title crown and was 14th overall.
As Vilseck coach John Sabala put it: "Several of the marksmanship teams here in Germany compete at a whole other level…"
And though it doesn't seem to matter who shoots for Stuttgart over the years, many of those taking aim this year starred last year. That includes two-time champion Maria Tortorelli, runner-up Kate Swett and third-place finisher Leila Ybarra.
Coach Raul Pinon lists sophomore Nole Smith, juniors Rylee Willett, Caroline Hellerstedt and freshman Shailayah Miller as others to watch this season.
The Raiders return plenty of experience as well. Jonathan Stricker was fourth a year ago, Aiden Malcolm sixth and Vivian Dougherty 10th. They're joined by senior Marina Benavides and sophomores Reigen Pezel and Hannah San Pedro. Mya Mead, Maurnice Ahavit, Lana Le and Noah Truschinksi also made the cut from about two dozen who tried out.
Coach William Conley joined Pinon in expressing regret their shooters wouldn't get to compete side by side against each other and other competitors this season. But both said they and their teams were thankful to compete at all.
That's also the sentiment expressed by coaches from Alconbury and Vilseck, the only other two schools to respond to questions about the upcoming season.
Alconbury should be led by seniors Christopher Pardo and Wyatt Jarvis, juniors Daniella Pantoja and Nick Snopkowski and sophomore Rachana Dacumos.
Coach John Pardo said his team's goal starting off the season is to finish in the top six to get an invitation to compete in the finals.
Sabala said only two Falcons competed at all at the varsity level last year. Adelena Alvares and Naruecha Greenberg are expected to be among the team's top scorers this year. Ricky Gravely shot for the JV team last year. Two juniors, two sophomores and four freshmen make up the rest of the roster – all in their first year of competition.
Sabala said this season is a "complete rebuilding year" for Vilseck. "The favorite remains Stuttgart High School and this will not change anytime soon."
---
---
---
---