Stuttgart's drive for a perfect football season can't be stopped
by
Kent Harris
Stars and Stripes
October 31, 2021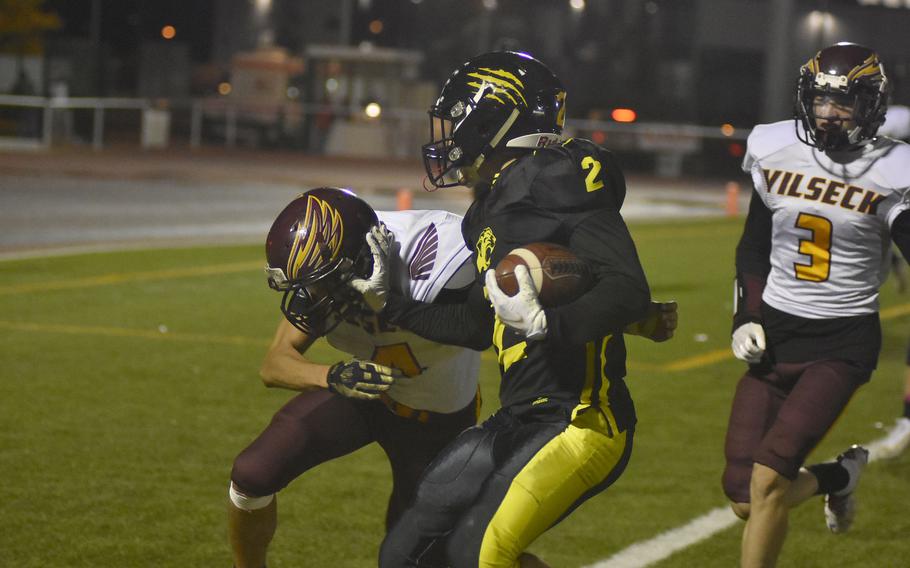 KAISERSLAUTERN, Germany — Hours before their DODEA-Europe Division I title game against Vilseck on Saturday, the Stuttgart Panthers stood and watched the scoreboard light up in the Division III championship game.
Something must have rubbed off.
The Panthers capped an unbeaten season by routing the Falcons 57-14 in a game that used a running clock early on in the third quarter.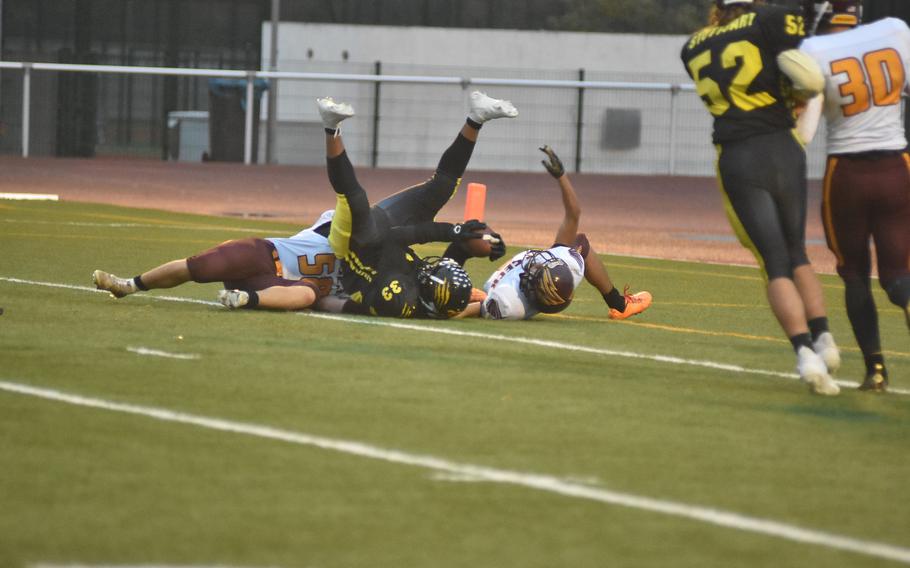 Stuttgart coach Bill Ratcliff's strategy seemed deceptively simple.
"We knew (Vilseck) had a lot of two-way players," he said. "So we thought we'd keep their defense on the field a while."
That also kept Vilseck star running back Aveion Ruffin from completely dominating the game.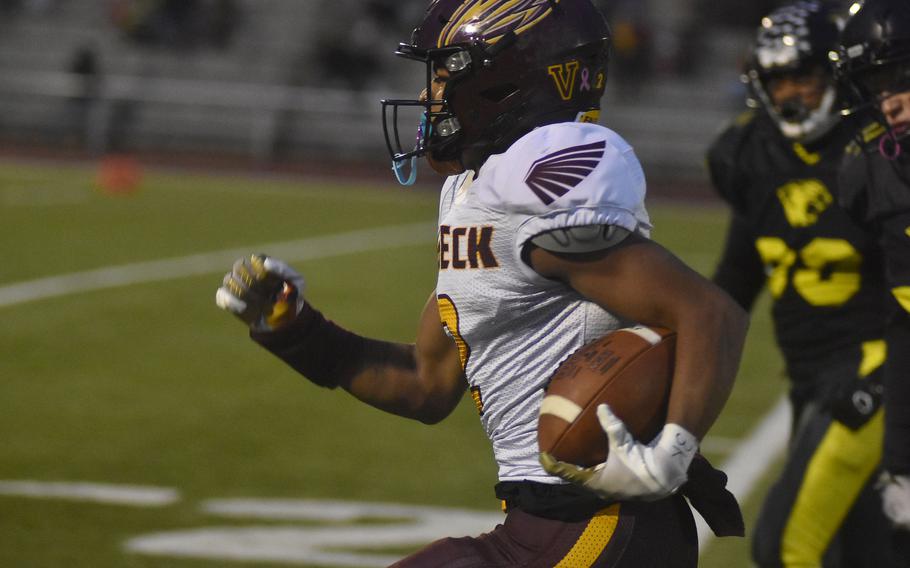 "He's such a great player," Ratcliff said. "But he can't score if they're not on offense."
Ruffin did indeed do some damage, carrying the ball 12 times for 129 yards and a pair of touchdowns in the first half.
But he couldn't match the pace set by a handful of Panthers who barreled or sprinted their way into the end zone, one after the other — especially in the second quarter when Stuttgart put up 34 points.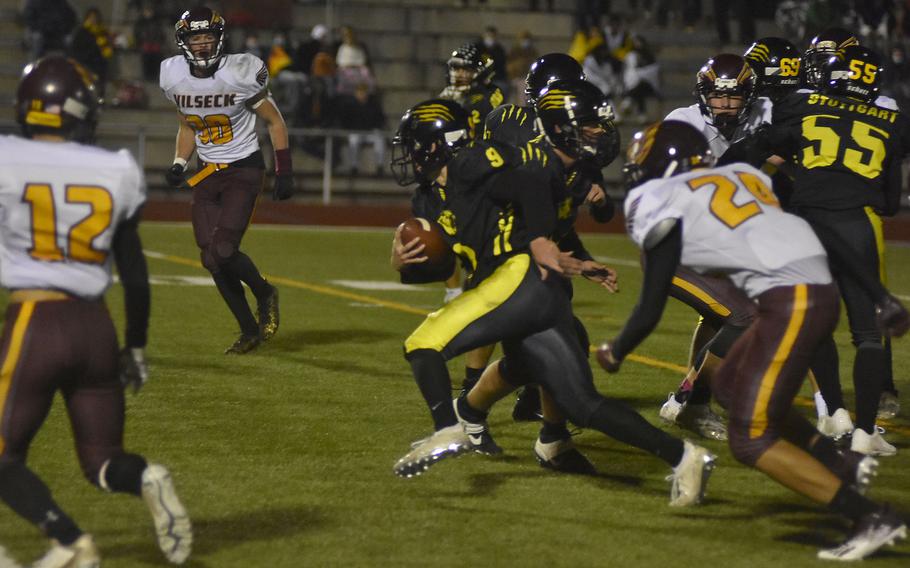 Speedy quarterback Caiden Ray was particularly troublesome, continually turning up field after deciding there was no one open to pass to.
"I told him, 'If the play's not there, don't force it, just take off and run with it,'" Ratcliff said.
Ray could also hand it off to bruising runners Trenton Jackson or Christian Just or speedier backs Vincent Allen or Tyler Farrar.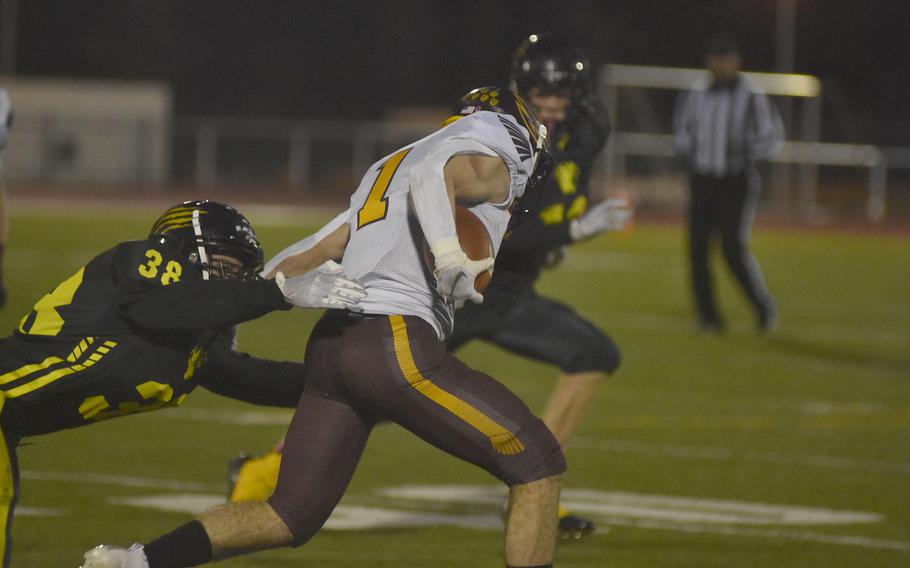 Jackson found the end zone first, dragging two Falcons with him from 5 yards out. Just's 1-yard score with 6 minutes, 13 seconds left and Ray's scamper for a conversion made it 16-0. Ruffin's 43-yard scoring run and a two-point conversion cut the score in half near the end of the first quarter.
He and Ray traded touchdown runs early in the second quarter before Stuttgart went on a scoring spree. Farrar scored from 11 yards out. Ray followed less than two minutes later with a 10-yard keeper. Farrar scored again by picking up a fumble and returning it 24 yards for a score. Ray's 35-yard keeper and an extra point made it 50-14 at halftime.
An 86-yard screen pass from Ray to Jackson four plays into the second half put the Panthers past DODEA-Europe's 39-point mercy rule and the clock ran on.
Vilseck coach Eric Mead said just getting to the championship game was a victory for the school, which has less than half the enrollment of Stuttgart.
"Today was a loss," he said. "But it was also a big win for our program. It's been 26 years since Vilseck has even been to a (football) championship game."