Baumholder races past Spangdahlem for small-school football crown
by
Kent Harris
Stars and Stripes
October 31, 2021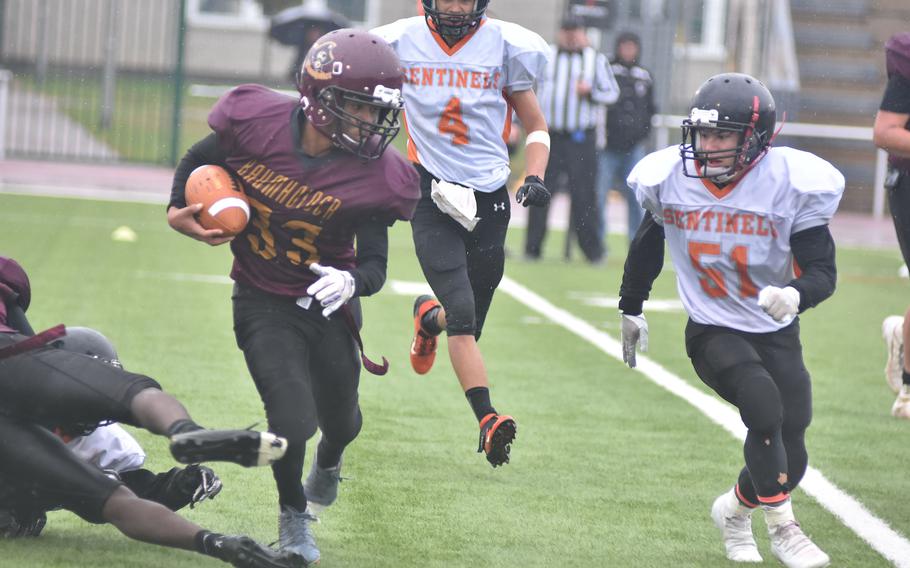 KAISERSLAUTERN, Germany — Those watching Baumholder run a double reverse Saturday couldn't be faulted if they thought it bore some resemblance to a track relay team.
Senior Anthony Willis, named offensive most valuable player, and junior Camron McDonald, the defensive MVP, do indeed plan to compete on the track in the spring. They will have far less room to maneuver there than they do in six-man football.
"Six-man football is all about speed," Spangdahlem coach Terry Hoffman said after watching Baumholder race past his team 70-50 in the DODEA-Europe Division III title game Saturday.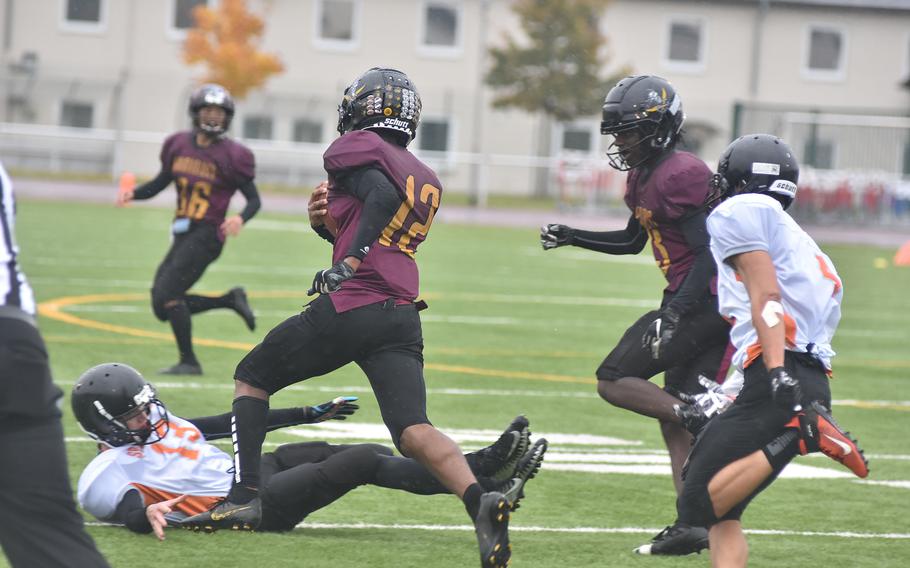 Every time the Sentinels reached the end zone, Willis or McDonald seemed to have a response.
And it wasn't a good one for Spangdahlem.
McDonald scored twice by picking up fumbles and racing down the field in the first quarter, which was played under a steady drizzle that made the ball a bit slippery. Willis scored on a 52-yard run on fourth-and-9, weaving all over the field. Then he ran back a kickoff 78 yards in much the same fashion.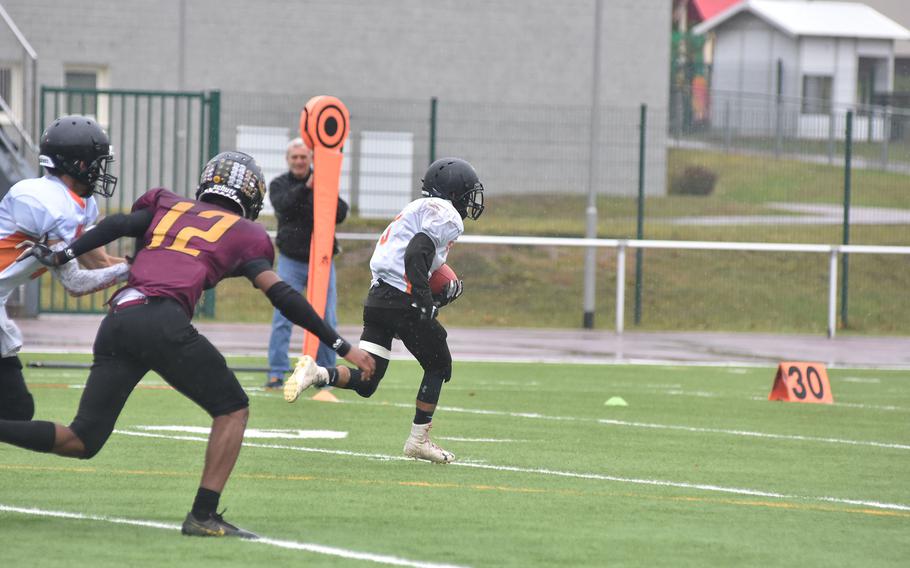 A extra point by Justin Rodriguez after that play made the score 27-14 at the end of the first quarter. Though they'd score six more times, the Sentinels wouldn't get closer than nine points the rest of the way.
Willis added second-half scoring jaunts of 37, 65 and 63 yards and set up a 1-yard score from McDonald with a 32-yard scamper. The two also connected on a 54-yard pass play for a touchdown late in the game. Junior Quadre Willis added a 38-yard touchdown run in the third quarter.
Spangdahlem's Adam Jalomo showed off a bit of speed himself, with a 50-yard run on the first play from scrimmage to open the scoring and an 83-yard touchdown return to end it. Quarterback Jalien Jackson threw scoring passes of 5 yards to Carson Hicks, 41 and 15 yards to Carson Landers and 43 yards to Kian Williams. And Hicks scored on a 23-yard run. But all that and a safety remarkably fell a few scores short.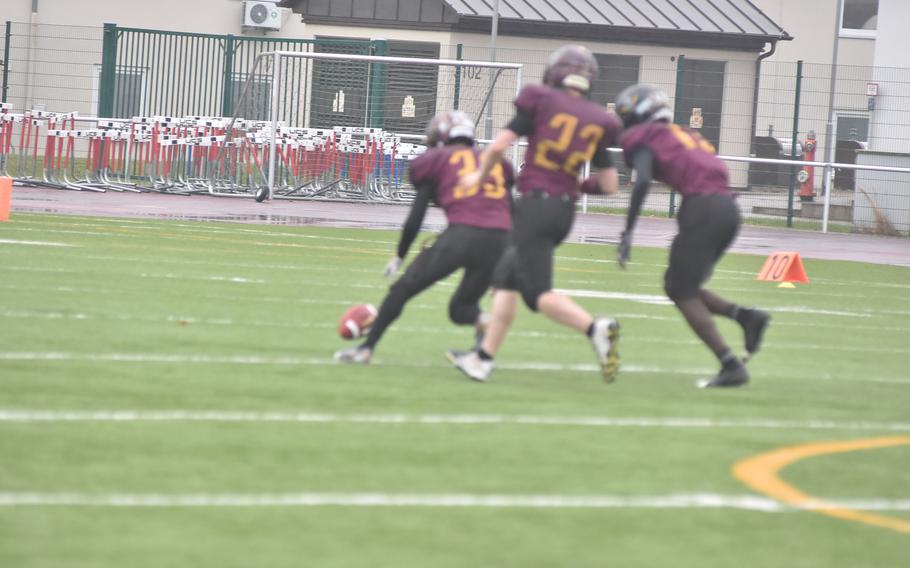 The Buccaneers, who only had 12 players in uniform, didn't even admit to being that tired after the game.
"We knew we were going to be outnumbered all year," coach Richard Peterson said. "So we spend at least 30 minutes on conditioning every practice."
Anthony Willis did certainly look winded at times during the game. But he brushed it off afterwards.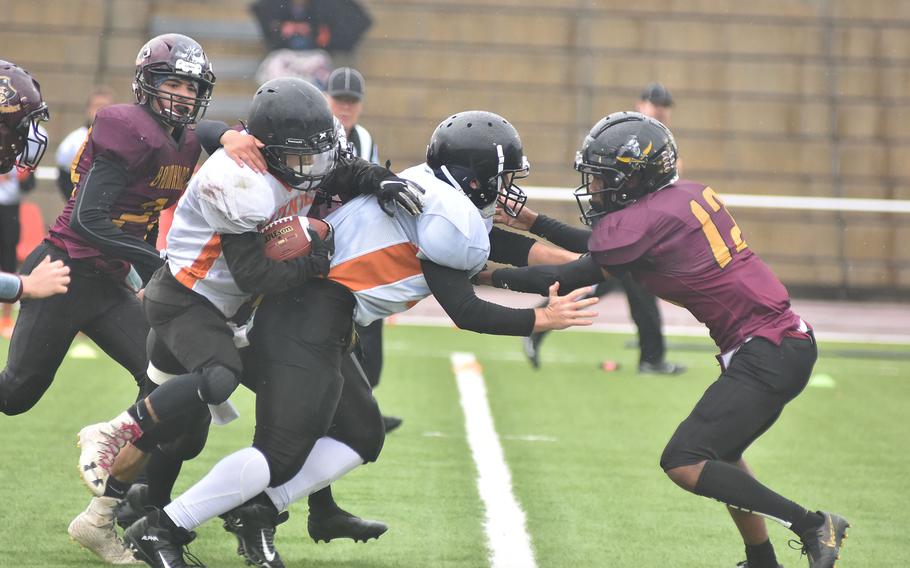 He said he had only played 11-man football before coming to Baumholder. But he said there weren't as many differences between the two formats as some people might think.
"You just have fewer people on the field to watch out for," he said.