Showing the heart of a lion ...
by
Kent Harris
Stars and Stripes
October 29, 2021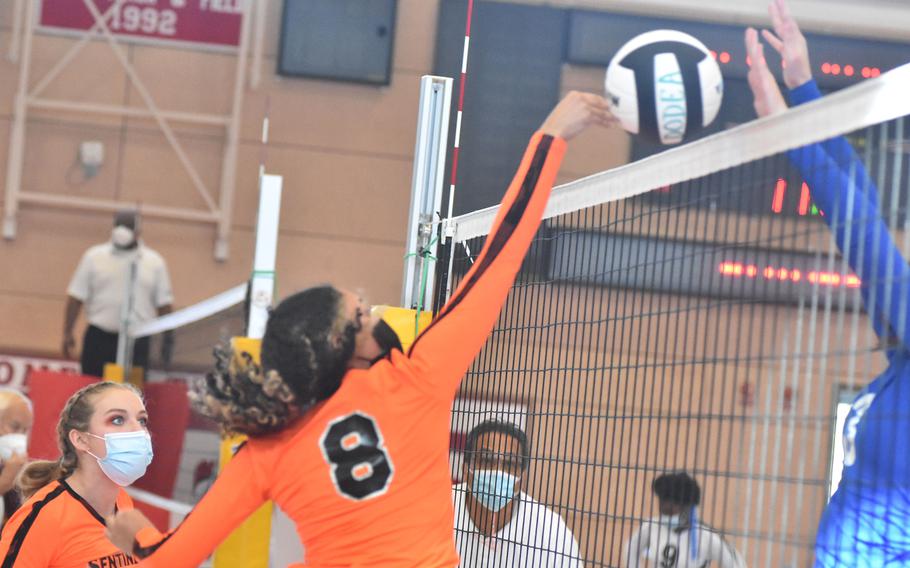 KAISERSLAUTERN, Germany – An ankle injury ended her sophomore season on the basketball court. The coronavirus pandemic finished off pretty much everything her junior year. So Victoria Morris wasn't going to let a few stitches keep her off the volleyball court Friday.
"I knew I was going to come back," the AFNORTH senior said after her team went unbeaten on the opening day of the DODEA-Europe Division III Volleyball Tournament, earning a spot in Saturday's championship in the process. "There was no doubt."
Well, actually there was at least some doubt as Morris had to leave her team's opening victory over Baumholder after suffering a cut on her leg while running into the stands to try to play an errant ball. She and her parents spent more than four hours at Landstuhl Regional Medical Center before returning to the court. But with three stitches and a wrap around her right leg, she would eventually return.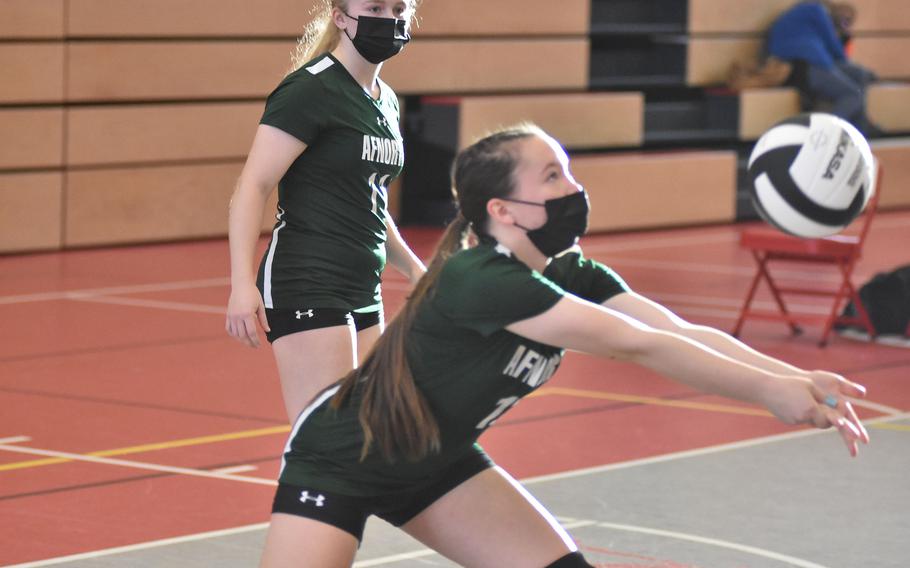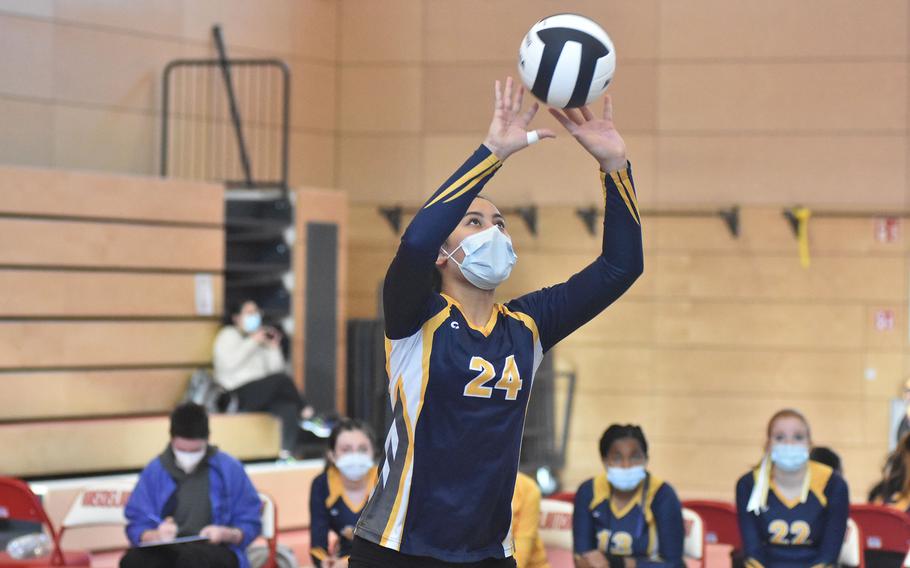 In the meantime, the Lions knocked off No. 1 seed Ansbach – avenging the only loss they had during the regular season.
"It was a big emotional game for the girls," said coach Christopher Guest. Part of that emotion was losing their senior captain – who was managing to follow the results thanks to some messaging between parents.
"I was cheering in the emergency room," Morris said with a laugh.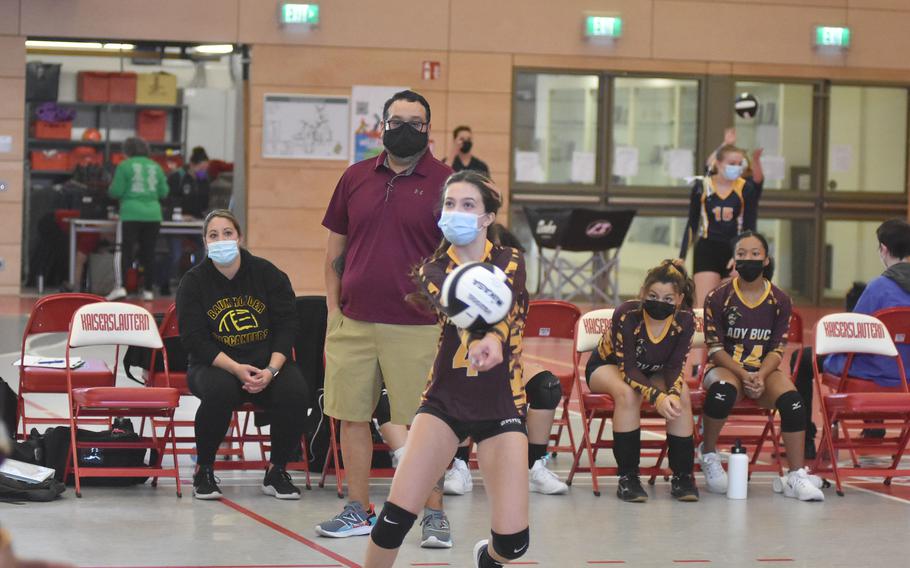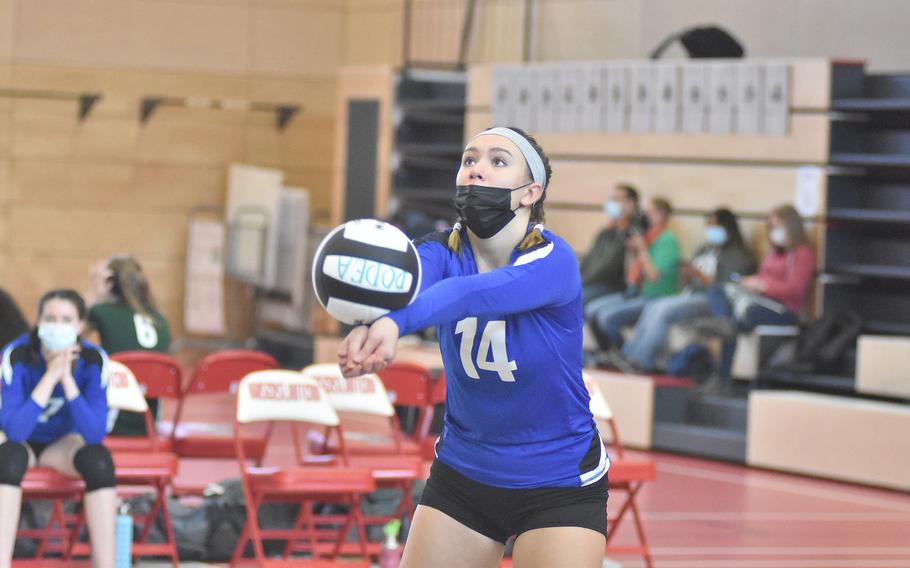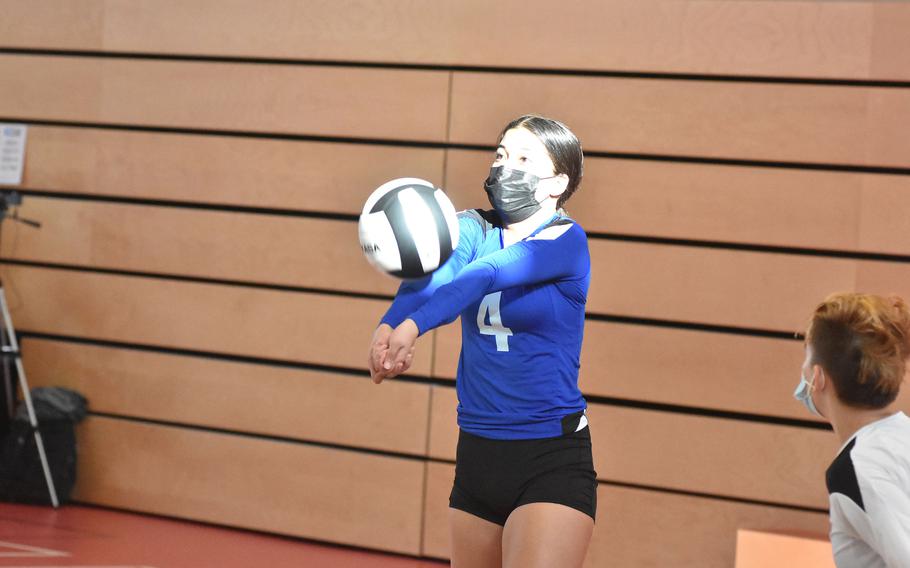 Though the Lions were laughing the loudest after the first day of round-robin play, other teams had their moments.
Spangdahlem lost its first match of the day to Hohenfels, then won the next three. A victory over AFNORTH to finish off round-robin play early Saturday would earn the Sentinels a spot in the final game. A loss could create a three-way tie with the Tigers and Cougars if both those teams win early Saturday as well.
Hohenfels won its first two matches of the year to open the tournament – doubling the number of sets it has won this season in the process.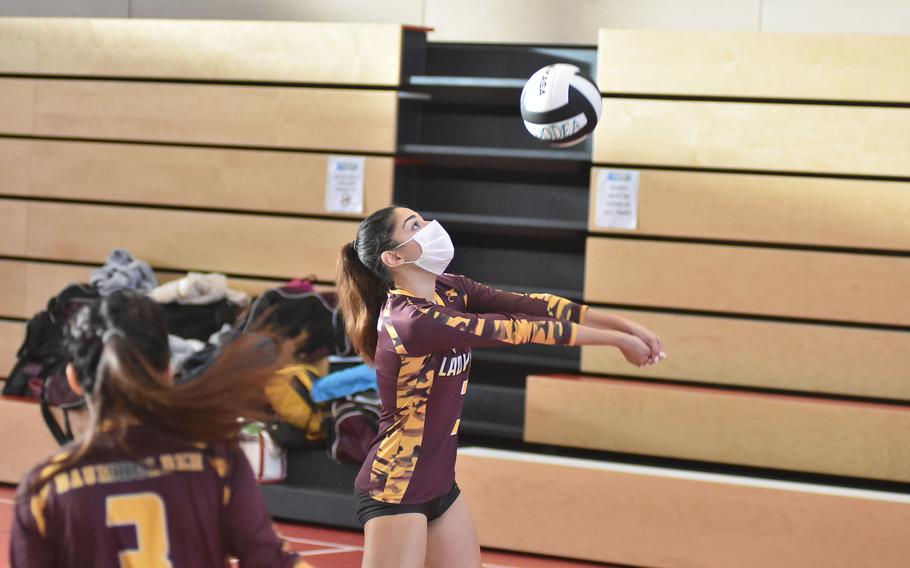 "We're a scrappy little group," coach Stephanie Schnabel said of the Tigers, seeded sixth in a six-team field.
Top-seeded Ansbach, like Hohenfels, split its two matches. The Cougars were the only squad to take a set from AFNORTH and did so in commanding fashion, winning the opener 25-8. They threatened to take the second set as well, but Guest called a couple key timeouts that broke the Cougars' momentum and the Lions went on to win the second set and force a third that they won 15-12.