Top four seeds to battle it out for large-school title
by
Jennifer H. Svan
Stars and Stripes
October 29, 2021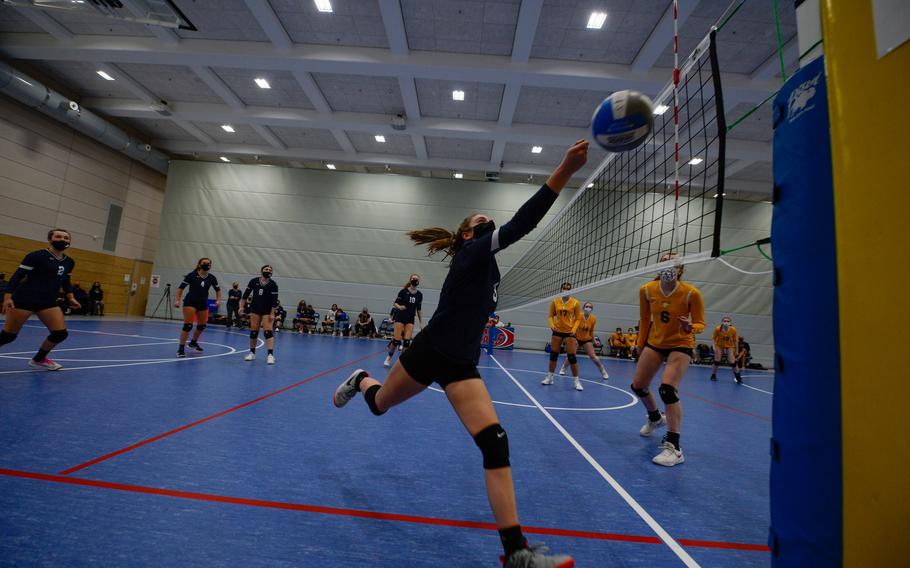 RAMSTEIN AIR BASE, Germany – Top-ranked Stuttgart and Kaiserslautern will vie for a spot in the Division I DODEA-Europe girls' volleyball finals on Saturday while looking for a fresh start after coming up short against the No. 2 seeds in tourney play Friday.
The Panthers and Raiders face off in one semifinal while the Ramstein Royals and Wiesbaden Warriors will battle in the other semifinal.
Saturday's lineup was set after Stuttgart faltered in a nail-biter against Ramstein in the final match of the day, 25-21, 25-19. Stuttgart, the No. 1 seed in Pool A, sailed through its first two matches, beating third and fourth seeds Black Forest Academy and SHAPE, respectively, in two sets apiece.
The Royals, who edged Stuttgart in the last DODEA-Europe title match in 2019, also won their first two matches, but went the distance against BFA, a contest decided in a thrilling, third tie-breaking set, 25-23, 22-25, 16-14. With the win, Ramstein was the only team to get through Friday without dropping a match.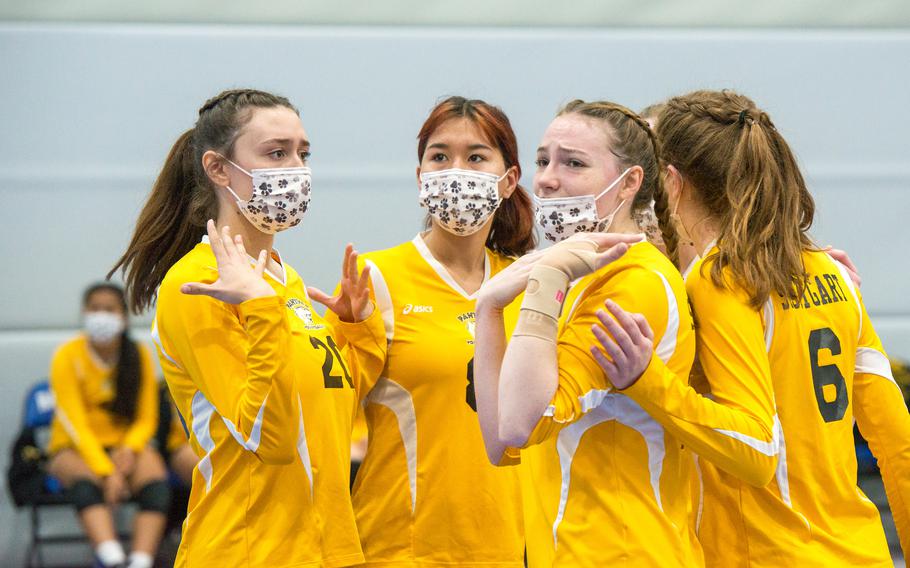 "The girls really rose to the occasion," Ramstein coach Kandel Baxter said. "We're ready to defend our championship on our homecourt."
For the Royals, the path to the title goes through Wiesbaden, a team that swept Ramstein in the regular season and entered the tournament as the No. 2 seed in Pool B. The Warriors had to claw their way to a semifinal spot after losing their first match of the day against scrappy No. 4 seed Frankfurt International. Frankfurt rallied to push the match to a third tie-breaking set, winning 19-25, 25-20, 17-15.
The loss meant Wiesbaden had to beat Kaiserslautern, the No. 1 seed in Pool B, to keep their title hopes alive. That was no easy feat. The Raiders found their rhythm early, coasting to back-to-back victories against Frankfurt, 25-17, 25-19, and Vilseck, 25-8, 25-13.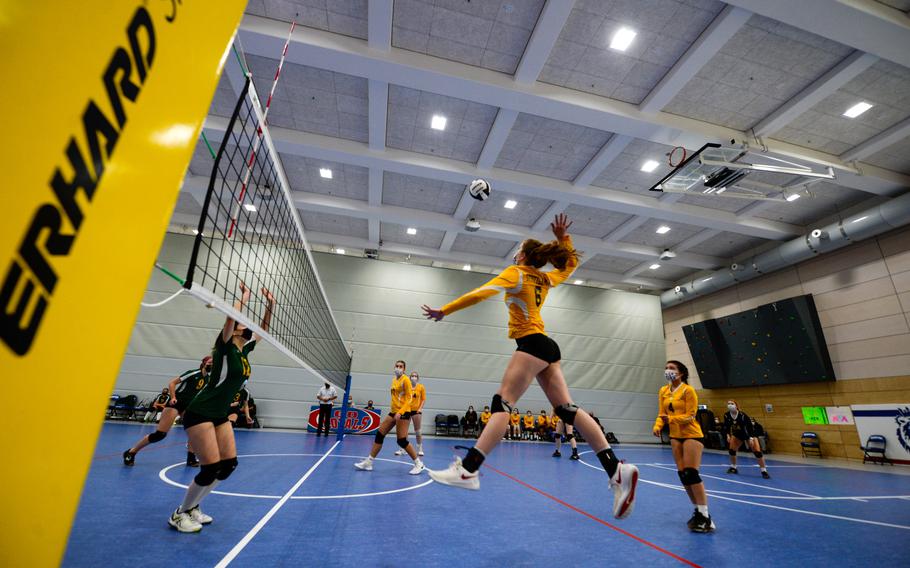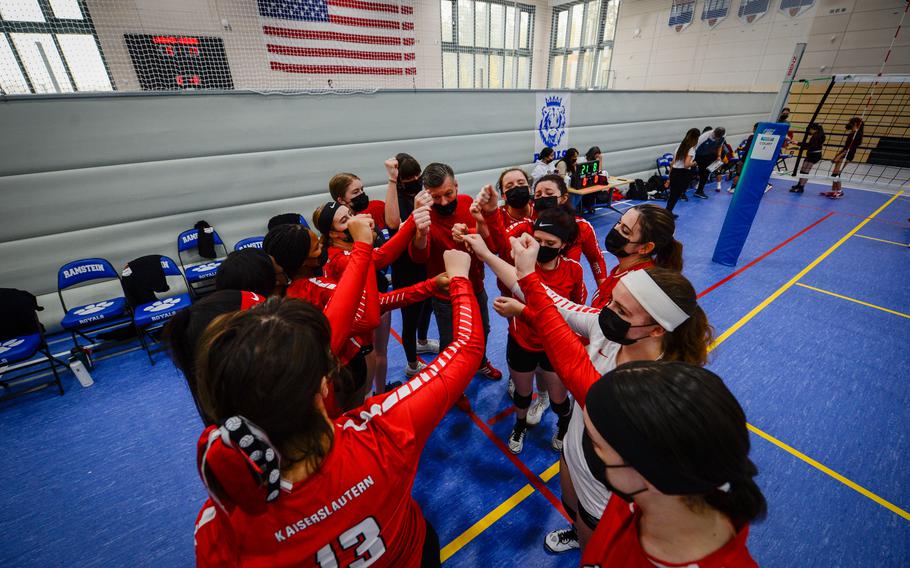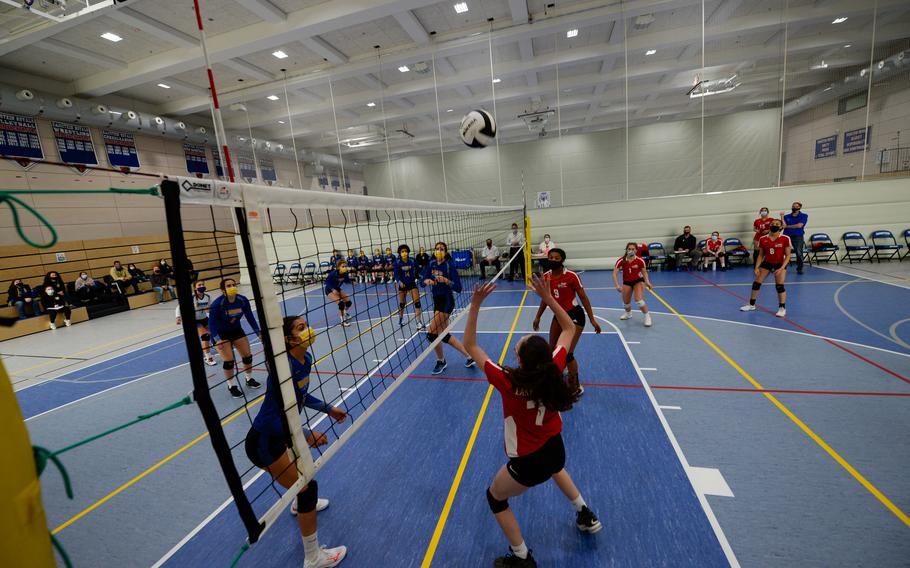 "We worked really well together as a team," said Kaiserslautern senior libero Kiera Kelly. "We're trying to keep getting better as we play."
The Warriors proved a tougher opponent in a match that had the feel of a title game with the lead flipflopping on almost every point and emotions on the court and in the stands running high.
The Raiders took the first set 26-24. In the second set, Wiesbaden broke through after the score was knotted at 19 apiece when senior outside hitter and setter Alynna Palacios landed two spikes and senior defensive specialist Emily Benjamin nailed an ace on serve. The Warriors eked out the win, 25-19. Palacios found gaps in the Raiders defense in the third, tie-breaking set and junior middle blocker Lyndsey Urick sealed the win, 15-10, with a decisive block at the net.
"It was huge," Palacios said of beating Kaiserslautern. "Especially because we lost to Frankfurt, our spirits were kind of low."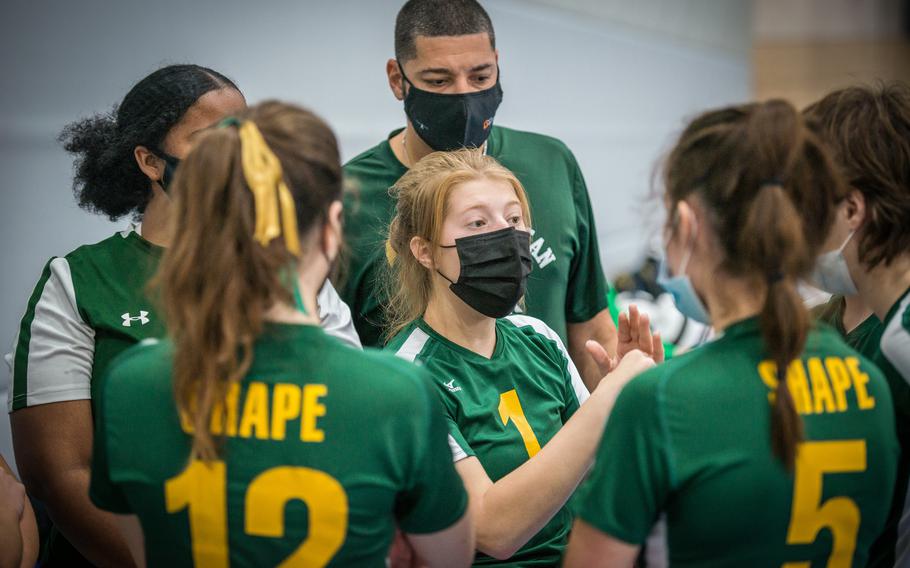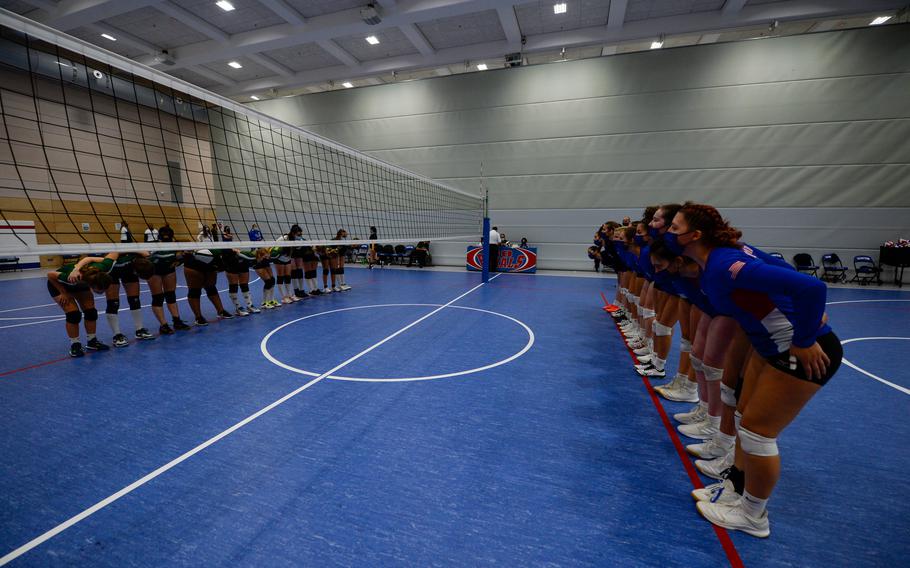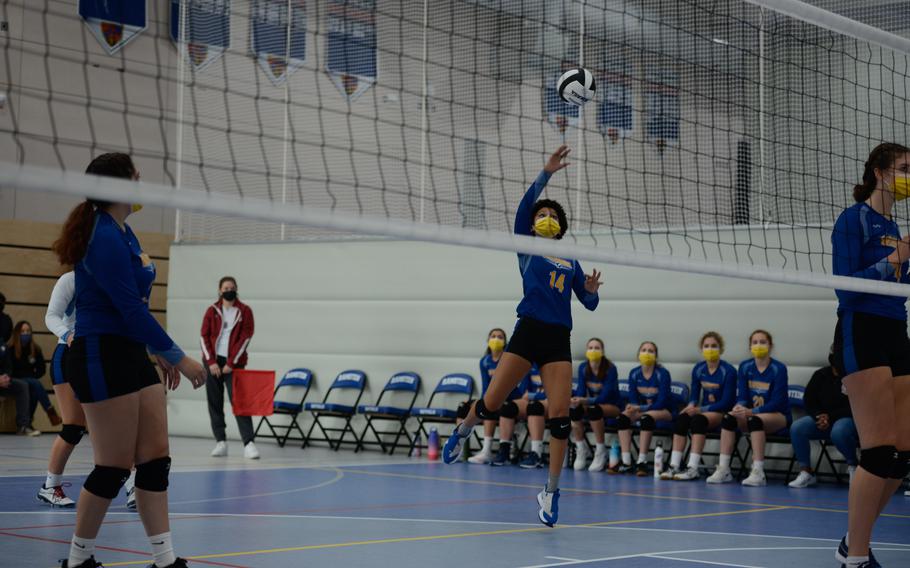 Win or lose, players were grateful to be playing a tournament again this year, after the pandemic canceled last year's European championships.
"I'm glad we're here," said senior Lauryn Hanner, a middle blocker for Lakenheath.
Lakenheath, a No. 3 seed, beat Vilseck in three sets, lost to Wiesbaden in two close sets, 22-25, 21-25 and went three sets in a losing effort against Frankfurt. Hanner said the team was playing a mix of varsity and junior varsity since some players couldn't compete because they weren't completely vaccinated.
Both semifinal matches begin at 9 a.m. Saturday at Ramstein. The title match is slated for 3 p.m.