Winners finally emerge from tennis marathon in Naples
by
Alison Bath
Stars and Stripes
October 23, 2021
NAPLES, Italy — To say that Saturday's DODEA-Europe South tennis finals presented a challenge for Lawrence Caro would be an understatement.
The Sigonella Jaguars No. 2 seed overcame self-doubt, a grueling semifinal match against No. 1 seed Leonardo Proietti of the Marymount Royals and a bee sting in the final match to emerge the boys singles winner.
Caro bested Samuel Stutzman of the Naples Wildcats, 8-1, at Naples' Gricignano di Aversa site.
It wasn't a sure win.
Stutzman beat Caro twice before, including earlier in Saturday's tournament play.
"I took a step back and said to myself: 'I have to believe in myself,'" said Caro, 17. "It feels extraordinary (to win). I didn't think I was going to be here."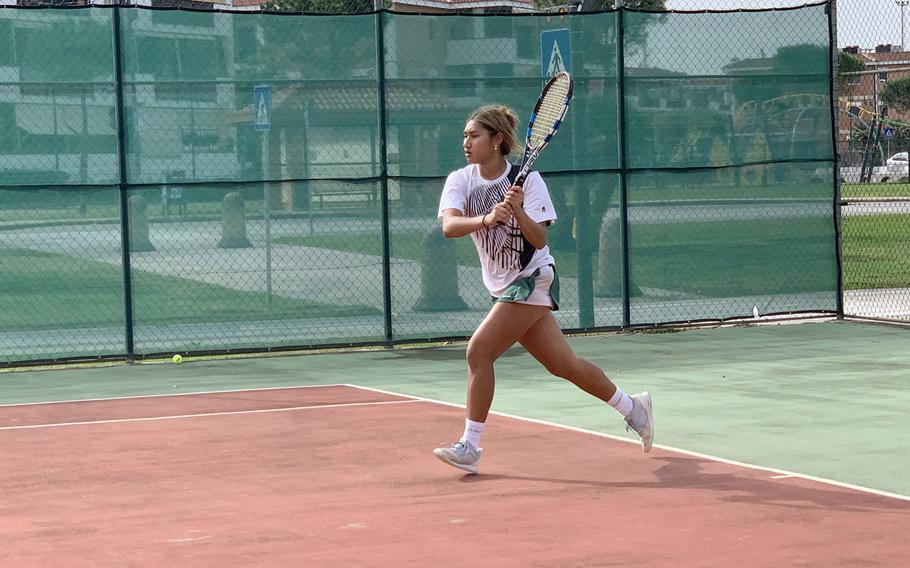 Caro wasn't the only member of the family to play in the finals. His 14-year-old sister Charlize won her semifinal against the Wildcats' Lilliana Stutzman, 8-1.
That set up the No. 4 seed to play against No. 1 seed Aleigh Lamis in the girls singles final.
Lamis, a 17-year-old Naples senior, won 8-2 to emerge the winner in the last singles match of her high school career.
Lamis called the win "surreal" and the culmination of a longtime goal.
"It means a lot to be No. 1 in my senior year," she said. "I had to dig deep and find my passion and know I want to win."
The tournament saw Friday rained out after just a round of singles play.
Instead of the usual best-of-three format, coaches made the decision to condense matches to a single set. That allowed the completion of nearly the entire tournament without a lunch break over a span of more than 12 hours, said tournament organizer and Vicenza coach Mark Gillett.
With singles play wrapping up around 3:30 p.m., doubles matches started soon after, ending around 8:30 p.m.
Results saw the Royals team of Proietti and Brian Hoton beat the Wildcats team of brothers Stephen and Samuel Stutzman in boys doubles. Lamis and Stutzman were victors for Naples against Marymount's Isabella Nudi and Allegra Vittigli in girls doubles.