Football roundup
Stuttgart, Vilseck to meet for large-school crown
Stars and Stripes
October 23, 2021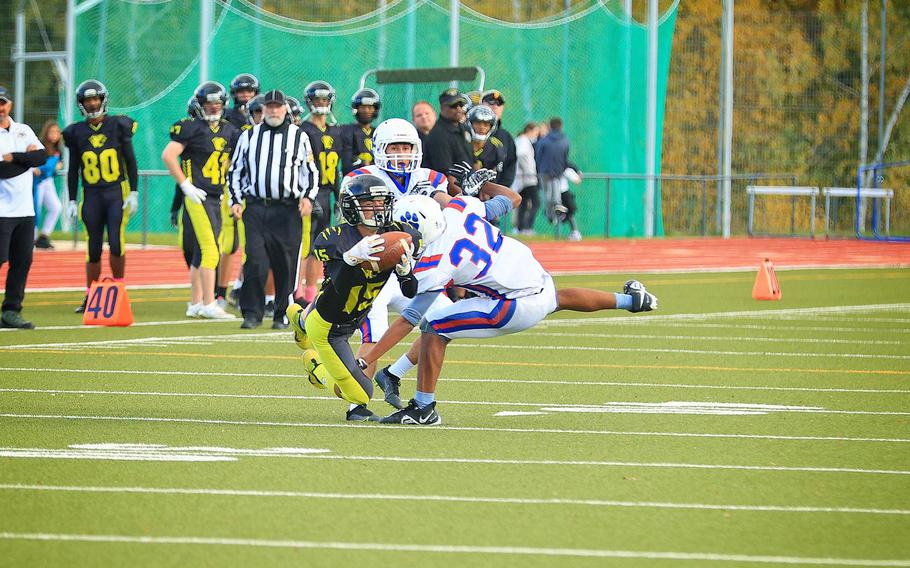 At this rate, the DODEA-Europe Division I football championship might be decided by the team that has enough healthy players to put on the field.
The Stuttgart Panthers and Vilseck Falcons reached the title game with blowout wins on Saturday. The Panthers routed the Ramstein Royals 61-7 while the Falcons blew past the Kaiserslautern Raiders 61-26.
Neither game was close or much in doubt after the first few minutes.
"We just ran out of healthy bodies," said Kaiserslautern coach Duke Allen, whose team finished the game with six two-way starters either playing hurt or not playing.
That was also the case with the Royals, Stuttgart coach Bill Ratcliffe said.
A year's break due to the coronavirus and uncertainty about the start of this season "really cost a lot of teams," he said.
Just getting to the title game is an accomplishment for Vilseck, which has about half the enrollment of the other three schools in Saturday's semifinals.
The Falcons' dominant rushing game was too much for the Raiders to handle. Aveion Ruffin carried the ball 18 times for 262 yards and two touchdowns, Jacob Rathbun had 10 carries for 133 yards and four TDS and Trevon Vargas rushed for 57 yards and another score. Nicholas Holcomb returned a kickoff for a touchdown.
Rathbun had six tackles to lead the Vilseck defense and Justin Barnes had an interception.
Kevan Williams had a 62-yard fumble return for Kaiserslautern. Kaylon Williams connected with Jayden Diayao for a 46-yard touchdown pass and also scored on a 3-yard run. Aidean Zollman also scored from 2 yards out.
Vilseck, which lost to 15-6 to Stuttgart to open the season, led 28-6 at halftime.
Stuttgart was up 41-0 at halftime against Ramstein.
Caiden Ray threw a 25-yard touchdown pass to Jace Holmes and a 10-yard TD to Trenton Jackson. Jackson also scored on the ground from 1 yard, 4 yards and 15 yards. Jackson Freds added a 19-yard run.
Backup quarterback Jacob Olive threw a 60-yard pass to Itzak Sandoval in the second half.
Ethan Prier had nine tackles for Stuttgart, with Noe Antoine adding five more. Cole Nelson and Jaures Segning each picked off passes and the Panthers recovered three Ramstein fumbles.
Baumholder 71, Spangdahlem 60: The top two teams in Division III met in a six-man shootout and the Bucs came out on top to finish the regular season. They'll meet again Saturday in Kaiserslautern for the championship.
Hiro Maranga threw for four touchdowns and 265 yards for Baumholder, with Camren McDonald catching one of them – while running for three more in 202 yards of total offense. Anthony Willis scored three times – including a kickoff return for a touchdown. Quadre Willis caught two touchdown passes amongst his 138 receiving yards. Lucas Leatherman grabbed a pass for a 10-yard touchdown.
Spangdahlem's Adam Jalomo rushed for 187 yards and four touchdowns. Carson Hicks scored twice. Jalien Jackson threw for 187 yards. On defense, Hicks had seven tackles and Brenden Castillo had five tackles, two sacks and recovered a fumble.
Anthony Willis had 12 tackles for Baumholder and Quadre Willis had 11.
Naples 58, Sigonella 20: Saturday at Naples, the Wildcats played six-man football for the second straight week and defeated the Jaguars.
Naples, which hasn't lost this season, led 40-13 at halftime. Henry Schneider scored six times on eight carries, including runs of 6, 16, 30, 40 and 10 yards. He finished with 147 yards. Liam Cruz scored on a 37-yard rush and had four carries for 82 yards.
Luca Salata threw a 2-yard TD pass to Patrick Fraim and a 5-yard TD pass to Jan Castro-Cruz.
Damien Tiumalu led the Naples defense with 11 tackles.