Baumholder course welcomes back Europe's best
by
Jennifer H. Svan
Stars and Stripes
October 23, 2021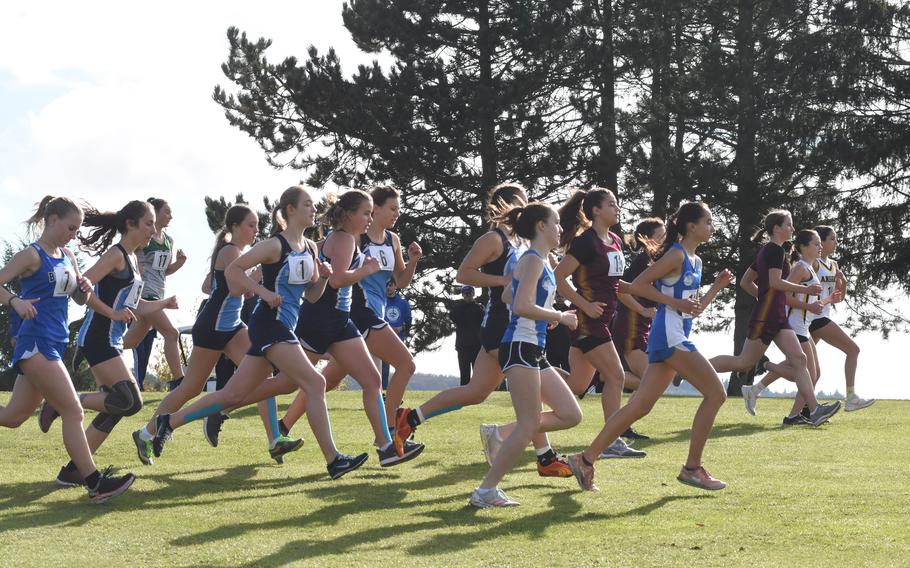 BAUMHOLDER, Germany – DODEA-Europe runners returned to the hills of Baumholder on Saturday to crown the season's best in a meet that had fewer teams toeing the line but didn't lack for excitement.
Pandemic safety protocols thinned out the fields, with separate races for the small and large schools that included only those from north of the Alps. Italy schools held a separate meet in Vicenza.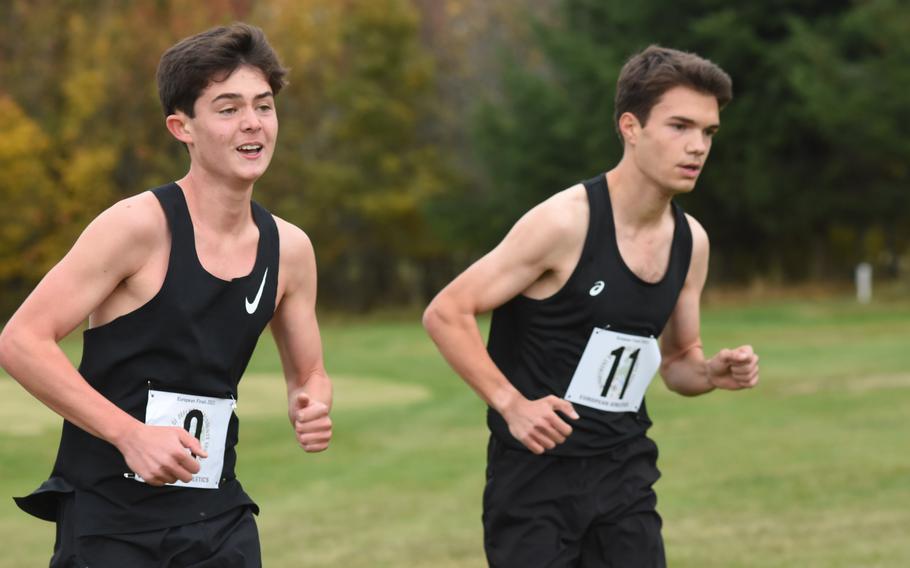 Those converging at the Rolling Hills Golf Course had to gut out 3.1 miles on a course considered one of the harder ones in the DODEA-Europe circuit for its hills, slippery terrain and higher elevation.
In perhaps the biggest surprise of the day, Wiesbaden beat out Ramstein and perennial favorite Stuttgart for the team title in the girls' large-school division.
Stuttgart sophomore Ella Bishop, who won a scaled-down individual title against Germany schools last year as a freshman, dominated her race. Bishop finished in 20 minutes, 31.88 seconds, nearly a minute ahead of teammate and senior Sydney Lamphier.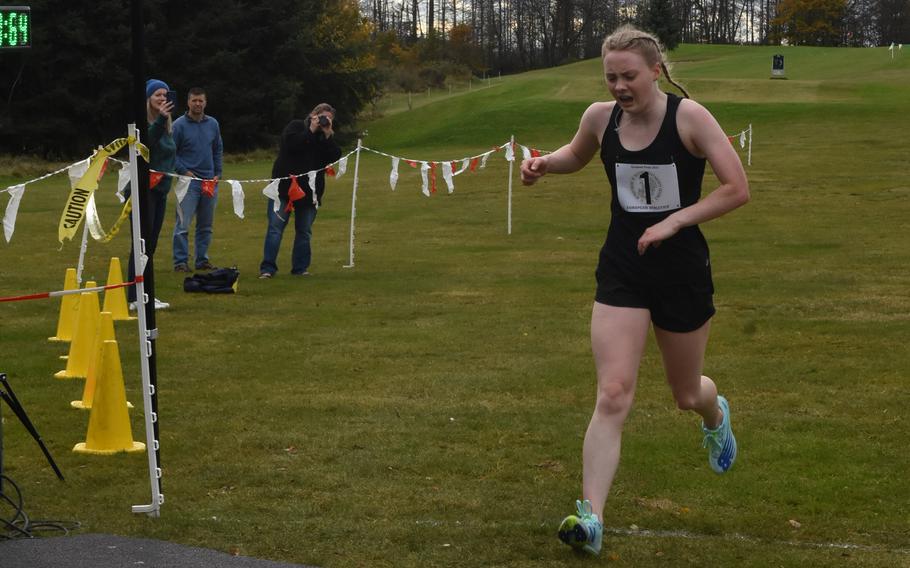 "I just ran as fast as possible and tried to get out in front and then try to keep (the lead)," she said. "It's amazing. I'm really happy."
After Lamphier, the next Panther across the line was Sophie Templeton in 19th. Wiesbaden was led by Diba Bhuiyan, who was third in 21:46.94. The Warriors placed four runners in the top 11 and five in the top 20.
Julia Harris led the Royals with a fifth-place finish in 22:05.48.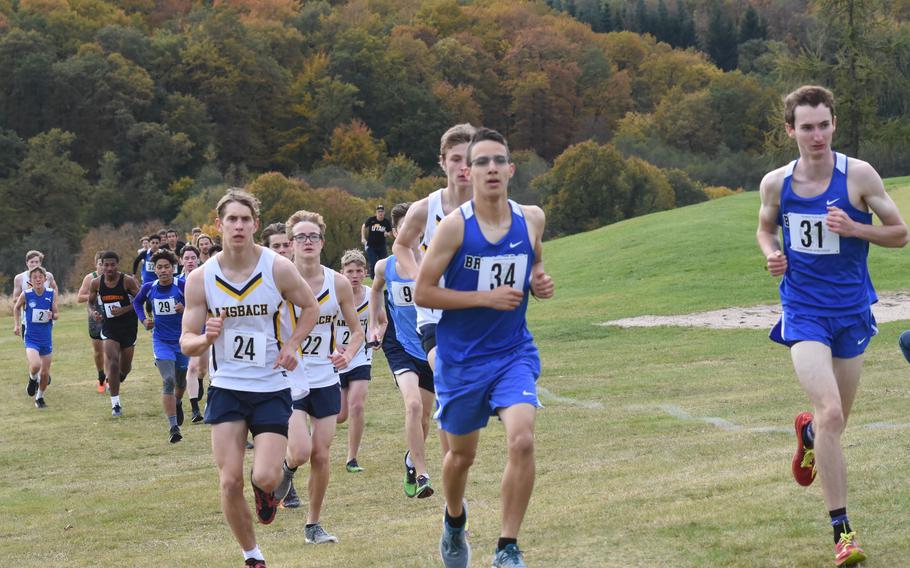 After an earlier regular season loss to Ramstein and no experience this year against 2019 defending champion Stuttgart, the Warriors were expecting second at best, said coach Stephanie Escalante.
"I'm speechless and proud," she said, when hearing that the Warriors had taken the title. "These kids have worked so hard. We have an amazing group of kids."
In the boys' large-school division, the tables were turned: Stuttgart beat out Ramstein and Wiesbaden, led by juniors Carter Lindsey and Alex Daniels. The duo trailed Wiesbaden's Elijah Smith early on but broke the race wide open at about the halfway point. Lindsey proved to have a stronger finishing kick, winning in 16:40.78 - about four seconds ahead of Daniels.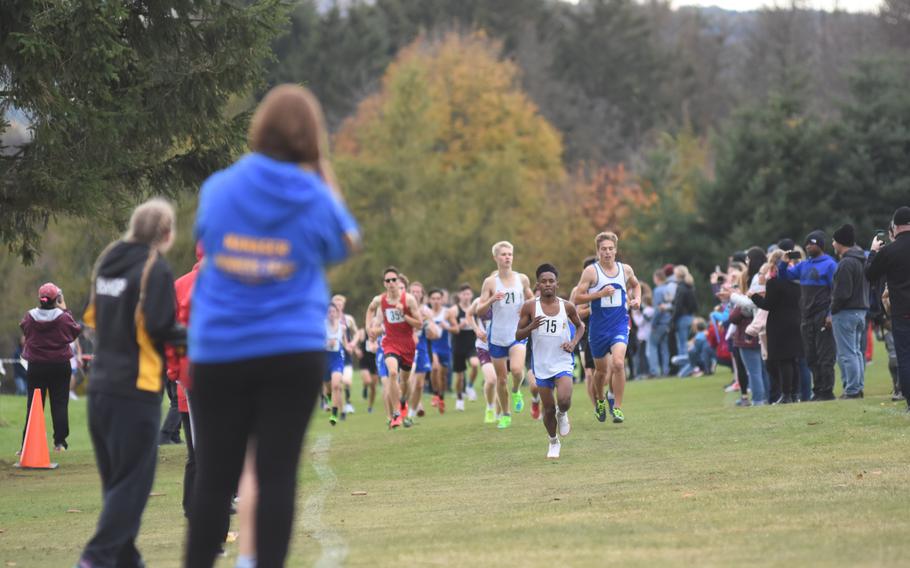 "Our goal was to go one-two and win as a team," Daniels said. He and Lindsey "usually work together the whole time. It definitely helps to have somebody to run with."
Smith ended up third in 17:06.32, holding off a furious kick at the finish by teammate Luke Jones. Stuttgart, meanwhile, placed three more runners in the top 10 after Lindsey and Daniels.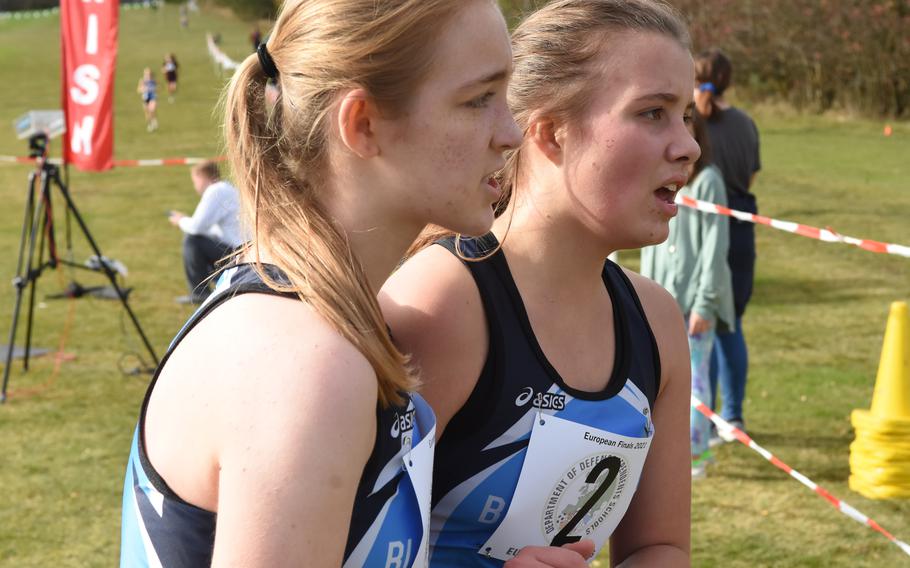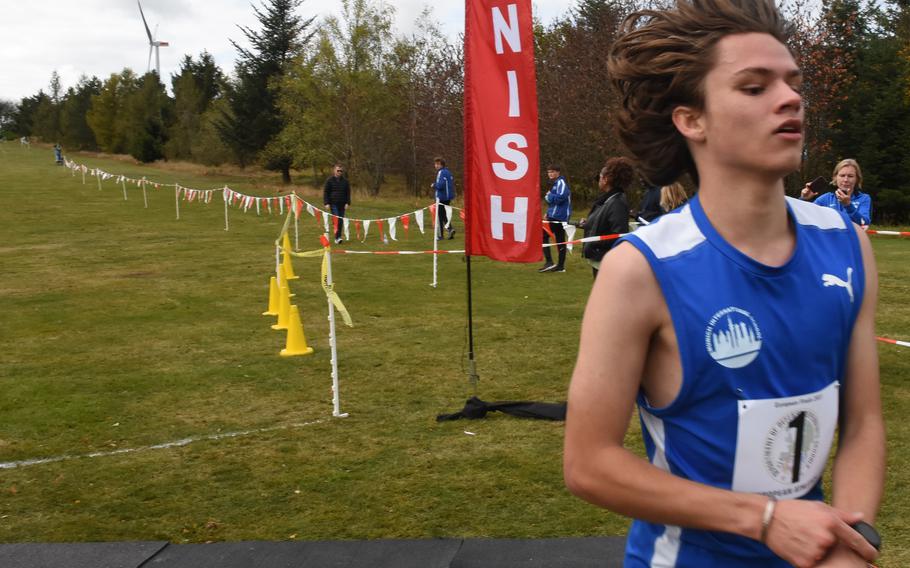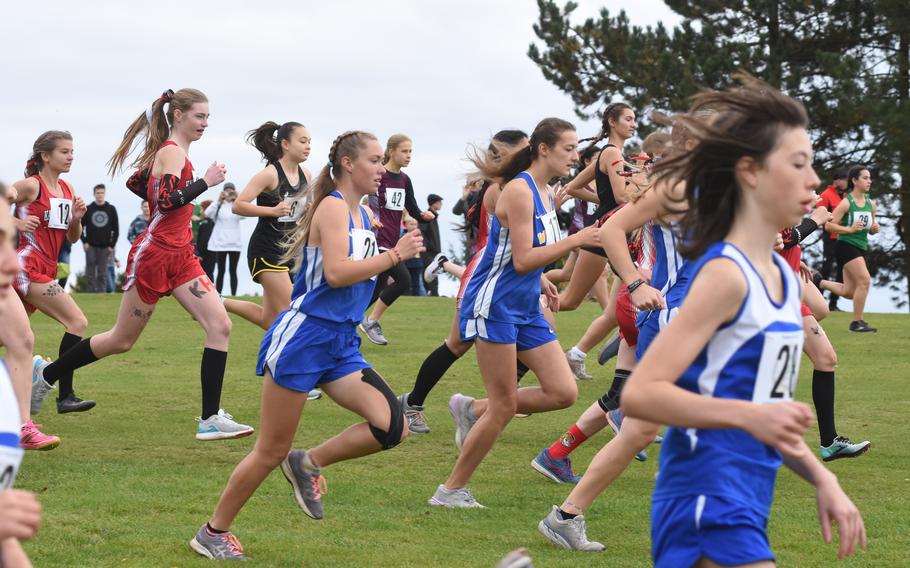 Small schools
In the small-school division, Black Forest Academy took both the girls' and boys' races. The girls dominated, finishing with just seven points, well ahead of runner-up Baumholder (22). The individual title went to AFNORTH sophomore Finja Liebing, who ran most of the race by herself to win in 22:30.20. Munich International's Jo Weiss finished about 25 seconds after that. Tops for BFA were Bethany Hicks and Elmi-Gret Van Westhuizen - third and fourth, respectively.
On the boys' side, BFA edged out Ansbach and Brussels in what was a tight team race.
Munich's Ethan Langselius was the individual winner in 17:17.48. He beat out Brussels senior Nathan Pierce, who was second in 18:19.51.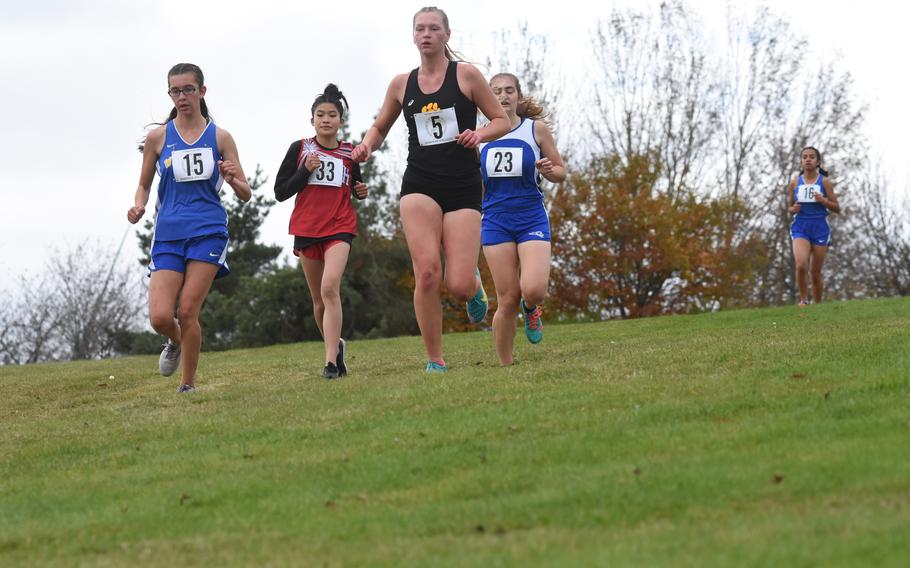 "It's awesome to be back," BFA coach Hunter Barber said. "Last year we just ran against teams in Germany. We appreciate … the opportunity to just race and enjoy competing again."
Despite the challenging course, runners said they were glad to be competing again at Baumholder for the championship.
"I like the straight downhill at the end," said Ansbach sophomore Brody Hocter, who was sixth. "Even when you're really tired and you can't move, it looks like you're going really fast."