Big school football teams battle it out to play in final
by
Gregory Broome
Special to Stars and Stripes
October 21, 2021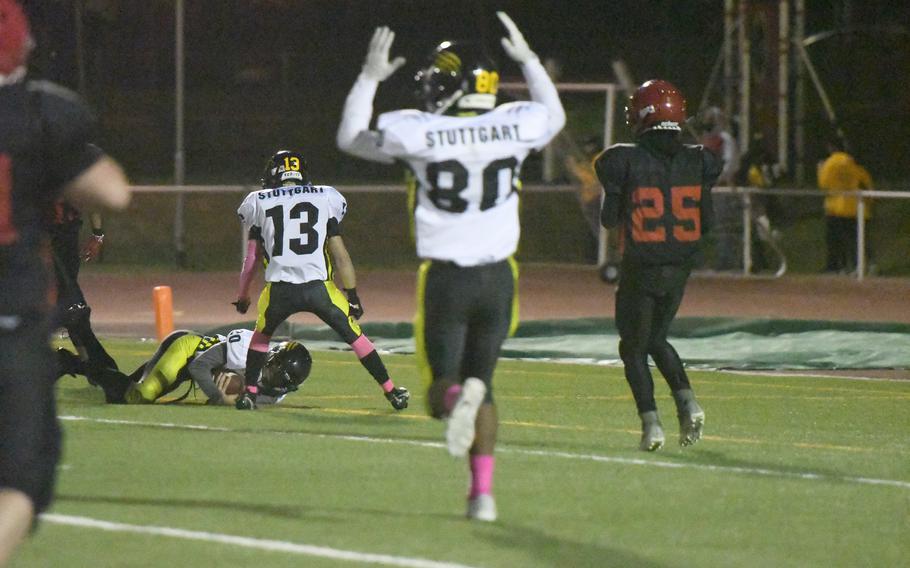 Playoff football returns to DODEA-Europe this weekend after a hiatus of nearly two years.
The Ramstein Royals visit the Stuttgart Panthers in one of two Division I semifinals, the organization's first postseason football action since Stuttgart defeated Ramstein 30-0 to win the Division I championship on Nov. 2, 2019.
The Kaiserslautern Raiders host the upstart Vilseck Falcons in the weekend's other semifinal, setting the matchup for the Oct. 30 championship game.
Ramstein and Stuttgart have long dominated the Division I title scene, alternating championship seasons in the years before the COVID-19 pandemic canceled the 2020 campaign before it started. Ramstein took the crown in 2014, 2016 and 2018, while Stuttgart won in 2015, 2017 and 2019.
The reigning Panthers enter the 2021 postseason the favorite for another championship. Stuttgart posted Division I's only undefeated record, securing that status just last weekend with a 53-12 defeat of the previously unbeaten Raiders. Like Panther title squads before them, this Stuttgart group combines overwhelming talent and physicality with top-notch chemistry and cohesion.
The Panthers' first postseason obstacle is familiar foe Ramstein. The Royals are not the juggernaut of years prior, turning in an uncharacteristic 1-3 regular-season record. But their early-season 33-19 win over rival Wiesbaden on Sept. 17 ultimately became their ticket to the playoffs ahead of the similarly struggling Warriors in a five-team league with little room for error.
While Ramstein is down but not out, both teams in the opposite semifinal are on the rise thanks in part to regular-season wins over the historically powerful Royals.
Kaiserslautern opened its season with a cathartic victory over their neighbor and nemesis, setting off a winning streak that only ended with last weekend's loss to Stuttgart. But the Raiders were undeterred by that loss, as head coach Robert Allen promised a better showing and a "tough game" for whichever opponent drew the Raiders this weekend.
That turned out to be Vilseck, which has always been up for a tough game even in the midst of long-term and recent Division I adversity. Head coach Eric Mead said the Falcons "stayed focused" after opening the season with close losses against Stuttgart and Kaiserslautern and were rewarded with thrilling wins over Ramstein and Wiesbaden. Now a confident and healthy Vilseck squad is soaring into the postseason.
"We are fired up to say the least," Mead said. "Saturday cannot come soon enough."