Top runners look to finish on a low (time) in Baumholder, Vicenza
by
Gregory Broome
Special to Stars and Stripes
October 21, 2021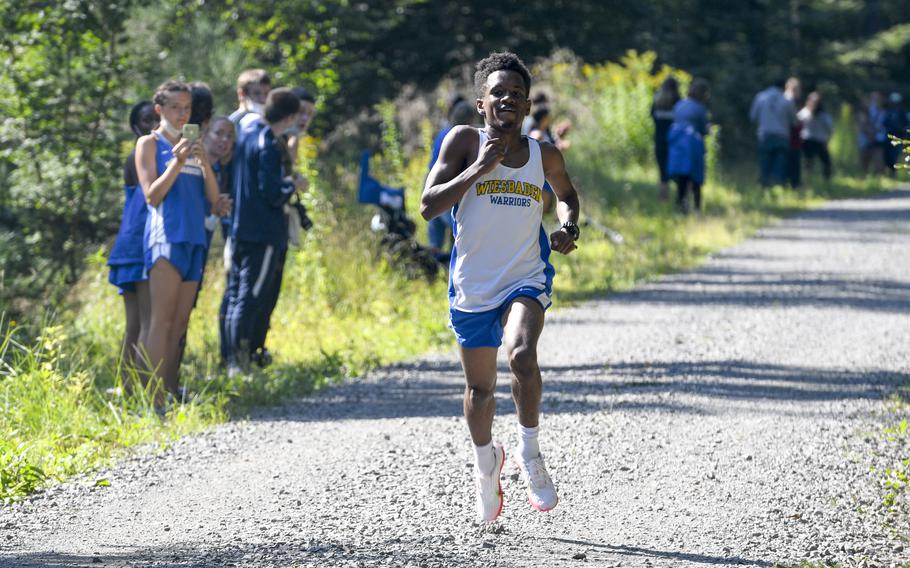 DODEA-Europe cross country isn't yet back to its pre-pandemic status quo. But it's running steadily in that direction.
Saturday's season-ending schedule won't include the kind of all-encompassing season-ending event that DODEA-Europe has long championed, with athletes from all over the organization's footprint gathering in one central location.
Rather, teams north of the Alps will converge on Baumholder, where they'll be divided into separate large-school and small-school races. Those based in Italy won't make the long trip to Germany to join them; instead, they'll meet up in Vicenza.
Still, that situation represents a step forward from last year's finals, where only a handful of teams gathered in Germany and the rest competed virtually.
Approaches to this weekend's defining meets vary, but at least a few teams opted to tone down the intensity of their practices leading up to the final.
Sigonella coach Aaron Mundy said he noticed signs of fatigue during the Jaguars' recent visit to Naples after a rigorous week of practice.
"But this week we will be in a taper to have strong, fresh legs for our championship in Vicenza," Mundy said.
Vilseck coach Mitch Moellendick described a similar strategy, adding that he's planning to conduct "more focused workouts for speed" in the days leading up to the final. He's hoping for a strong showing from his group of young, promising athletes.
"This has been a really good year for our growth as runners," Moellendick said. "For the most part every runner has shown improvement throughout the season."
Saturday offers every participant a chance to prove those gains on DODEA-Europe's biggest stage.
Traditional Division I powers Stuttgart and Ramstein will send their usual strong squads to the starting line in the large-school race at Baumholder.
Stuttgart's Ella Bishop is among the frontrunners for the girls individual win, but Ramstein's trio of Julia Harris, Brenna Mack and Nadia Rahman will offer considerable resistance.
Carter Lindsey and Alex Daniels headline a dominant Stuttgart boys team, while Ramstein senior Gideon Zaugg and Wiesbaden's Elijah Smith attempt to break through the pack of Panthers.
Entries from Frankfurt International, Kaiserslautern, Lakenheath, SHAPE and Vilseck round out the large-school field.
A sizeable team from Black Forest Academy will make up much of the small-school field, with 13 Falcons among the combined 52 combined runners in the boys and girls events. Josiah Alexander and Bethany Hicks are among the BFA contenders in those respective races. Nathan Pierce of Brussels, who ranked fourth in last year's virtual standings, is back to lead the Brigand boys.
AFNORTH, Ansbach, Baumholder, Hohenfels, Munich International and Spangdahlem complete the small-school field.
In Italy, Sigonella coach Mundy has high hopes for first-year runner Kayly Elmicke, whose evolution from "hesitant" newcomer to the team's top finisher he called one of the program's "highlights of the year."
Naples' Abigail Michienzi and Andrew Scarff are coming off impressive wins in last weekend's regular-season finale and are top contenders to claim victory again Saturday at Vicenza.