Raiders favored to clean up on tennis courts
by
Kent Harris
Stars and Stripes
October 19, 2021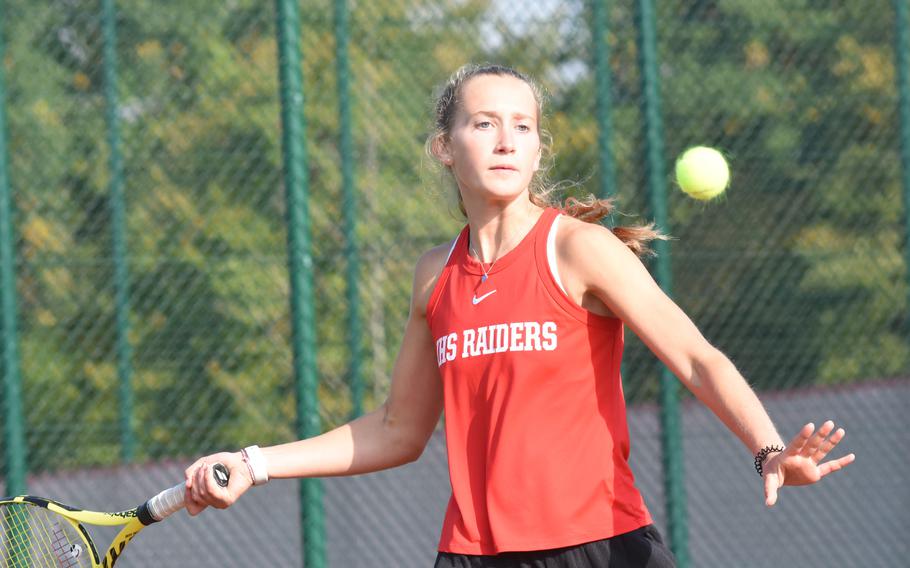 It's hard for Aiva Schmitz to remember a time when she didn't have a tennis racket in her hands.
The 17-year-old Kaiserslautern senior, the overwhelming favorite in girls singles at the DODEA-Europe tennis championships this week, learned much of her game from her father, a former German tennis pro who runs a tennis academy.
"I've been around tennis my whole life," she said.
And though she'll be playing her final high school matches this week, it's far from the end of her tennis career. She's made a verbal commitment to play at the University of Minnesota next year and has an official signing ceremony scheduled for Nov. 11.
Schmitz, who holds dual citizenship, won the DODEA title as a freshman and a sophomore and was a heavy favorite a year ago before the coronavirus pandemic ended the season. She's been nothing short of dominant this season, losing only a single game. That match - a 6-0, 6-1 victory over Wiesbaden's Hope Goodwin – shows the gap between Schmitz and the field. Goodwin, a strong DODEA player, is the No. 2 seed.
Schmitz plays year round. She's No. 7 in her age category in Germany. Raiders coach Eric San Pedro said most of his roster also have their rackets close by the whole year. It showed this year during the five-week DODEA season as the Kaiserslautern girls didn't lose a single match. The boys team didn't lose to another team, but did lose a few matches.
"I'm so blessed to have worked with such fine student athletes," San Pedro said.
Hannah San Pedro, a sophomore, will be the Raiders second entry in girls singles. Stella Schmitz and Abigail Hover, both freshmen, are the top-seeded doubles team. They're the No. 2 and No. 3 singles players for the Raiders, but players can't play in more than one bracket at the tournament in Germany.
Kaiserslautern freshman Tristan Chandler is the No. 1 boys seed. Raiders Micah San Pedro and Alexander Brunk are the top-ranked boys doubles team. Those three didn't lose this year.
Though Kaiserslautern is expected to dominate play in Wiesbaden starting Thursday, it won't get a chance to do so against all the DODEA-Europe competition. Due to travel restrictions, Naples is hosting a tournament on the same dates for those based in Italy. And there are unbeatens there as well.
Marymount International's Leonardo Proietti and Naples' Aleigh Lamis are the No. 1 seeded boys and girls singles players, respectively, and neither has lost this season. Marymount has the No. 1 seeded boys and girls doubles teams as well.
Almost three dozen students will play on four courts in Italy to determine the winners on Saturday. Unlike in Germany, players will be allowed to compete in both singles and doubles.
Spectators will not be allowed in Wiesbaden. The Naples tournament will be played outdoors and spectators can attend.
DODEA-Europe championship seeding
(Thursday-Saturday at Wiesbaden)
Boys
Singles
1. Tristan Chandler (Kaiserslautern), 2. Collin Ritter (Ramstein), 3. Noah Shive (Stuttgart), 4. Anthony DeWeese (Wiesbaden), 5. Caleb Gin (Kaiserslautern), 6. Keegan Cornelius (Ramstein), 7. Ian Bishop (Wiesbaden), 8. Zachary Call (SHAPE).
Doubles
1. Micah San Pedro/Alexander Brunk (Kaiserslautern), 2. Nathan Gillespie/Roberto Cotto (Ramstein), 3. Beckham Witty/James Rogers (Hohenfels), 4. Evan Hanson/Riley Smith (Stuttgart), 5. Casey Anderson/Max Berlin (AFNORTH), 6. Noah Winters/Nicholas Beier (Wiesbaden), 7. Amaree Barrier/Anderson Ennis (Kaiserslautern), 8. Oscar Paz/Jackson Patton (Ramstein).
Girls
Singles
1. Aiva Schmitz (Kaiserslautern), 2. Hope Goodwin (Wiesbaden), 3. Samantha Moran (Spangdahlem), 4. Meredith Maxwell (Ansbach), 5. Sophia Bucker (Spangdahlem), 6. Zoe Crawford (Vilseck), 7. Hannah San Pedro (Kaiserslautern), 8. Nikol Bain (SHAPE).
Doubles
1. Stella Schmitz/Abigail Hover (Kaiserslautern) 2. Violet-Marie Williams/Erin Whitten (Stuttgart), 3. Madalin Svan/Grace Hudson-Pineda (Ramstein), 4. Sophia Giglio/Bella Rainey (Wiesbaden), 5. Devin French/Kiera French (Stuttgart), 6. Stephanie Tiede/Megan Jackson (Alconbury), 7. Brooke Rawcliffe/Isabella Wagers (Kaiserslautern), 8. Kate Farrell/Kelly Farrell (Hohenfels).
DODEA-South championship seeding
(Thursday-Saturday at Naples)
(Top three)
Boys
Singles
1. Leonardo Proietti (Marymount), 2. Lawrence Cano (Sigonella), 3. Samuel Stutzman (Naples).
Doubles
1. Marymount (Proietti/Brian Hoton), 2. Sigonella (Caro/Sebestyen Hriczu), 3. Vicenza (Sam Grady/Andrew Reed).
Girls
Singles
1. Aleigh Lamis (Naples), 2. Isabella Nudi (Marymount), 3. Clara Clayton (American Overseas School of Rome).
Doubles
1. Marymount (Nudi/Allegra Vittigli), 2. AOSR (Clayton/Laila Sadiddin), 3. Naples (Lamis/Lilliana Stutzman).
Correction
Micah San Pedro was incorrectly identified in an earlier version of this article.
---
---
---