Runners in UK race for final time before championships
by
Kyle Alvarez
Stars and Stripes
October 17, 2021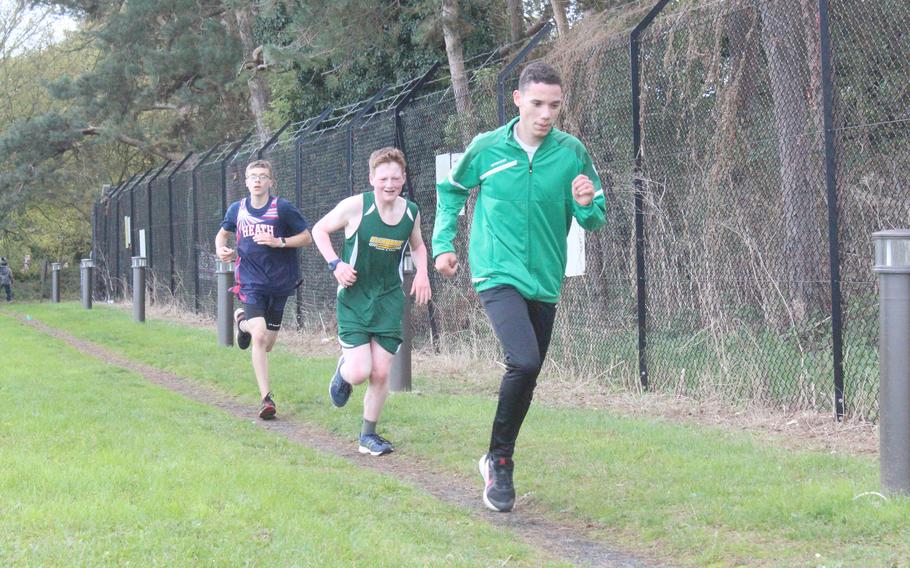 RAF LAKENHEATH, England – Runners from Lakenheath and Alconbury competed against each other Saturday for the last time this season in their host country.
But some couldn't help but think ahead of getting a chance to finally compete against other DODEA-Europe competition.
Eleven Lancers are currently set to make the trip across the English Channel to compete in one of two season-ending championship meets in Baumholder, Germany, on Oct. 23. The other will take place in Vicenza, Italy.
"The team is super excited to be running and racing and competing against other runners," coach Vicki Painter said. "Last year [due to COVID-19] they competed in virtual races, which wasn't satisfying for them. They're really excited to travel as a team and build that comradery."
The course Saturday circled around the high school campus with some ups and downs and required two full laps before completion.
The first runner to finish their first lap was the Lancers' Aiden Stamp, followed by Fisher Church in second and Daniel Crites, Alconbury's Alan Smith and middle schooler Benjamin Wilson.
The final results were slightly different.
Stamp maintained the lead throughout the race and came in first with a time of 18 minutes, 23 seconds. Daniel Crites finished second at 20:19. Hayden Luzier was third at 20:34, followed by Church at 20:40. Wilson was fifth with a time of 21:03 - just 3 seconds shy of the qualifying mark for the championships.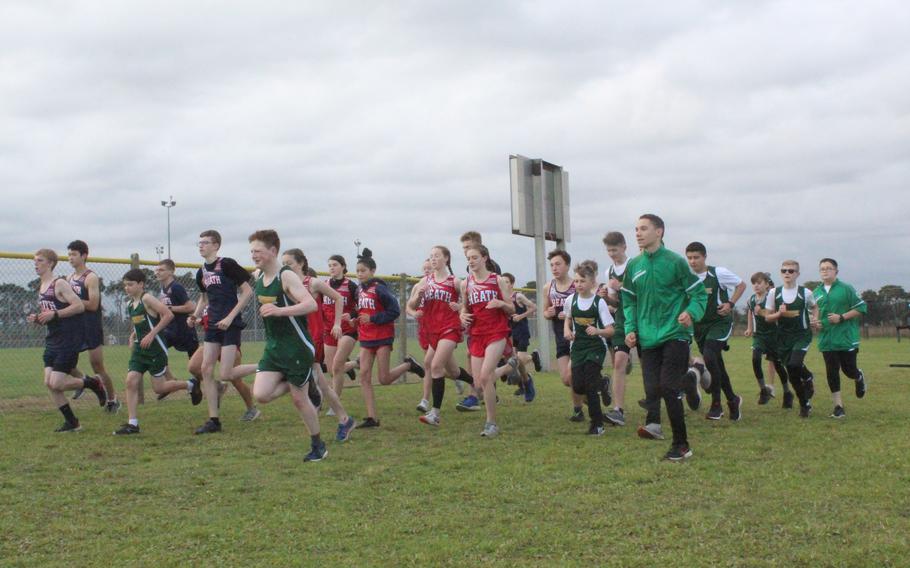 More than half of those competing for Alconbury were middle schoolers, which technically don't count in the race results.
"Most of our runners today had some of their best times," first-year Dragons coach Nicole Andre said. "Our top runner, Ben, also had his best time. Our team was a little nervous before the match because they haven't run this course, but they did well."
In the girls race, Lakenheath's Kohana Thai finished first in 21:56. Teammates Jenna Bills (22:56), Samantha Odegaard (23:22), Kiera Andreason (23:26) and Lila Colunga (23:47) followed.
Six Lancer boys are scheduled to compete in Baumholder, Painter said, and five girls. Two more from each team quailed but didn't meet criteria for travel.
---
---
---