Stuttgart spoils Kaiserslautern homecoming to finish regular season unbeaten
by
Chad Garland
Stars and Stripes
October 16, 2021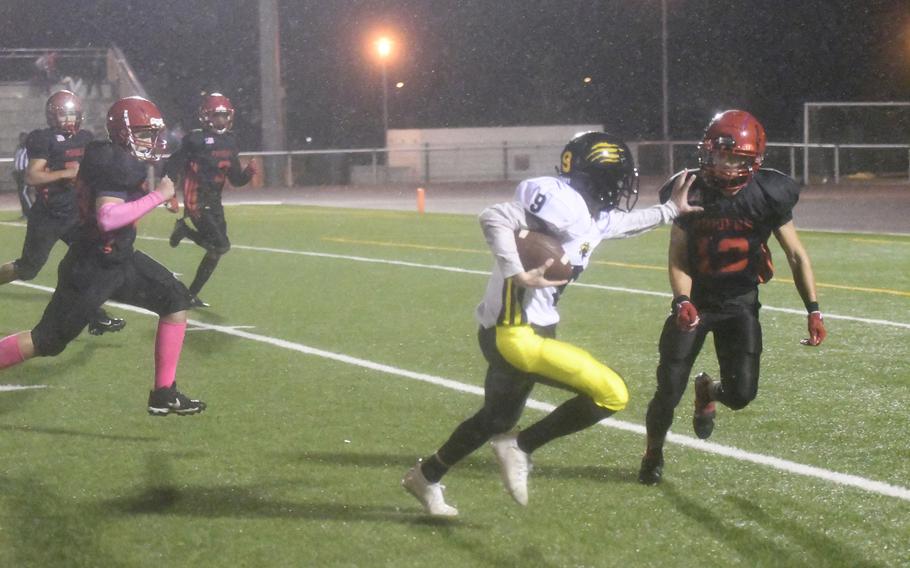 The Stuttgart Panthers remain undefeated after dealing the Kaiserslautern Raiders their first loss of the season Friday in a resounding 53-12 victory to end the regular season.
It started off a much tighter game, with Kaiserslautern picking up steam late in the first quarter and answering Stuttgart's early touchdowns with a couple of their own.
But a lack of depth on the Raiders' bench soon left them beleaguered. Their defense struggled to take down Panther runners, who would run up the lead and spoil Kaiserslautern's homecoming weekend.
Panthers head coach Billy Ratcliff said the team's strategy was to mostly keep the ball on the ground and wear out the Raiders, who had seven team members playing both sides of the ball.
It worked. Especially in the second half as Stuttgart pulled away.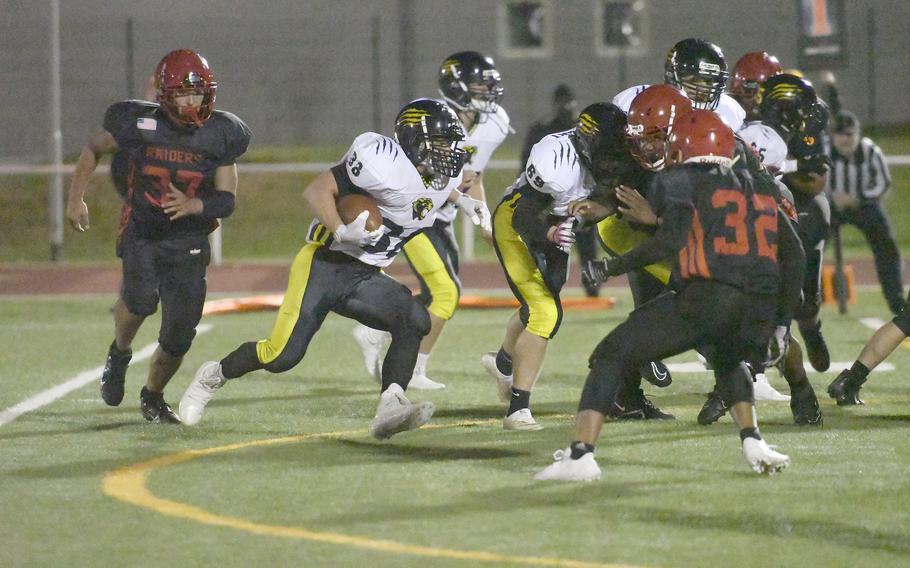 "We missed way too many tackles," Kaiserslautern coach Robert Allen said. "We'll go back to the fundamentals and finish our blocks, finish our tackles and we'll be better."
His team took an early blow when homecoming king and receiver Larry Haynes was carried off the field with an injury in the first quarter. But Raiders quarterback Kaylon Williams seemed to ignite the offense with a 50-yard keeper that put his squad in scoring position.
"He lost most of his weapons, but he … kept the team going," Allen said of Williams' performance.
A few plays later, Williams pitched to Diamond Simons, who ran it in for a score.
The Panthers struck back, after one apparent touchdown was called back due to a penalty.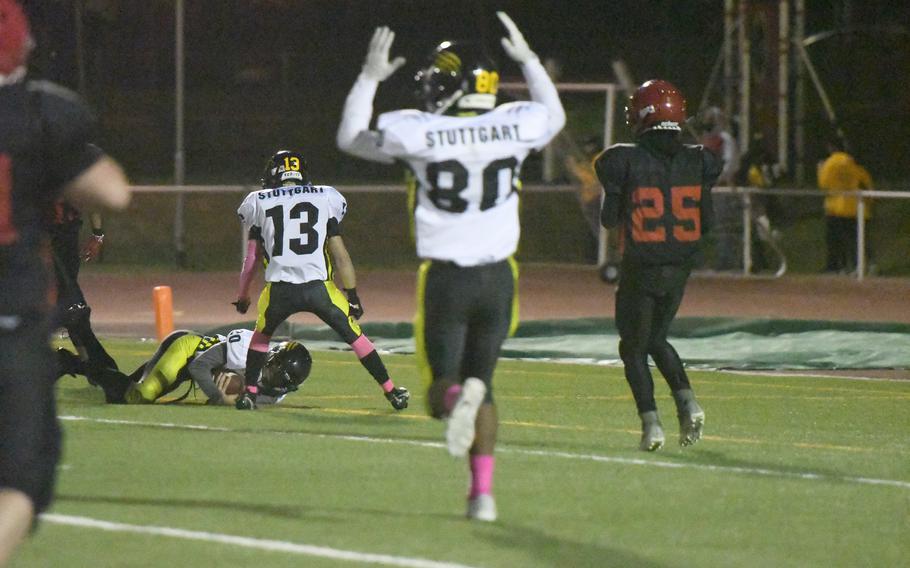 Stuttgart quarterback Caiden Ray ran the ball in a few minutes later. Then on the kickoff, Kaiserslautern's Diamond Simons managed to run the ball nearly the full length of the field for his second touchdown of the night, bringing the score to 19-12.
But Kaiserslautern failed to capitalize on a few key opportunities, such as a few plays later, after a Panther touchdown was called back on a penalty. The Raiders then recovered a Stuttgart fumble in their own endzone but turned the ball over when Kaylon Williams was sacked on fourth down.
That set up the Panthers' Ray for a TD pass to Jace Holmes, which with an extra point kick put the Panthers up 26-12 to end the half.
Kaiserslautern never recovered, as the Panthers doubled their score in the second half.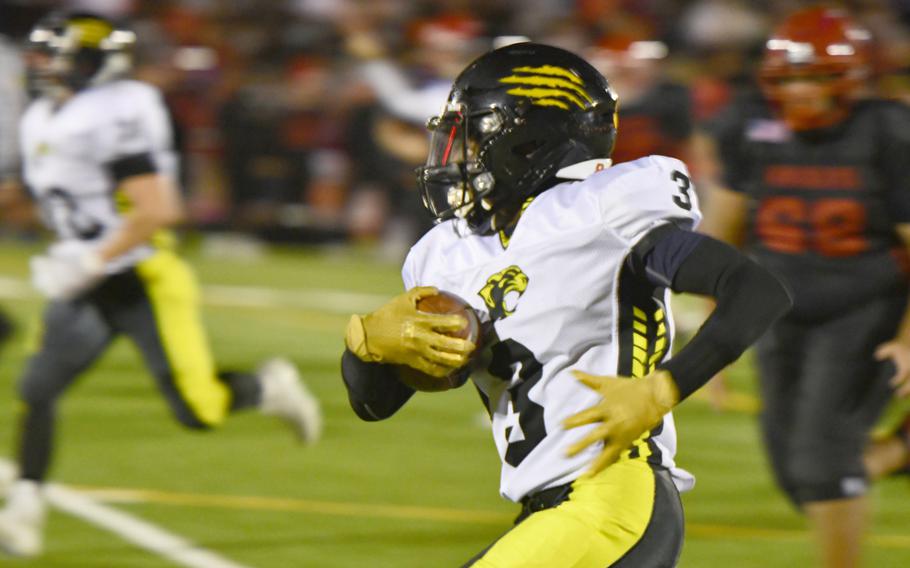 "It was a great team win," said Ray, who carried for 80 yards and scored two of the team's eight touchdowns. "We came together in the second half and the score took care of itself."
Stuttgart's Vincent Allen rushed for 75 yards on six carries and scored once, Trenton Jackson carried the ball nine times for a total of 42 yards and one touchdown, and Christian Just carried seven times for 60 yards.
Ray completed eight of 13 passes for 119 yards, including two to Holmes and Jackson Freds for touchdowns.
Defensively, Jackson had two forced fumbles and three solo tackles, Just had three solo tackles and one sack, and Tyler Farrar had three solo tackles and two assists. D.J. Warren and Cole Nelson grabbed an interception each.
For Kaiserslautern, Kevan Williams had four receptions for 47 yards and Joseph Rodriguez had another four for 33 yards. On defense, Isaiah Rodriguez made 10 tackles, including one for a loss.
While the Panthers finished the regular season 4-0, they're going into the playoffs with a clean slate, Ray said.
"You win or you go home," the Stuttgart junior said. "They're not going to roll over."
For the Raiders, whatever team they face should not judge them by Friday's game, coach Robert Allen said.
"Whoever shows up here on Saturday is going to get a game — a tough game," he said. "We're not as bad as that score."