Football roundup
Wildcats continue to win - no matter the format
by
Norman Llamas
Stars and Stripes
October 16, 2021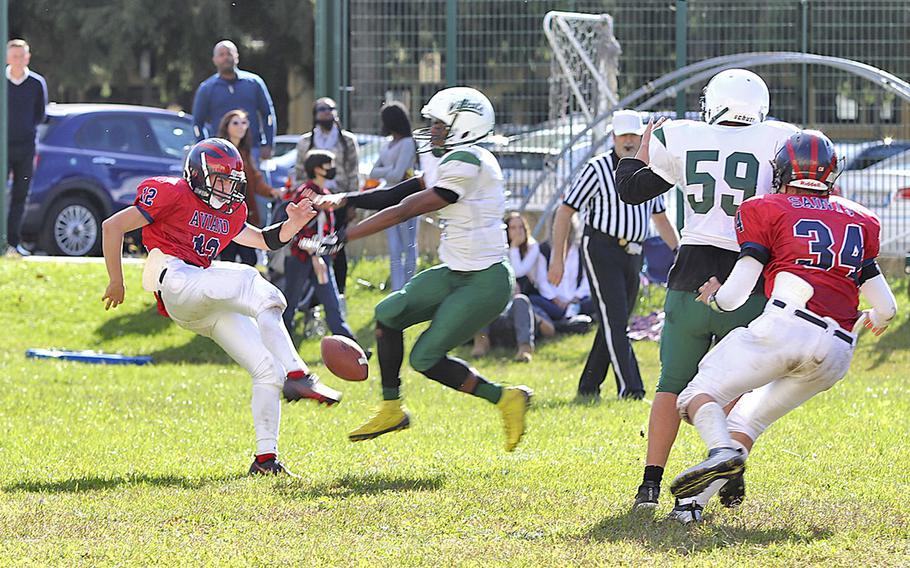 AVIANO AIR BASE, Italy – The Naples Wildcats got their first taste of six-man football Saturday. But even though he came away with a convincing victory, coach Jim Davis isn't exactly a fan.
"It's tough to get all our players some playing time," Davis said. "Because of the six-man format, our linemen aren't able to play, as they wouldn't be very effective in such a wide-open field format. They aren't open-field tacklers, so this format isn't suited for them."
"An eight-man team format would be better, in my opinion," Davis said. "That way, the bigger kids can play and contribute to the game."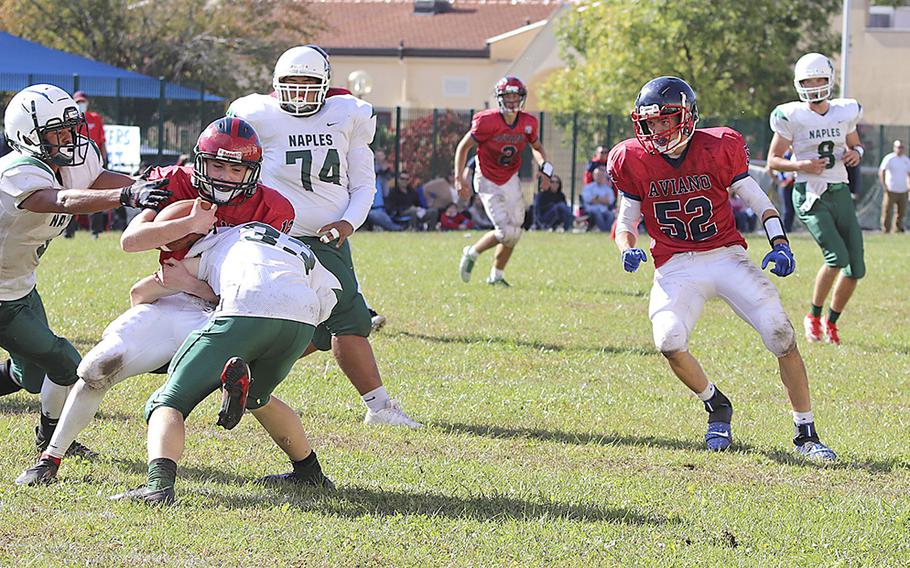 The Wildcats, who played 11-man football in their first two games of the season, didn't really need contributions from their bigger players Saturday in the 40-0 victory over the Saints, though. And that will likely also be the case against Sigonella, next week's foe, which sports an even smaller enrollment than Aviano.
The Saints, who have almost half the enrollment that the Wildcats do (172 to 339), opened the season with the intent of playing 11-man football. But fielding a team in that format would only leave a few players on the sidelines.
"We are a young team; we have a lot to learn, but we are learning as we go," coach Mike Hass said. "We're hoping to be able to get our number of players up, and to get back to playing 11-man football."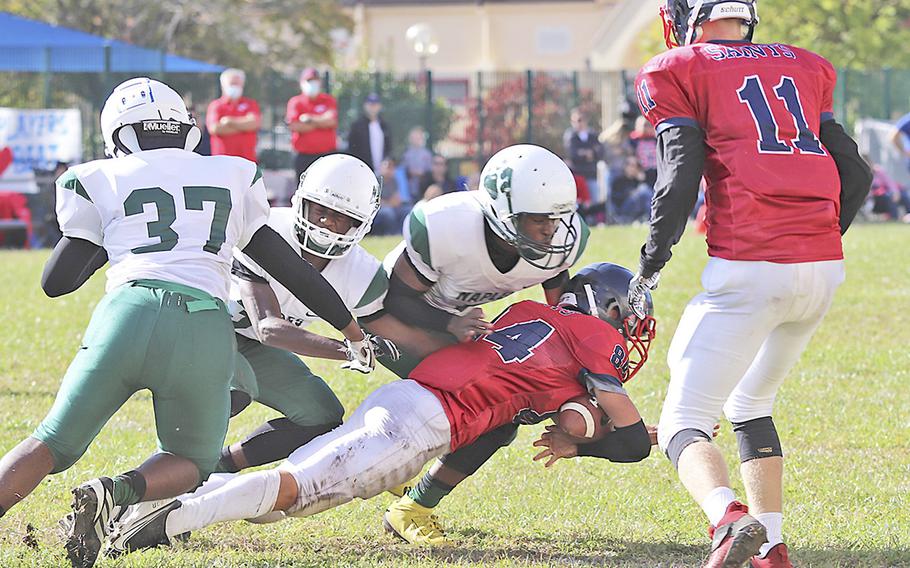 In the meantime, Naples – along with Rota and Vicenza – need to adapt to the new game if they want more competition. And Davis said the Wildcats do indeed want competition. And he said any complaints he has about the format are offset by the fact that his players are getting to play at all after a year's absence due to the coronavirus pandemic.
"This was our first six-man football game, so I wasn't sure what to expect," Davis said. "It was challenging to figure out, all the nuances of the format. But you always want your kids to succeed and for them to have confidence in whatever your plan is."
Davis' plan was apparently successful.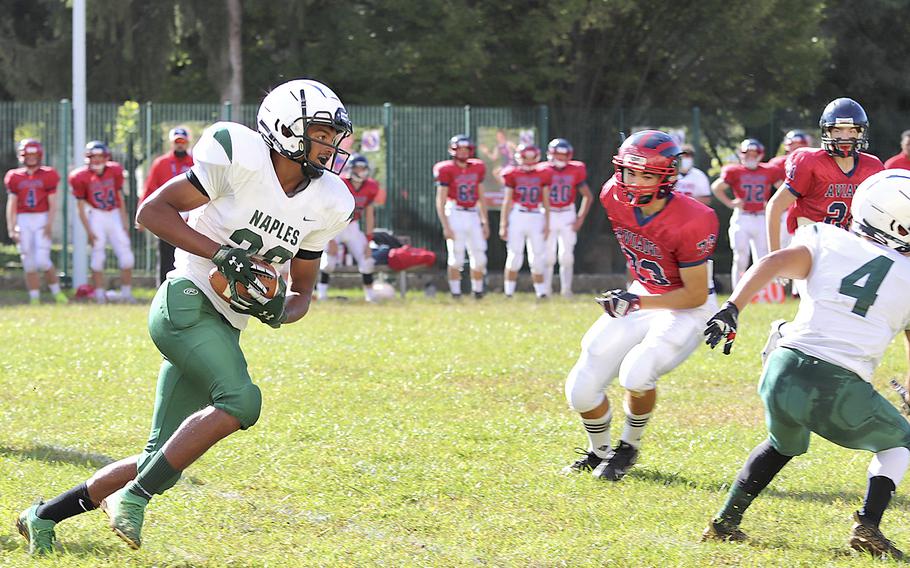 After the teams traded opening possessions, Aviano drove down the field. But Naples' Chris White intercepted a pass in the endzone, ending the Saints' best threat and giving Naples momentum.
The Wildcats took a 20-0 lead into halftime and weren't threatened in the second half.
Quarterback Corbin Gustafson and running back Keith Rascoe Jr. - who also threw for a long touchdown - Keshawn Holland and Andrew Ward were the biggest contributors on offense. For the defense, Gary Oliver, White, Henri Schneider, and Matteo Toliver made a significant impact in keeping the Saints from scoring.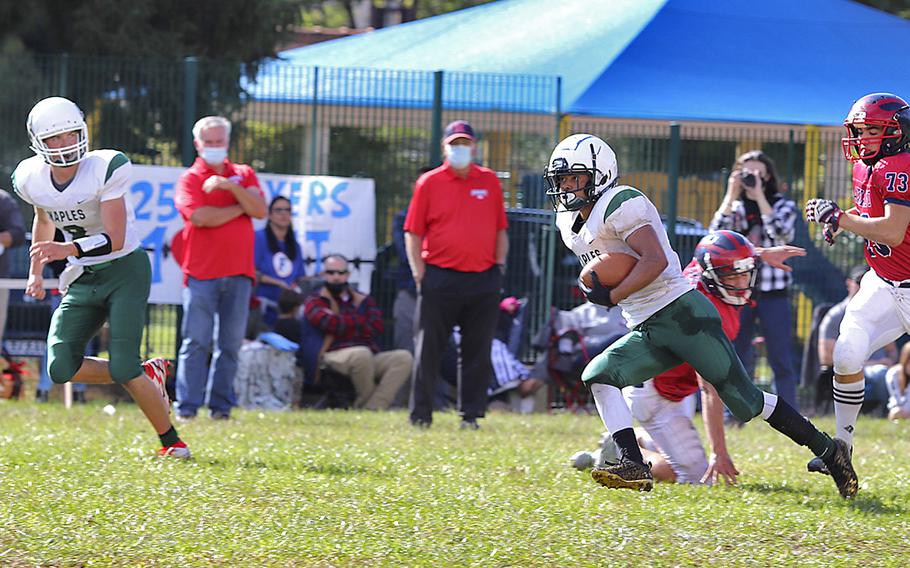 Aviano, which defeated Sigonella by a similar lop-sided score to open its season, finishes it Oct. 30 at Rota. The Naples junior varisty team plays Sigonella next weekend. The Wildcats then finish the season in Vicenza.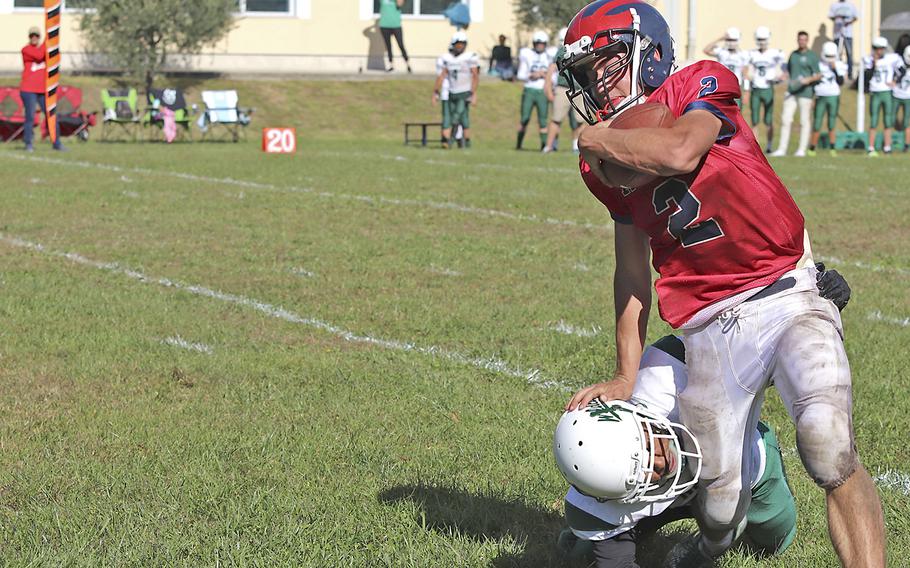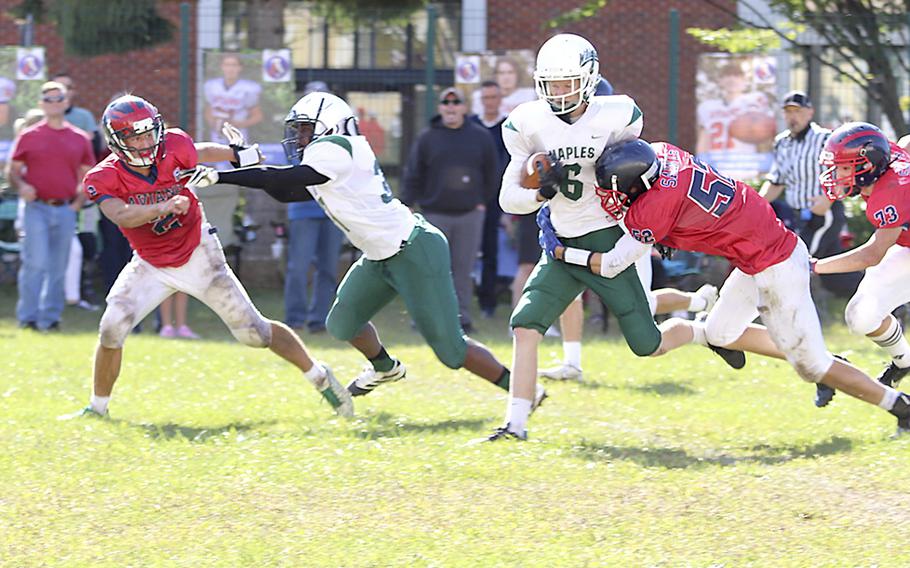 Vilseck 39, Wiesbaden 0: Saturday at Vilseck, the Falcons secured the third seed in next week's Division I playoffs by shutting out the winless Warriors.
Vilseck, which will travel to Kaiserslautern, also assured a spot in the playoffs for Ramstein. A loss would have created a three-way tie between the Warriors, Falcons and Royals.
Jonathan Bullock led the Vilseck offense by completing four of five passes for 74 yards and a touchdown. He handed off to running backs Nic Holcomb (five rushes, 135 yards, four TDs) and Jacob Rathburn (11 carries, 160 yards, one TD).
Spangdahlem 36, Ansbach 22: Saturday at Ansbach, the unbeaten Sentinels secured a spot in the Division III title game by holding off the Cougars.
Their foe in that game? Next week's opponent: Baumholder.
Jalien Jackson connected on 15 of 20 passes for Spangdahlem for 198 yards and three touchdowns. Carson Hicks caught two touchdown passes among his seven grabs for 145 yards and rushed for 48 yards and another score. He also had 11 tackles and an interception on defense. Brenden Castillo had five tackles and two sacks.
Shane Nesbitt scored three touchdowns for Ansbach – a 45-yard run, 46-yard pass from Denis Vrsevci and a 31-yeard pass from Vrsevci.
Baumholder 70, AFNORTH 34: Friday at Brunssum, Netherlands, the Bucs warmed up for their showdown with the Sentinels by blitzing the Lions.
Anthony Willis, Quadre Willis, Hiromi Maranga and Colin DeWinter all scored for Baumholder, which blew open a game that was tight at halftime.
Marques Williams rushed for 183 yards and two scores and David Immel had 135 yards and another. Tristan Samuelson grabbed passes for 73 yards and another score.
Statistics were not available for the Bucs.
Vicenza 44, Rota 12: Saturday at Rota, the Cougars topped the Admirals.
The Cougars have a bye next weekend, then split their squad with the senior team taking on Naples and the junior varsity playing Sigonella. Both games in Vicenza.
No details were available on Saturday's game.
Brussels 37, Hohenfels 6: There was no more information from a game where the Brigands defeated the Tigers.
Hohenfels hosts Ansbach and Brussels visits AFNORTH next Saturday to finish their respective seasons.