Lakenheath takes on two foes in football doubleheader
by
Kyle Alvarez
Stars and Stripes
October 16, 2021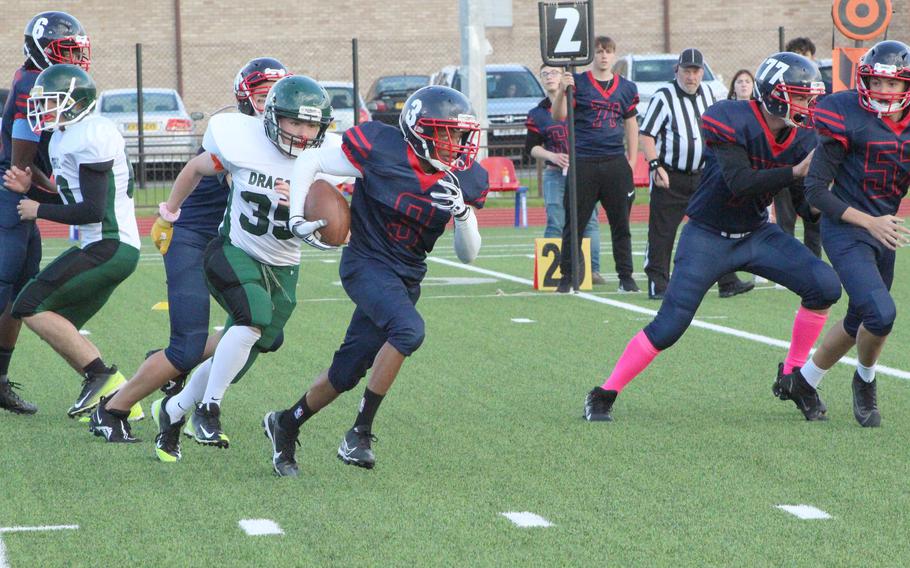 RAF LAKENHEATH, England – The Lakenheath Lancers lost one football game and won another Friday in a rare high school football doubleheader.
The Lancers, playing a non-traditional schedule thanks to travel prohibitions during the coronavirus pandemic, got even more non-traditional by scheduling a six-man football game against the Alconbury Dragons followed by an 11-man game against Bristol Academy.
The results were mixed. The Lancers took a big lead against Alconbury before falling 32-22. Lakenheath then bounced back with a 7-3 victory over Bristol, which played several years against DODEA-Europe Division I schools a decade ago.
Some players played in both games. More experienced players gave Lakenheath an advantage in the first game before leaving to get a bit of rest against Bristol. But the Dragons – who were blown out in an earlier game this year by the Lancers – took advantage of that move.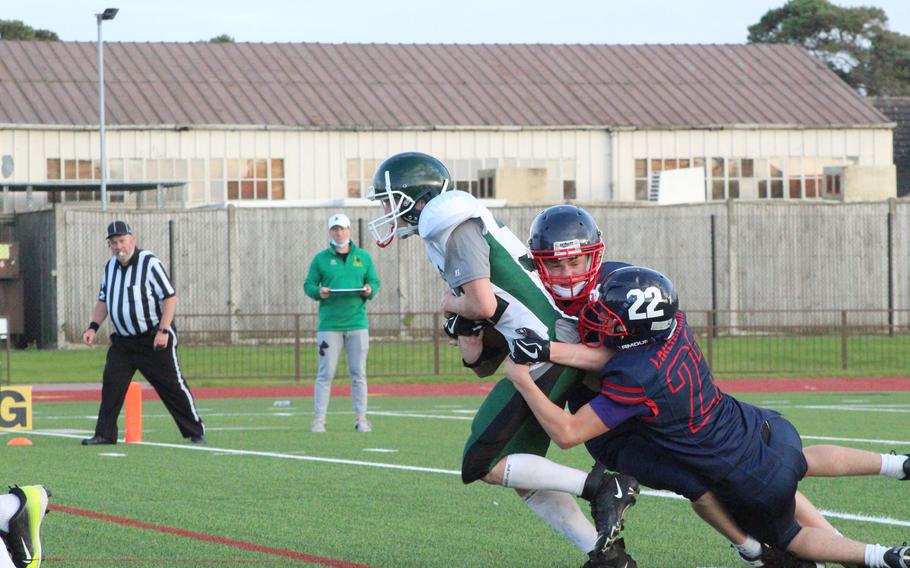 "I'm super proud of these young guys," Dragons coach Tyler Saunders said. "The last game against Lakenheath we didn't put up any points, so to see them come out and execute offensively the way they did was great. They came out with great intensity."
But not as much early on as Lakenheath's Tavaris Williams, who had 17 carries for 160 yards and a score and caught three passes for 28 more and another touchdown. He also returned a punt for a score.
"He's young but he stepped up today and we relied on him a lot this game," Lancers coach Gabe Feletar said. "He did it all on both offense and defense."
Lakenheath also had safeties in the first and second quarters.
But the momentum changed in the second half. Ezekial Siegrist scored three second-half touchdowns.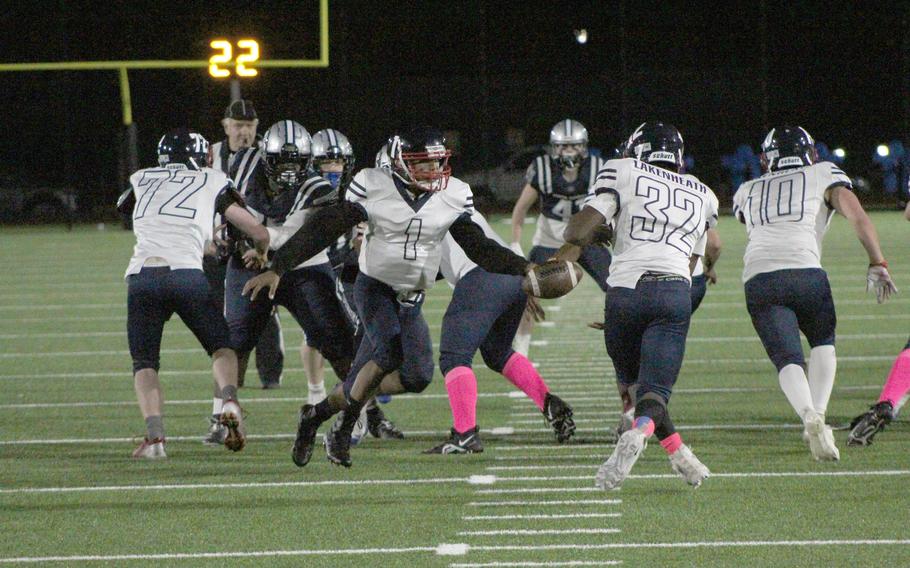 An Alconbury defense led by Austin Wills (15 tackles, one sack, one fumble recovery) and Sebastian Radler (eight tackles, three sacks, one interception and two fumble recoveries) was particularly effective in the fourth quarter as the Dragons took the lead and eventually the game.
The second game, with more players on the field, was defensive-oriented throughout. Penalties also helped stall both offenses. And one penalty that wasn't called could have been the difference in the game.
"We couldn't get anything going offensively," Feletar said. "They had a great defense, but our defense also did a great job and kept us in the game until the fourth quarter."
That's when both teams found some gaps in each other's defenses. Bristol scored first with a field goal that capped a drive fueled by running back Zack Rockovucago, who finished the game with more than 100 yards rushing.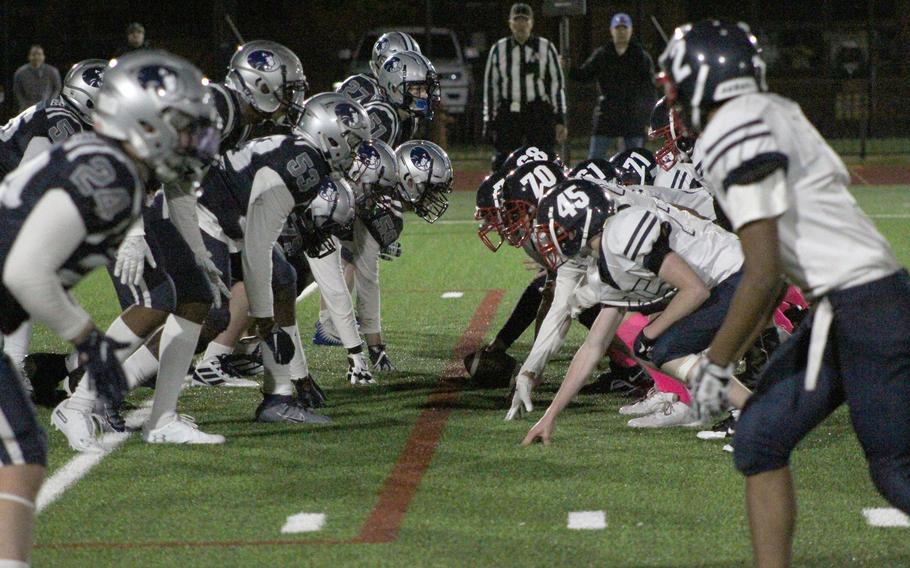 Halfway through the quarter, Lakenheath recovered a fumbled punt return on Bristol's 35-yard line. Lakenheath appeared to have 12 players on the field during the play, but no penalty was issued.
After two incompletions, quarterback Dante Thompson connected with Brian Miles, who made a perfect catch on a near-perfect pass. Miles tracked the ball, timed his jump, turned around mid air and made the catch keeping his feet in bounds at the 5-yard line.
Three plays later, Jon Wilson scored, giving the Lancers enough to win.
"We know they were coming to play," Feletar said. "They're a big academy for a reason and they know what they are doing. But I'm proud of our guys coming in and stepping up to them and showing a lot of heart."
Linebacker Gavin Idleman had 12 solo tackles and three sacks for Lakenheath. Defensive tackle Max Schill had five tackles and two sacks. Wilson carried the brunt of the offense with 17 carries for 102 yards.
The game was the second in two weeks between the two teams. Bristol shut out Lakenheath 38–0 in the first meeting.
Bristol's head coach was more than happy to go head to head with the Lancers again.
"Our school had a fantastic time when we were in the DODEA [league] so many years ago," coach Benjamin Herod said. "That's why we jumped at the chance to compete against Lakenheath again. I think our kids have gained a lot from this experience; they've loved this whole experience, but the main thing is both teams will have a lot to take away."