It's not football as normal for Europe's middle tier
by
Gregory Broome
Special to Stripes
October 14, 2021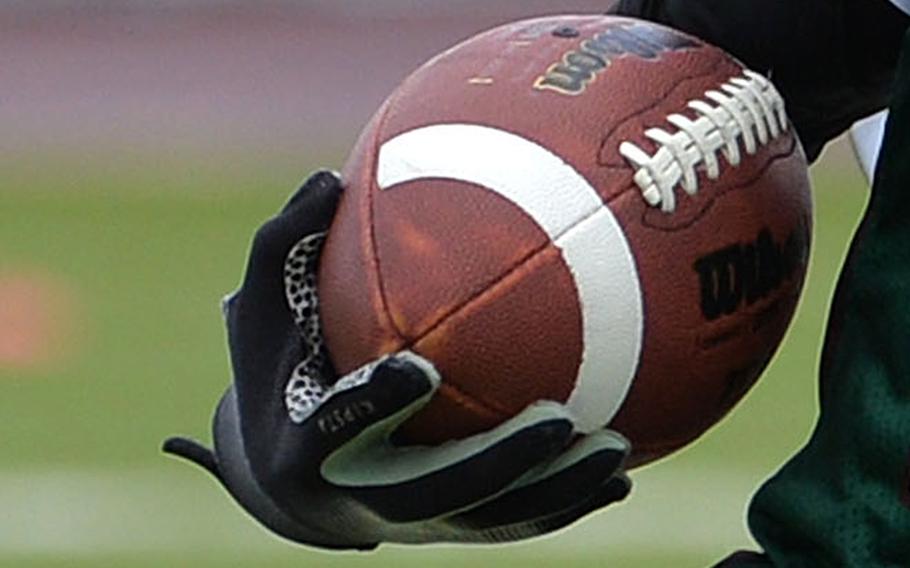 There will be no DODEA-Europe Division II football champion this season, athletic director Kathlene Clemmons confirmed this week.
Instead, the division's five entries - Aviano, Naples, Vicenza and Sigonella of Italy and Spain-based Rota - will play out the final three weekends of their regular-season schedule in whatever fashion participating squads are able.
Aviano and Sigonella lack the necessary roster size to compete in conventional 11-man football, Clemmons said. As such, games involving those two schools will be played under the six-man rules currently in place at DODEA-Europe's Division III level. That includes their games against Naples, Rota and Vicenza, even though those schools have the numbers for 11-man football. When those latter three schools play head-to-head, they'll revert to 11-man ball.
That dynamic is on display this Saturday as Naples visits Aviano for a six-man showdown while Vicenza travels to Rota for a traditional 11-man matchup. Sigonella has a bye.
The midseason adjustment is the latest twist in a tumultuous era of DODEA-Europe football, which was already navigating shifting school enrollment numbers and a divisional realignment even before the COVID-19 pandemic canceled the 2020 season.
The 2021 campaign was expected to bring more such challenges, and it's lived up to that expectation.
"It's been a strange season for sure," Aviano coach Michael Haas said.
Many DODEA-Europe coaches who have overseen their program's transition from 11-man to six-man football have faced a steep learning curve in grasping the more obscure version of the game. That was also the case for the Saints.
Haas wasn't familiar with the six-man version of football until he was preparing his team to play it. The Aviano coach tracked down videos of schools in Texas and South Dakota playing six-man ball and, with the assistance of a capable coaching staff including former Saints head coach Richard Dahlstrom, passed along what he learned to his young players, "many of whom are wearing pads for the first time," he said.
With all that in mind, this fall in Aviano was inevitably focused on player development. The absence of a championship game at the end of the season didn't drastically change the Saints' approach.
"They love to compete," Haas said. "We may not be big, but they have been excited to learn and they never quit."
Aviano has ample opportunity to prove itself over the remainder of the regular season. The Saints will tangle with a strong Naples squad this weekend. After an Oct. 23 bye, they'll make the long trip to Spain to take on a Rota team that had steadily grown into a Division II dynasty in the years before the pandemic.
"I'm looking forward to the next couple of weeks and watching the team mature weekly," Haas said.
For all the disruptions and distractions, the Saints find themselves in much the same position as each of their DODEA-Europe peers: playing the schedule they're given and making the most of it, regardless of the reward - or, in the case of this Division II season, the lack thereof.
"I'm just happy we are able to compete again," Haas said. "We are back playing football.
"I think that's what motivates everybody."