Ramstein, Stuttgart, Wiesbaden take turns beating each other
by
David Edge
Stars and Stripes
October 9, 2021
WIESBADEN, Germany — The DODEA-Europe Division I volleyball tournament about three weeks away just got a bit more interesting.
The Ramstein Royals, traditionally a volleyball power, have been anything but this season. Until they handed the unbeaten Stuttgart Panthers their first loss of the season Saturday.
Ramstein won 25-19, 25-23, 24-26, 25-21 after falling in straight sets to the hosts earlier in the day.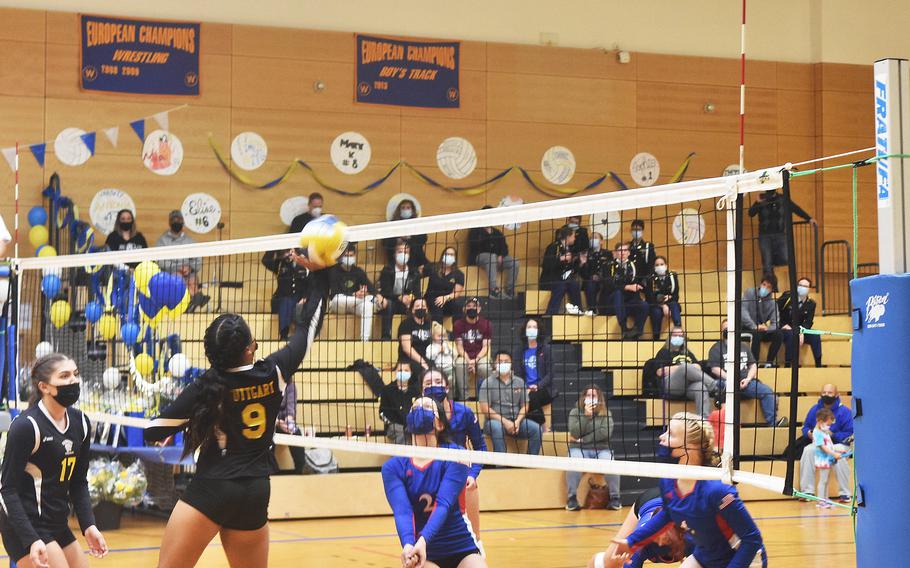 In every set, the Panthers held a big lead, but the Royals rallied behind seniors Isabella Adkins and Spice Harris, who combined for 17 kills.
"We just got in our heads, not serving at our potential," Stuttgart outside hitter Samantha Caldwell said. "It was humbling for us because we had been undefeated going into that game and that loss was what we needed to wake us up."
The Panthers did just that in the final match of the day, turning back the Warriors 25-20, 24-26, 25-22, 25-19.
The Panthers used a combination of inside and outside hitting and a powerful service game to rattle the Warriors. Wiesbaden struggled to get its high-powered offense going.
"I think the big break in between our games really affected us. I know that it affected me," Wiesbaden captain Alynna Palacios said. "It was hard to adjust to their game since we had no footage on them, and their setter was no joke."
Wiesbaden had used powerful serving and dominant play at the net to sweep the Royals 25-15, 25-10, 25-17 to start off the day.
At times Ramstein seemed lost, never getting into any kind of rhythm.
"Our starting captain is hurt and that was the first game that we played without her," Ramstein's Adkins said. "We were messing with our lineup and not playing up to the level that we know that we can play at."