Football roundup
Raiders, Panthers romp to stay unbeaten
Stars and Stripes
October 9, 2021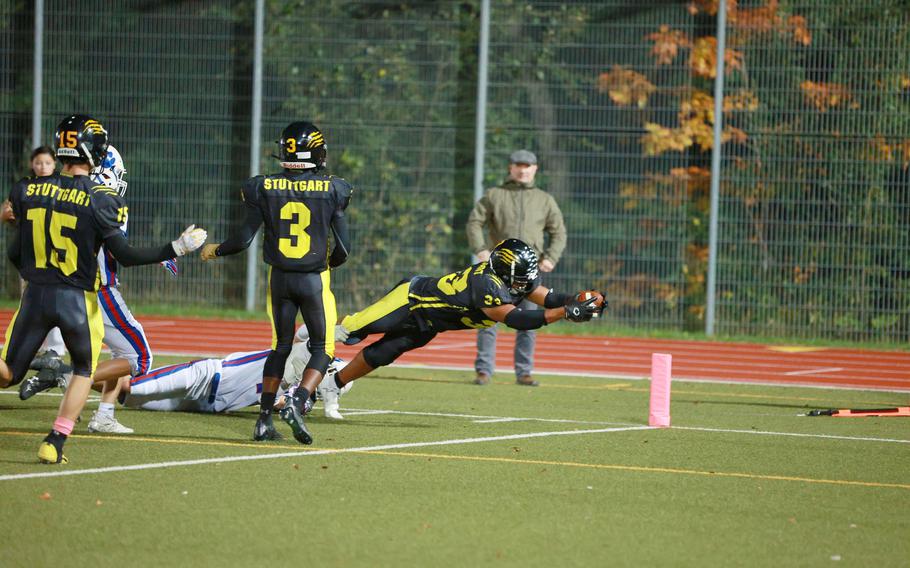 DODEA-Europe's two unbeaten Division I football teams toyed with their opponents on Friday, setting up a showdown next weekend that will determine the top seed in the playoffs.
Kaiserslautern 47, Wiesbaden 7: At Wiesbaden, three players rushed for more than 100 yards as the Raiders topped the winless Warriors.
Kaiserslautern (3-0) went up 23-0 before Wiesbaden put points on the scoreboard as Logan Hall connected with Evan Cook for a 15-yard score. Jan Kessler added the extra point.
Larry Haynes, Diamond Simons and Joseph Rodriguez-Martinez scored early touchdowns for Kaiserslautern after an initial safety. Kaylon Williams, who had 130 yards rushing, scored twice after Wiesbaden's touchdown to ensure the victory. Rodriguez-Martinez and Simons added another score apiece.
Roberde Celine had 188 yards rushing to lead the Raiders, while Simons added 106 more. On defense, Kevan Williams and Myles Steele were credited with five tackles each and Haynes four. Defensive lineman Desean Marshall intercepted a pass for Wiesbaden.
The Warriors (0-3) must beat Vilseck (1-2) next weekend to have a shot at the playoffs.
Stuttgart 68, Ramstein 0: At Stuttgart, the Panthers (3-0) mercy ruled the Royals in the second quarter and went on to their second shutout of the season.
Itzak Sandoval got the Panthers off to a strong start by booting the first of seven kickoffs into the end zone. Cole Nelson's punt return set up a short field and Caiden Roy connected with Trent Jackson on a 13-yard score that was all the Panthers would need less than 3 minutes into the game.
Ray connected with Jackson for a 9-yard TD on Stuttgart's third possession and a Sandoval field goal made it 18-0 after a quarter.
Ray found Jackson again in the second quarter for a 47-yard score. About a minute later, Noe Antoine blocked a punt and Marcel Mailey recovered in the end zone and it was 33-0. Tylar Farrar's punt return to the 10 set up a Ray to Vincent Allen scoring pass and officials starting using a running clock. Christian Just then forced a fumble on defense and scored from 10 yards out on offense on the next play.
In the second half, freshman Jackson Freds returned the opening kickoff for a 68-yard touchdown. Mailey eventually scored the game's final touchdown on a short run.
Ray completed 8 of 14 passes for Stuttgart – half of them going for touchdowns. Farrar (seven tackles) and Just (six) led a Panthers defense that held Ramstein (1-3) to 102 yards.
AFNORTH 72, Brussels 35: Saturday at Brunssum, David Immel and Marques Williams each ran for more than 200 yards as the Lions pulled away from the Brigands in a six-man Division III contest.
Williams rushed for 214 yards and four touchdowns, while Immel ran for 211 and two touchdowns and threw another one to Nathan Goldsmith. Alex Roberts added 122 yards rushing and two more scores.
Brussels' William Pierce starred in a losing cause, rushing for 288 yards and three scores. Devin Smith scored twice for Brussels and Jabriel Wells scored another. William Gibbons had 25 tackles and two sacks on defense.
AFNORTH (3-1) hosts Baumholder next weekend with a berth in the Oct. 30 title game likely for the winner.
Spangdahlem 51, Hohenfels 0: Saturday at Spangdahlem, a blistering defense helped the Sentinels stay perfect in Division III play.
Carson Hicks was credited with five interceptions – returning three of them for touchdowns. Brenden Castillo had 7.5 tackles and five sacks.
On offense, Jalien Jackson connected on seven of nine passes for 110 yards and three touchdowns for Spangdahlem, with Adam Jalomo scoring twice on the ground and once through the air.
Naples 17, Rota 6: Saturday at Naples, the Wildcats scored twice before halftime to spoil the Admirals' season debut in a Division II contest.
Keith Rascoe had 17 carries for 146 yards including a 5-yard touchdown in the first period. Henri Schneider added a 23-yard field goal. The Admirals came back with a 17-yard touchdown from Evan Garret to Matt Taylor. But Corbin Gustafson connected on a 20-yard pass to Marcus Wilson just before halftime and neither team scored in the second half.
Wilson had 10 tackles to lead the Wildcats defense.
Garret threw for 150 yards. Taylor had 80 yards receiving and Kyle McGrady caught passes for 40 and ran for 40 more.
KJ Bryant had 14 tackles for Rota and Isaac Hagood had four tackles for losses.
Vicenza 46, Aviano 6: Saturday at Vicenza, the Cougars routed the Saints in a six-man game. The Division II Saints dropped down from 11-man football this week, citing a lack of players.
No information about the game was available.