Faces change, but Panthers' winning ways don't
by
Gregory Broome
Special to Stripes
October 7, 2021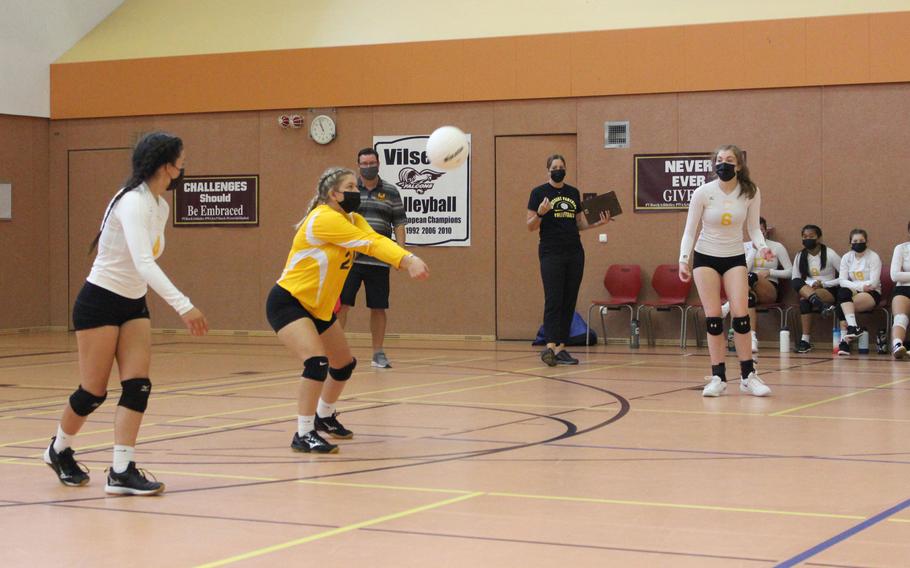 A lot has changed within the Stuttgart's girls volleyball program. But the results are very familiar.
The Panthers, one of DODEA-Europ's premier dynasties in any sport before the COVID-19 pandemic canceled the 2020 season, are back atop the Division I standings as the 2021 season heads into its final weeks. Stuttgart takes an undefeated record into this weekend's key three-team meet with divisional rivals Ramstein and Wiesbaden.
That kind of performance is nothing new for the Panthers. But new head coach Bethany Trimble took nothing for granted as she prepared for her first year on a DODEA-Europe sideline.
"I had absolutely no idea what to expect coming in," said Trimble, an NAIA All-America Scholar Athlete at Bethel College and a former coach at two Kansas high schools. "I hadn't seen a single player in action before we started in August."
As it's turned out, her Panthers are pretty good, despite their own DODEA-Europe inexperience. None of the members of this 2021 roster were on the stacked 2019 varsity squad that followed the program's pre-pandemic pattern of excellence by reaching the DODEA-Europe final.
Still, Stuttgart's winning culture has remained intact on the other side of the lost 2020 season.
"They do know the program here has been historically strong," Trimble said. "They want to be a part of continuing that success."
To accomplish that larger vision, Trimble has focused her players' attention on the game's details, specifically "serving, passing and ball control." Though those aspects often lack the pizzazz of a spike or a diving dig, consistent competence in those routine tasks is a prerequisite for championship contention.
"They're the building blocks for every successful team," Trimble said. "We spend a high percentage of our practice time on them."
Trimble, a school psychologist at Stuttgart, has also emphasized the mental aspect of the sport, teaching her players how to process and move past inevitable mistakes.
"Volleyball is a game of errors," Trimble said. "But being able to mentally recover from those errors and focus on the next point can be the difference in the game."
All of those positive factors have coalesced into a special season for Stuttgart volleyball. And that hasn't happened by accident.
At the close of tryouts this summer, Trimble asked her players to list their goals for the season and was pleasantly surprised at the results. Rather than tangible awards and championships, Trimble recalled, the "overwhelming theme" of the players' responses was to "work together."
And that's why these Panthers, emerging from a canceled season with a new coach and a new roster, are working out so well.
"Poor chemistry is so often the downfall of a talented team," Trimble said. "I think having everyone recognize this early on has likely translated into our successful start."