Heinz, Pezel are DODEA-Europe's first champs of the fall
by
David Edge
Stars and Stripes
October 7, 2021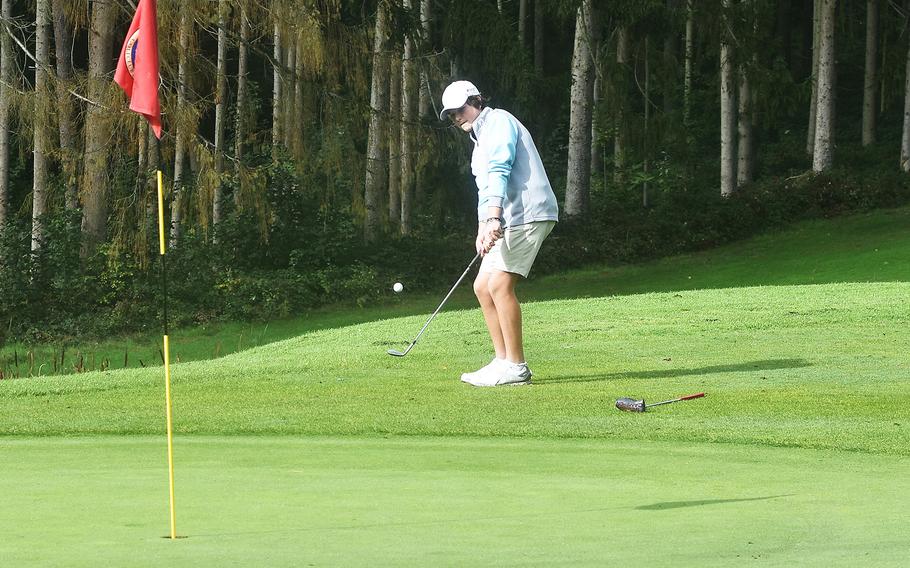 WIESBADEN, Germany — Two new champions were crowned after 36 holes of golf Wednesday and Thursday at Rheinblick Golf Course.
Stuttgart freshman Mark Heinz won the DODEA-Europe boys title with a two-day score of 84 under a modified Stableford scoring system, while Kaiserslautern's Reigen Pezel staged an impressive second-day rally to win the girls title with a two-day total of 24.
"I didn't think that I would win the title in my second year of high school, but the large number of practices and the different kinds of drills really paid off for me," Pezel said.
Heinz led by seven points after an opening-day 44 under the system that gives players more points for the fewest strokes it takes them to put the ball in the cup at individual holes.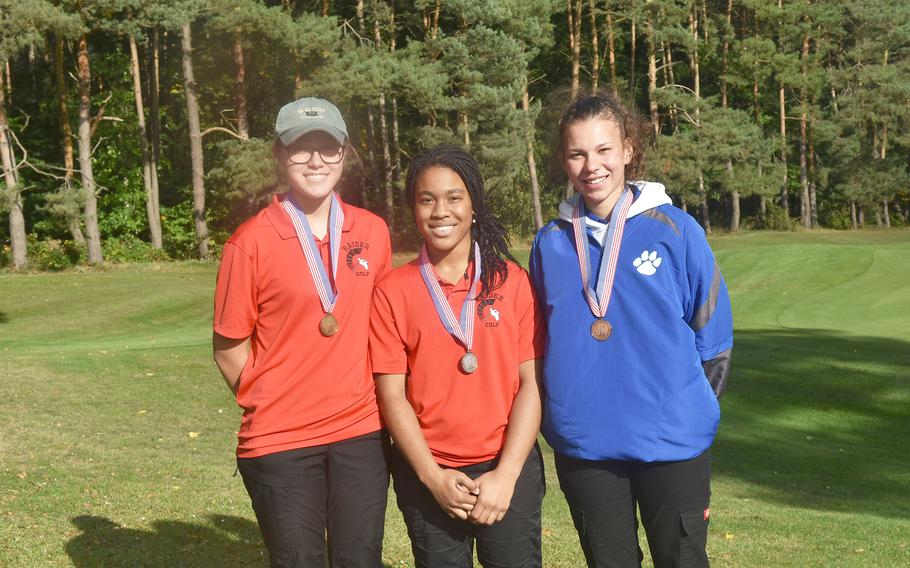 "I really didn't expect to win the title this year as a freshman, but I work really hard on my game, so I am proud to represent my school as the champion," he said.
He did struggle a bit early Thursday, though.
"The hardest hole for me was the first hole because I triple bogeyed," Heinz said. "It wasn't until we finished the ninth hole before I had strong feeling that I might win the title."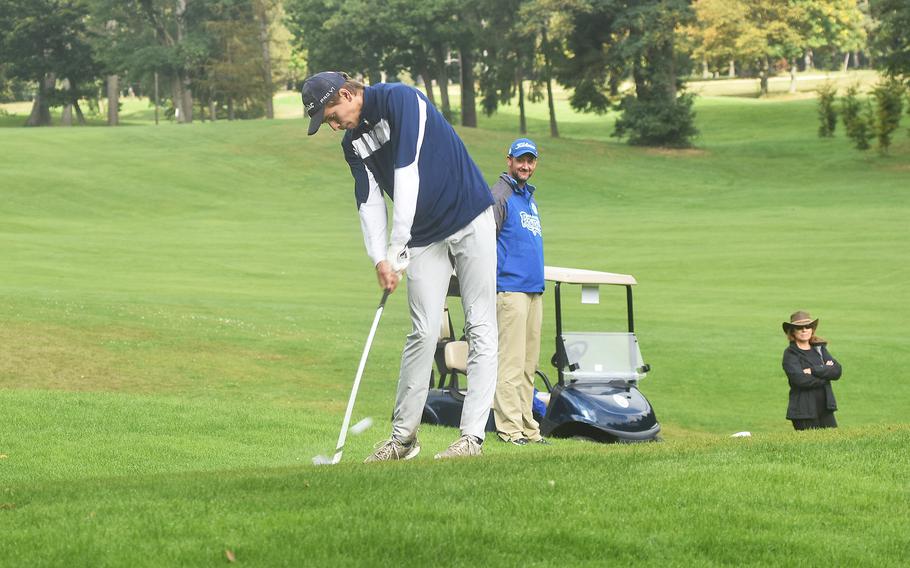 Lakenheath's Wesley Meinhart finished second with a 76, a few points ahead of Sigonella teammates Marcus Romundset (73) and Evan Cantwell (70). Ramstein golfers took the next four spots en route to the team title.
"It feels really good to win the boys team championship this year because we didn't have any of the top players," Ramstein coach Nathan Brewster said. "This was a really good team win because they had to perform and do their job as a team to win the title."
Kaiserslautern, which had three of the five entrants, took first in the girls competition. Freshman Asia Andrews finished five points behind her teammate Pezel with 19 points. Defending champion Carleigh Rivera of Ramstein was third with 17.
Boys
Team
Ramstein 189, Stuttgart 153, Wiesbaden 135
1. Mark Heinz (Stut) 44-40_84; 2. Wesley Meinhart (Lakenheath) 34-42_76; 3. Marcus Romundset (Sigonella) 34-39_73; 4. Evan Cantwell (Sig) 37-33_70; 5. Colton Lucas (Ram) 28-25_53; 6. Cyrus Torres (Ram) 23-26_49; 7. Jace Monson (Ram) 21-24_45; 8T. Ethan Kim (Ram) 20-22_42; 8T. Tristin Kim (Wies) 20-22_42; 10T. Darby Dermanoski (Wies) 19-18_37; 10T. Jacob Halford (Ram) 18-19_37; 12. Remy Benson (Wies) 18-17_35; 13. Patrick Harrison (Stut) 16-17_33; 14. Christian McHugh (Ram) 19-9_28; 15T. Brian Grieve (Wies) 8-16_24; 15T. Jonah Rothas (Lake) 11-13_24; 15T. Ried Glasgow (Stut) 14-10_24; 18. Jonah Harvey (Wies) 6-17_23; 19. Noah Williams (Vilseck) 9-10_19; 20. Liam Bernard (Stut) 7-5_12; 21. Ryan Maracinni (Wies) 5-6_11.
Girls
Team
Kaiserslautern 58, Ramstein 17, Stuttgart 16
1. Reigen Pezel (Kais) 9-15_24; 2. Asia Andrews (Kais) 7-12_19; 3. Carleigh Rivera (Ram) 10-7_17; 4. Taylor Kreimeier (Stut) 6-10_16; 5. Shealee Moneymaker (Kais) 8-7_15.