Fall sports make successful return around Europe
by
Gregory Broome
Special to Stars and Stripes
September 16, 2021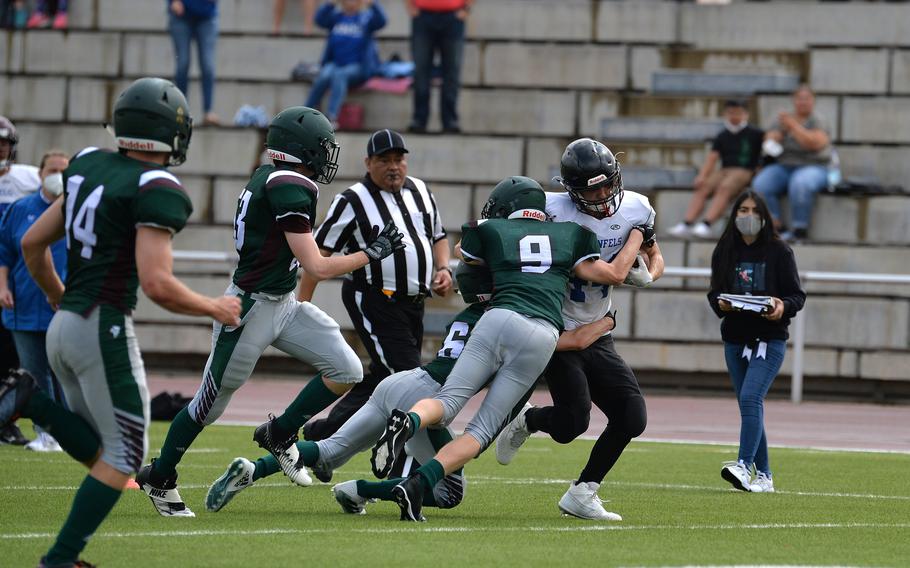 The differences are obvious and inescapable. But last weekend's slate of DODEA-Europe sports was the most familiar the organization has seen since the COVID-19 pandemic disrupted life on the continent some 18 months ago.
Players wore masks as they took the court for season-opening matches in volleyball, the only of DODEA-Europe's five fall sports to be held indoors. And that was just one of the major adjustments facing Ramstein as it hosted Frankfurt International and Wiesbaden in a three-team weekend meet. The Royals lost all but one of their varsity players and most of their coaching staff over the long hiatus and are still getting comfortable in the new gym at their recently built high school. Those factors dialed up the degree of difficulty for a season that already packed plenty of adversity.
"This has certainly been a year like no other," Ramstein head coach Kandel Baxter said. "Definitely a rebuilding year all around."
The Royals played in front of a crowd restricted to family members, which Baxter said "limited school spirit and fan involvement." But no amount of pandemic precautions could fully dampen the joy of being back in the game.
"We are in the gym and on the court, and any day is a good day when you get to play volleyball," Baxter said. "So we are making adjustments and getting back into the groove."
The unique rhythm of DODEA-Europe sports has always included a healthy amount of travel. While road trips will be limited this fall compared to seasons past, its particular appeal persists.
AFNORTH made one of the relatively few international trips on the fall schedule on Saturday, venturing from its Netherlands base to Kaiserslautern, where it met Hohenfels halfway for six-man Division III football action on a neutral field.
Lions head coach Greg Blankenship said his team happily weathered the three-and-a-half-hour bus ride, even as they wore masks throughout and were restricted to an assigned seat to allow for contact tracing. The team made good use of the time, spending much of the bus ride developing and reviewing defensive play calls they couldn't get to in their limited practice time.
Blankenship said he reminded his players that they were "blessed" to be back on the field and insisted there be "no negative talk, period" among them regardless of the outcome or the struggles of less-experienced teammates. That turned out to be largely a non-issue as the Lions happily handled Hohenfels by a 76-28 score.
But the thrill of victory came second to the thrill of simply being back in action.
"We are already winning today just by playing this wonderful game on a Saturday afternoon," Blankenship said.
The start of the season isn't quite as momentous for DODEA-Europe's tennis, golf and cross country teams; each of those more individually oriented sports produced something resembling a regular season in 2020 while football and volleyball were canceled outright. But the first full-fledged weekend of DODEA-Europe sports was an unmistakable symbol of progress.
Vicenza tennis coach Mark Gillett said his team's weekend visit to Rome represented "a return to normalcy for students." And it was at least as poignant for the adults involved.
"Normally students are the most excited ones on a sports trip," Gillett said. "Teachers and parents were even more excited and filled with emotion."
Such trips, a logistical challenge even before COVID-19, now include added requirements involving masks and vaccination cards. But the benefits are well worth the added effort.
"Students seem more appreciative than ever just to be out there," Gillett said.