DODEA-Europe football roundup
Lions start off season with a roar
Stars and Stripes
September 11, 2021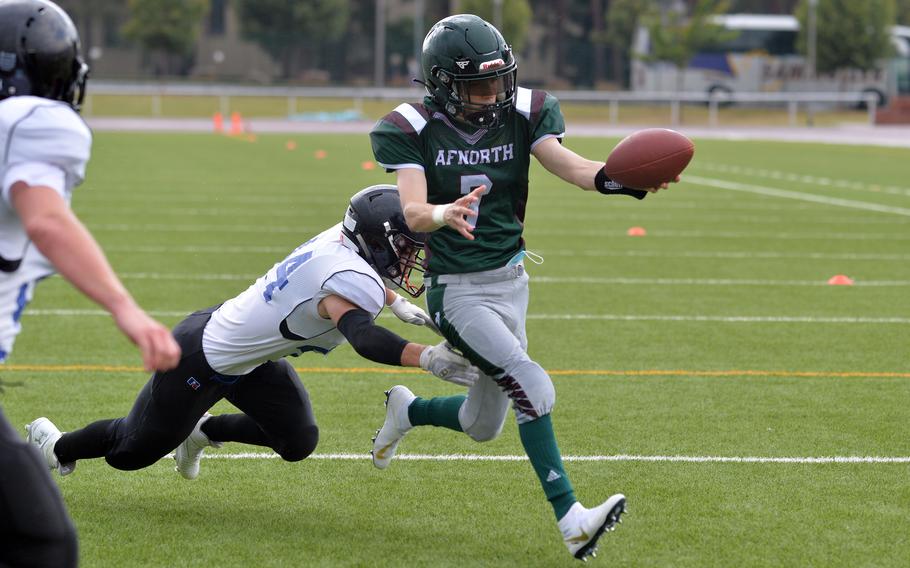 KAISERSLAUTERN – The Tigers turned out to be no match Saturday for the Lions in a DODEA-Europe Division III football game that probably wore out the statisticians as well.
Marques Williams and Alexander Roberts combined for 511 yards rushing and seven touchdowns as AFNORTH blitzed Hohenfels 76-28 in a game called by mercy rule in the third period.
Division III teams play six-man football in DODEA-Europe and fewer players on the field often result in more scoring.
Williams had 307 yards and scored three times, while Roberts totaled 204 yards and scored four times. Casey Matthews led the Lions defense with 10 solo tackles and picked up a fumble on one of them and scored.
Jaiden Workman had two touchdowns and Hunter Maples added one for Hohenfels.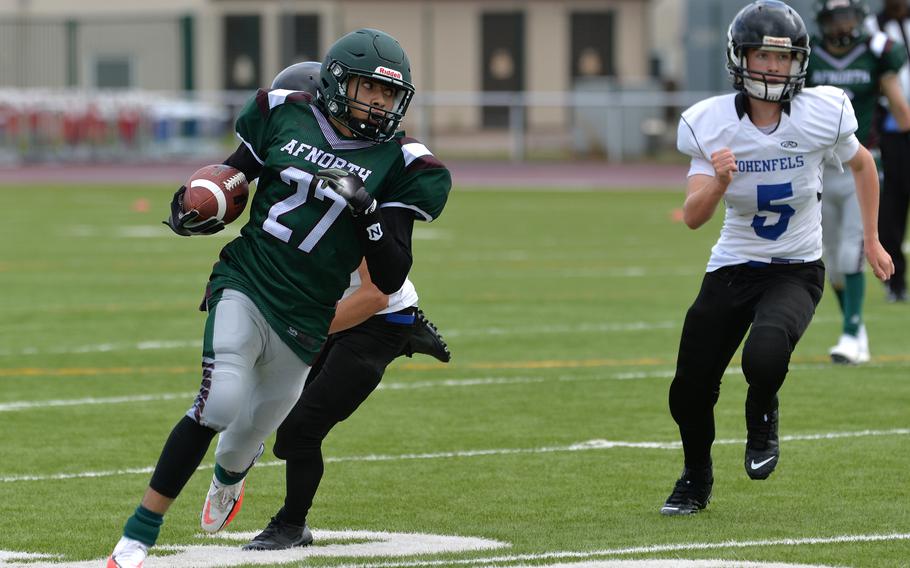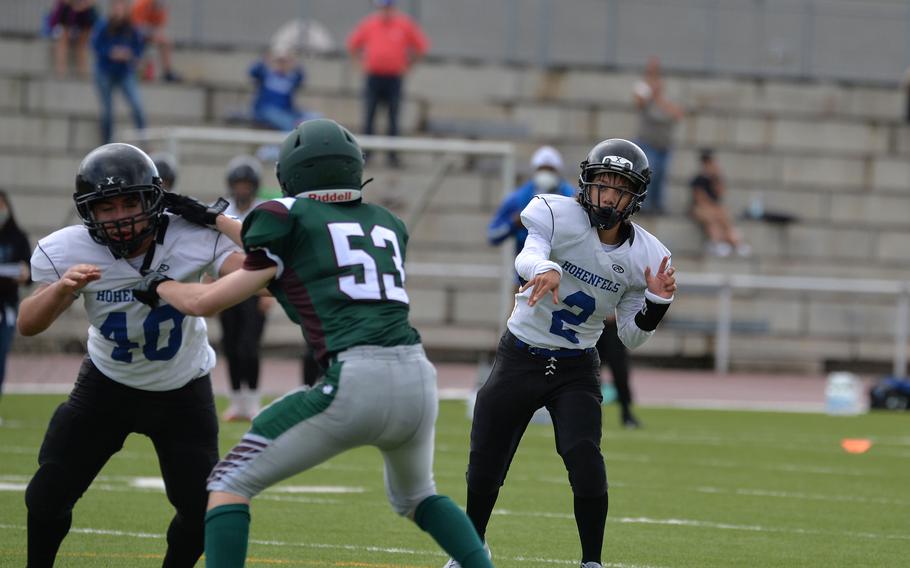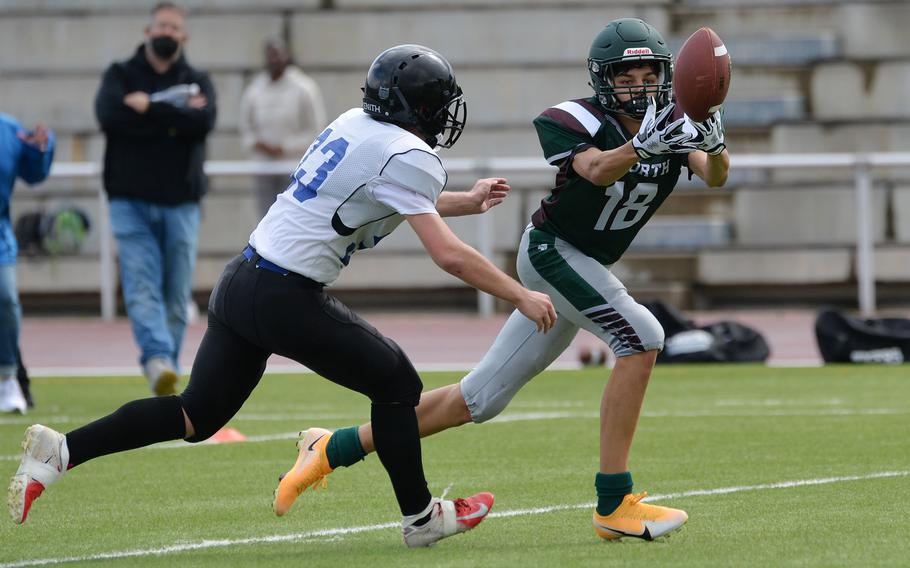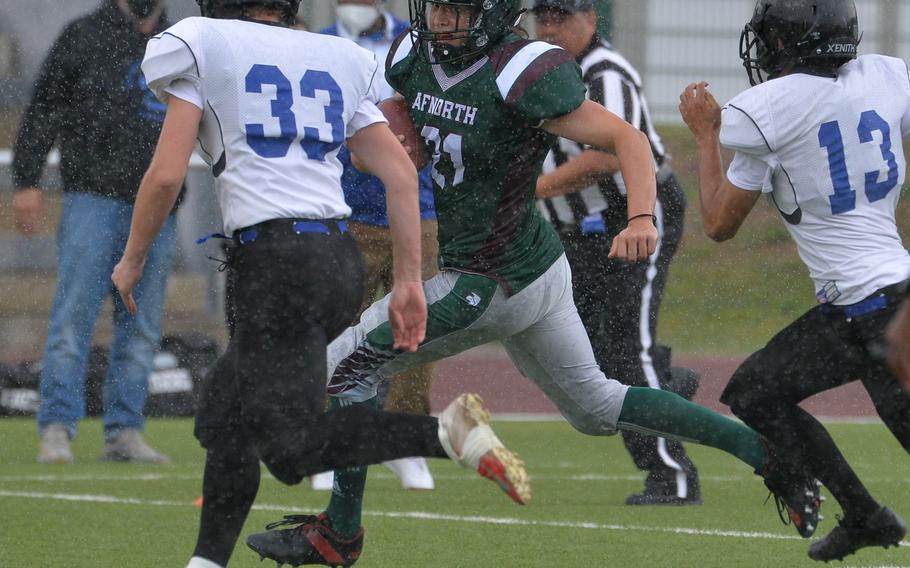 In other football games during the opening weekend for fall sports in Europe:
Stuttgart 15, Vilseck 6: Saturday at Vilseck, the Panthers shut down the Falcons after the opening drive en route to the victory.
Trenton Jackson and Christian Just each scored for Stuttgart and combined with quarterback Caiden Ray for 135 yards rushing. Jackson scored on a two-point conversion to put the Panthers up 8-6 at halftime.
Aveion Ruffin and Jacob Rathbun combined for 92 yards rushing for Vilseck, with Rathburn scoring on the team's opening drive. Vilseck drove within the Stuttgart 20-yard line three times in the second half, but the Panthers defense held up each time.
Defensively, Just and Cole Nelson were each credited with three solo tackles and combined to assist on 10 more for Stuttgart and Nelson grabbed an interception. Rylan Linzmayer (seven tackles), Trevon Vargas (six), Nic Holcomb (six) and Owen Brewer (five) paced the Vilseck defense.
Kaiserslautern 50, Ramstein 29: Friday at Ramstein, the Raiders used a 22-0 second quarter to blow open the game with their longtime rivals.
Kaylon Williams starred for Kaiserslautern, completing 10 of 18 passes for 236 yards and three touchdowns and rushing 11 times for 135 yards and three more scores.
With the game tied at 7-7 after a quarter, Williams scored on 1-yard and 4-yard runs and then connected with Joseph Rodriguez for a 31-yard TD pass to put the Raiders up 29-7 at halftime.
Larry Haynes III grabbed four passes for 129 yards for the Raiders. Junior Celine rushed nine times for 64 yards. Kevan Williams had a 61-yard punt return and a 31-yard kickoff return.
On defense, Isaiah Rodriguez had eight tackles and forced a fumble, Celine had six tackles and Aiden Zollman added four tackles and a forced fumble.
DeMarius Johnson, CJ Delp and Landon Torrell scored for Ramstein. Delp completed 16 of 31 passes for 150 yards. Johnson rushed 19 times for 125 yards, caught seven passes for 96 yards and had 330 yards of total offense including kickoff returns.