Europe Div. II football: Panthers shut out Wildcats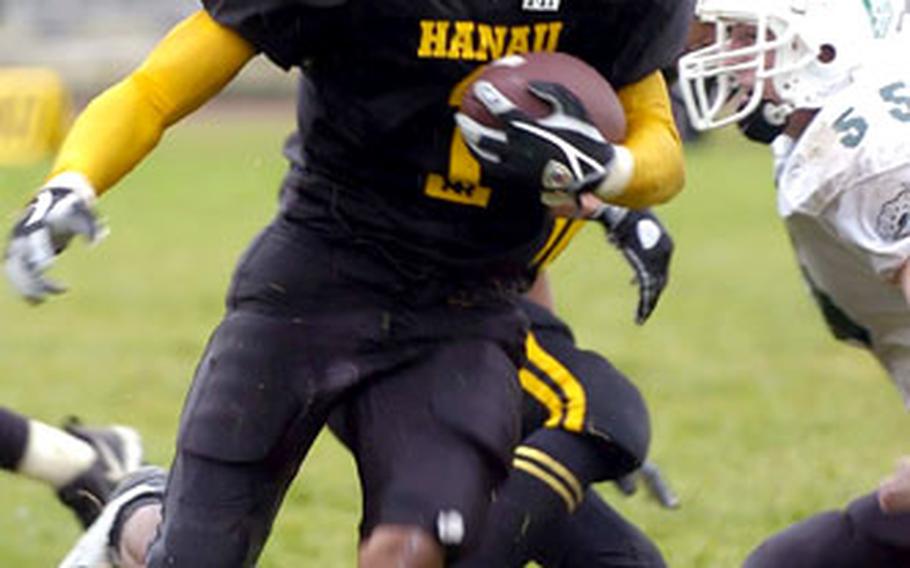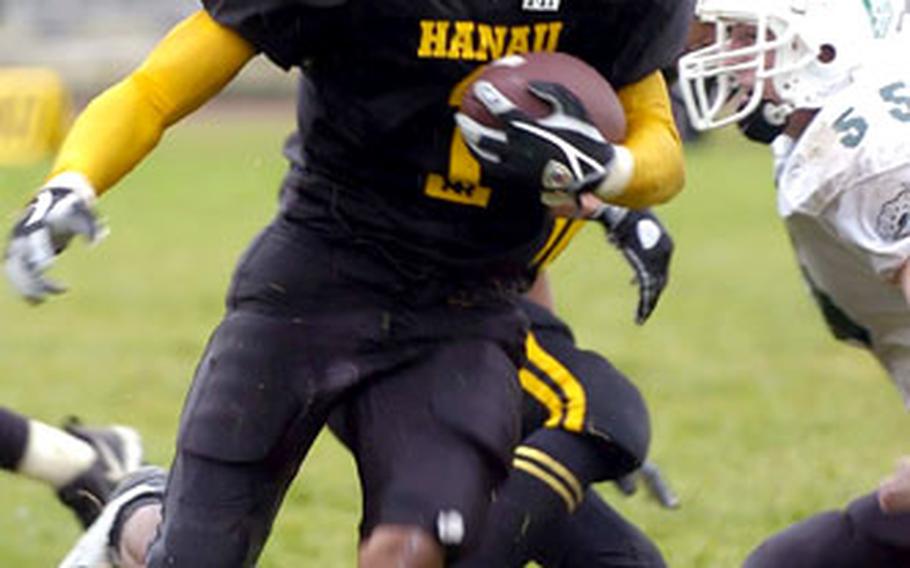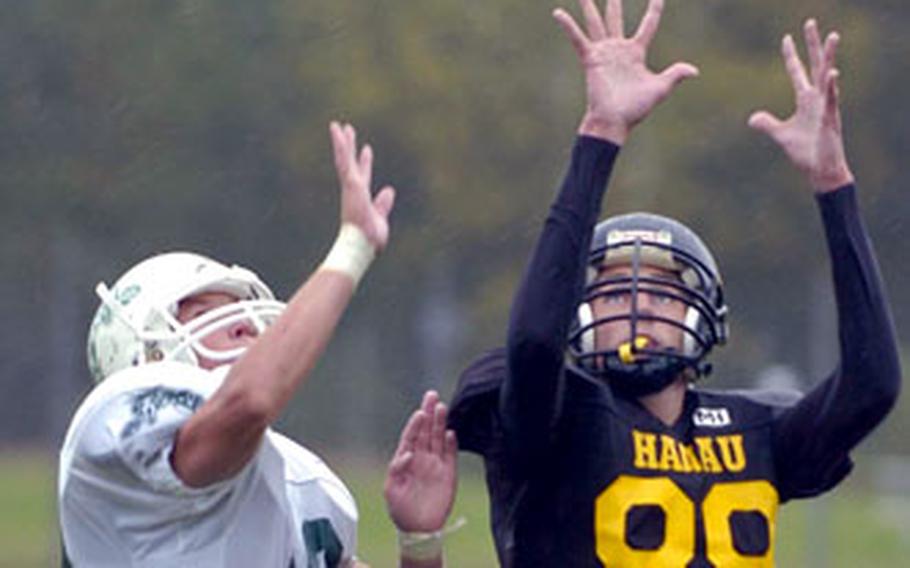 All-Europe running back Malcolm Lane rushed for more than 200 yards for the third straight week, and Ronderio Perry led a lights-out Hanau defense Saturday as the Panthers blanked previously unbeaten Naples 21-0 in an early Division II showdown.
Lane carried 24 times for 277 yards and broke an 80-yard TD run in the second quarter.
Hanau (3-0 overall, 2-0 in II-South) also got first-half TD runs of 2 yards from quarterback Ivan James and 23 by Trey Renders. Three conversions by kicker Mike Holt made it 21-0 at halftime.
That was more than enough for the Hanau defense, led by Perry, who was in on eight tackles, forced a fumble, recovered a fumble and collected four sacks.
Naples, hamstrung by 13 penalties that cost it 145 yards, got 61 yards on 15 rushes by Austin Webb and 46 yards on eight runs by Jason McKechnie.
Defensively, Nate Jankowsky, with 11 tackles, and Paul Stewart, with eight tackles and an interception, led the way for Naples (2-1, 2-1).
In other Division II games Saturday:
SHAPE 28, Bitburg 8At SHAPE, quarterback A.J. Rodgers passed for one touchdown and ran for another to keep the Spartans unbeaten.
Rodgers, with 1:29 left in the third period, connected with Zack Rabiego for a 22-yard TD pass as the Spartans (3-0, 2-0 in II-North) expanded their 14-0 halftime lead. After Bitburg answered with a 46-yard TD pass from Alquel Hodges to Cory Legister early in the fourth period, Rodgers closed the scoring with his game-clinching plunge.
SHAPE built its halftime lead on a 5-yard run by Quenton Fowler and a 14-yard dash by Anthony Marquez. Both came in the second period.
Marquez led all rushers with 67 yards on nine carries. He also had 55 yards on four punt returns. Fowler, who also ran in a two-point conversion, carried eight times for 40 yards.
Doug O'Meara, with 13 tackles, Jimmy Murtha, with 12, and Mike Clampett, with 10, led a SHAPE defense that held Bitburg (1-2, 1-2) to just 121 yards. Legister gained 46 yards of those on nine rushes; Simon Shaw added 43 on 10 tries.
ISB 22, Baumholder 20At Baumholder, Sebastian Steege crashed over for a two-point conversion with 5:23 left to earn the victory for the International School of Brussels.
Steege's two-point play came after ISB's Philip Lipman had his third TD run of a game, capping a 13-play, 71-yard drive. Lipman rushed 31 times for 207 yards, while Steege had 107 yards on 22 tries.
Rashard Taylor, who scored three TDs for Baumholder (2-1, 1-1), led all runners with 230 yards on 17 carries. Taylor broke scoring runs of 74, 77 and 51 yards. He also had nine tackles and an interception.
Lipman, with 11 tackles, led the defense for ISB (2-1, 2-1).
Aviano 41, Vilseck 12At Vilseck, Gary Vogt passed for 202 yards and two touchdowns in the Saints' romp.
Vogt connected on a 64-yard strike to Ivan Tibbs and a 41-yarder to Chris Diaz in helping Aviano (1-2, 1-1) to a 27-6 halftime lead.
Diaz also scored on runs of 13 and 69 yards for Aviano, which also got teo TD plunges from Francis Carino.
Derrick Jones led Vilseck (0-3, 0-3) with 136 rushing yards. He scored on runs of 27 and 4 yards. Justin Ingram led the defense with 11 tackles.
Diaz was in on eight stops for Aviano, while Tibbs came up with two interceptions.