Boys basketball Athlete of Year
Dent's transformation resulted in title
---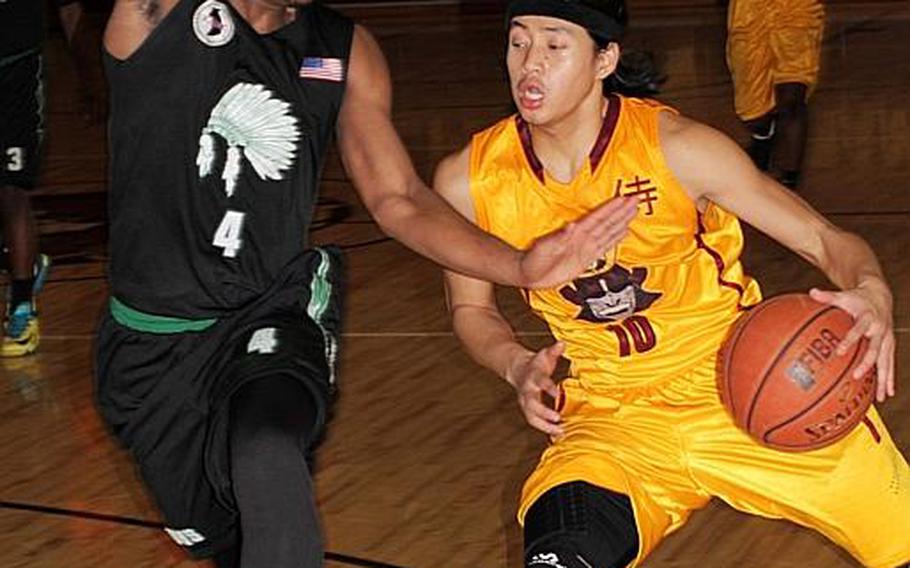 Sometimes, the birth of a championship basketball team takes place weeks, even months before the season starts. Or in Anfernee Dent's case, midway through Daegu's football season.
It was a heart-to-heart talk that Dent had with coach Luke Spencer, about living up to his responsibilities as one of the team's seniors and "how he wanted to be remembered at Daegu," Spencer said.
The talk resulted in a total transformation of Dent, "from 'me' player to 'we' player," athletics director Ken Walter said. Not only did it help lead the Warriors to a Far East Division II football title, it carried over to the basketball court.
There, Daegu followed up with its first Korean-American Interscholastic Activities Conference tournament title in a quarter-century and its first Far East Division II title since 1990.
"It made me sit and think, 'What does everybody love?'" Dent said he asked himself after the talk with Spencer. "And I said to myself, a winner. And I wanted to win at all cost, giving my team all I had."
"The switches all turned, he played like a team player and we had no issues with him after that," Spencer said, adding that Dent realized it was not the "Anfernee Show but the Daegu show. It impacted him. It changed him."
The on-court result: A 9-3 conference record, a 60-59 win in the KAIAC Tournament over Seoul American, a 25-7 overall record including games in the Far East D-II tournament. And the crowning achievement: A 70-56 D-II title-game win over host Matthew C. Perry.
Through it all, Dent averaged 16.3 points, 4.5 rebounds and 4.0 assists per game.
For his efforts, Dent has been named Stars and Stripes Pacific boys high school basketball Athlete of the Year.
Coach Phillip Loyd said it was more about his maturity than statistics.
"He is a tireless worker on the court, he practices to become better and works to get his team in position to win," Loyd said, adding that Dent insisted that the team adopt the motto "Family."
Dent proved to be a "difference maker" for Daegu in both the KAIAC and Far East tournaments, Loyd said, breaking down defenses and making clutch passes for game-winning shots. "In Far East, he was an unstoppable force, constantly going to the rim."
Opposing coaches took note of both his game and his transformation.
"How much he has improved," Seoul American coach Steve Boyd said.
"He has good footwork, good floor presence and natural instincts to get where the ball is going to be. He would pound the boards and he did a good job of that."
Spencer's chat with Dent led to a "snowball effect," Walter said. "We saw more leadership and team concept out of him. He started making people around him better. I've seen a lot of growth. He's one of the best players, if not the best player, in the Pacific."
Stars and Stripes Pacific All-Far East boys basketball teamT.J. Hardeman Jr., Faith Academy, perimeter shooting led to Most Valuable Player honors and Vanguards to fourth Division I title.
Anfernee Dent, Daegu, senior guard boosts Warriors to first Korea tournament title in 25 years, first Division II title since 1990.
DeQuan Alderman, Kubasaki, junior guard helped lead Dragons to third D-I final in four years, runner-up finish, Okinawa regular-season title.
Vincent Ermitano, Matthew C. Perry, sophomore shooting specialist lifted Samurai to first D-II finals appearance in 18 years.
Justin Novak, American School In Japan, senior point guard helps 2013 champion Mustangs to another Kanto title, D-I bronze-medal finish.
---
---
---
---