Curtin's fourth-down run gives Rota Div. IV crown
by
John Vandiver
November 2, 2008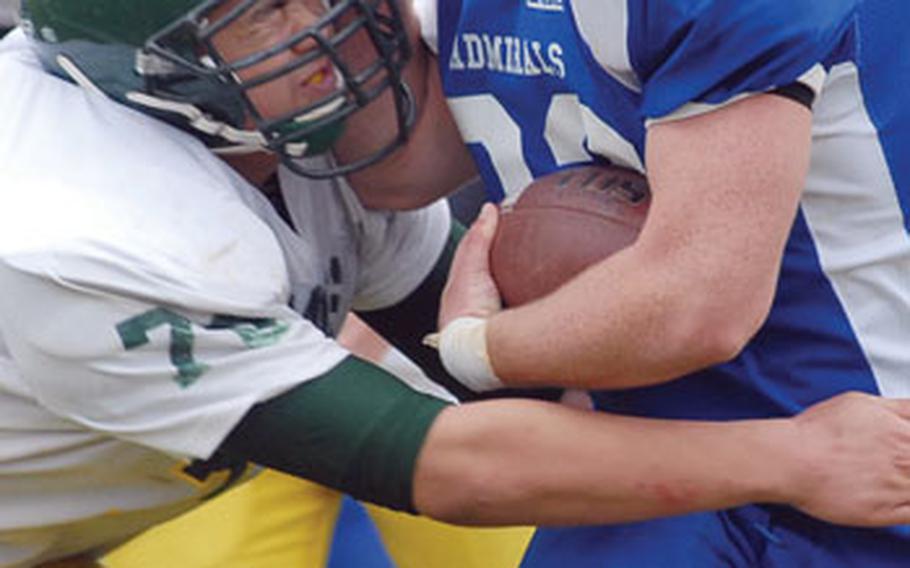 BAUMHOLDER, Germany — Rota quarterback Scott Curtin knew he had to look downfield.
It was fourth down, with just under a minute left in the game. The Admirals were down by five, the clock was ticking and Alconbury defenders had Rota's receivers covered.
"I rolled out and I was looking and looking. I saw open space in front of me and said I got to go," Curtin said.
In a dramatic finish, Curtin raced 16 yards for a touchdown to give the Admirals a 22-21 victory in the DODDS Division IV football championship game on Saturday.
Curtin was selected the game's top offensive player.
In a back-and-forth battle, it looked like time was going to run out on the Admirals after Alconbury, which lost twice to Rota during the regular season, fought back from a 14-0 deficit to take a 21-14 lead.
But the more experienced Admirals managed to pull through.
Things started smoothly for Rota. In the first quarter, Curtin, under pressure and with a defender in his face, connected with tight end James Stovall on a 20-yard touchdown pass. The pair had connected earlier for a third-down conversion to keep the scoring drive alive.
After an interception by Rota linebacker Nick Hernandez, the Admirals launched another long scoring drive, relying on a three-pronged offensive attack led by Stovall, Curtin and RJ Curley, Rota's workhorse fullback. Caleb Arnold, a junior running back, finished the drive with a 14-yard scamper to the end zone.
Then the Dragons offense started chipping away at the lead, and the defense's gang-tackling style slowed Rota.
"I'm really proud of how they never gave up. They kept fighting," Alconbury coach Duke Eidt said. "The defense pulled together and the offense gained momentum."
Alconbury tailback Devin Pryor started picking up chunks of yardage and finally broke free for 49-yard touchdown run that cut the deficit to 14-7 at the half.
In the second half, things got messy for both squads. In the third quarter, there were three fumbles.
Rota fumbled first. The Dragons recovered in scoring position, but turned it back over when Curley, an all-Europe linebacker who was selected the defensive player of the game, came up with a loose ball. Curley, the running back, then turned it back over to Alconbury a few plays later. This time Alconbury quarterback Jimmy Luong made them pay with an 18-yard TD pass to fullback Kerry Kuheana.
Pryor then broke loose again on a slashing 33-yard TD dash, and suddenly it was Alconbury which had the lead.
"I was scared. It didn't look good," Curtin admitted afterward. "I just kept saying we've got to pull together."
With time dwindling away, Alconbury found itself facing a fourth down pinned near its own goal line. Instead of punting from the end zone, the Dragons took an intentional safety.
The ploy prevented a possible blocked kick and a special-teams TD for Rota. But the safety meant that Alconbury had to kick to Rota and then depend on its defense to stay ahead.
First Curtin scrambled for a first down on fourth-and-9 behind a crushing block by Curley. Then with less than two minutes to go and 12 yards for a score, Dragons defender Tyler Lucas broke through to sack Curtin to force Rota into another fourth down play.
Again, Curtin came through, this one with the game-winner.
At halftime, Rota coach Robert Stovall told his team to remember the mantra he's hammered home all year: "Be proud of how you play. Play as hard as you can."
In a post-game huddle, he asked if that goal was achieved. The champion Admirals answered in the affirmative.