Carter's sacks fuel Kadena's rout of Kinser
by
Dave Ornauer
October 25, 2005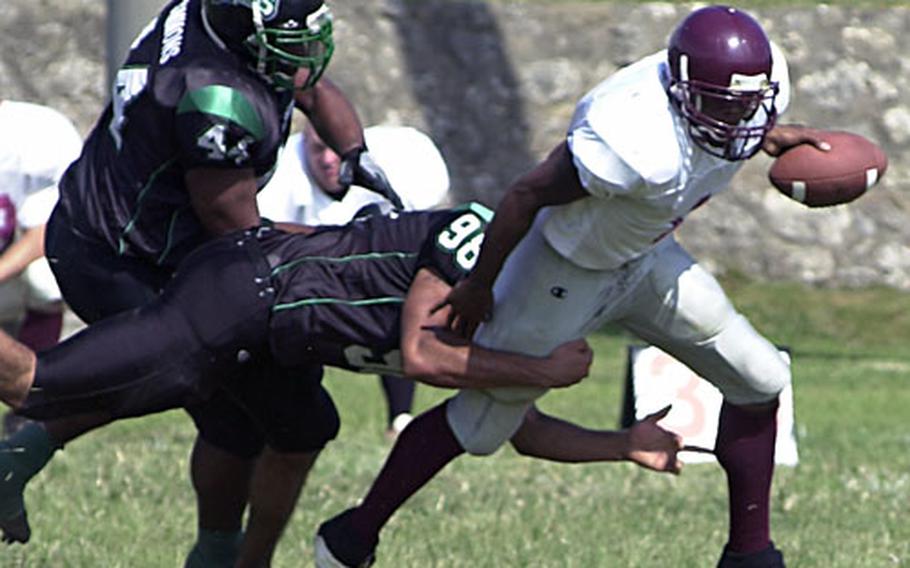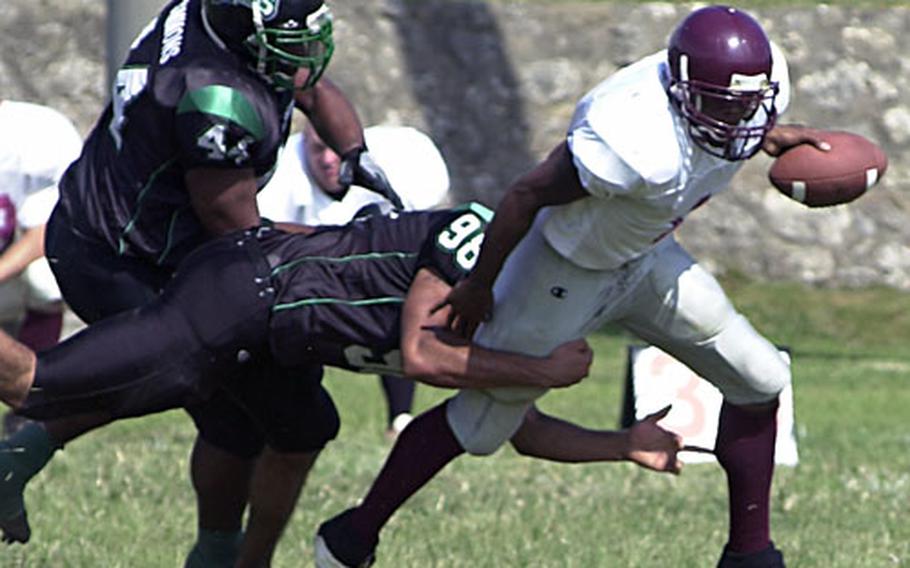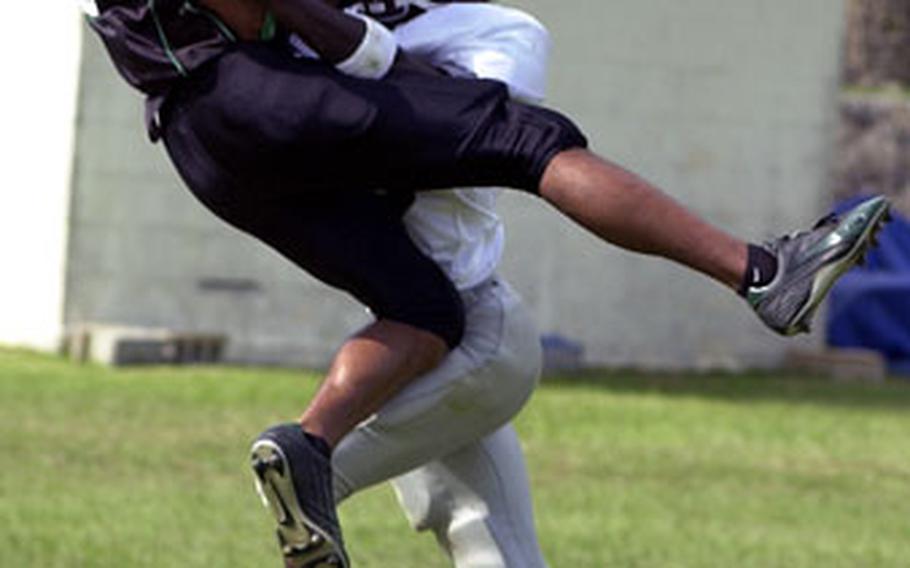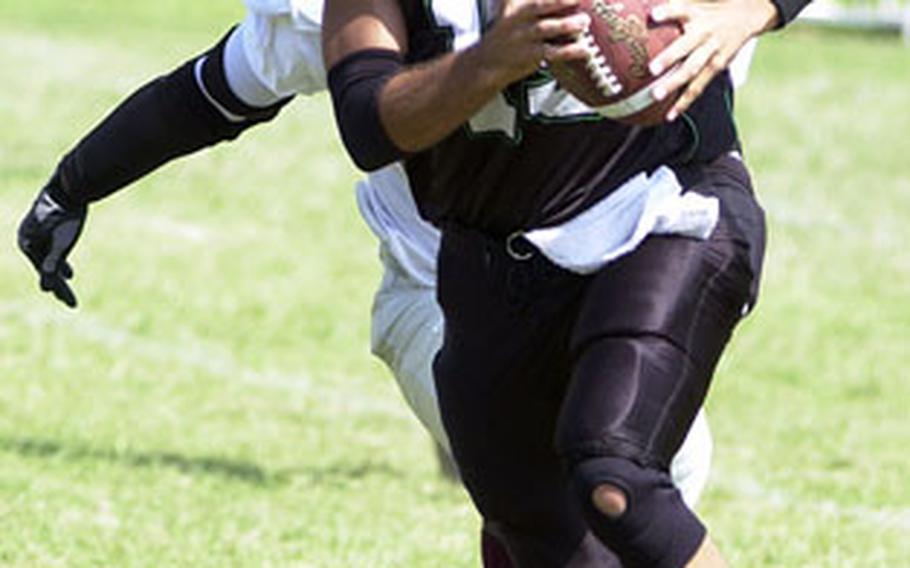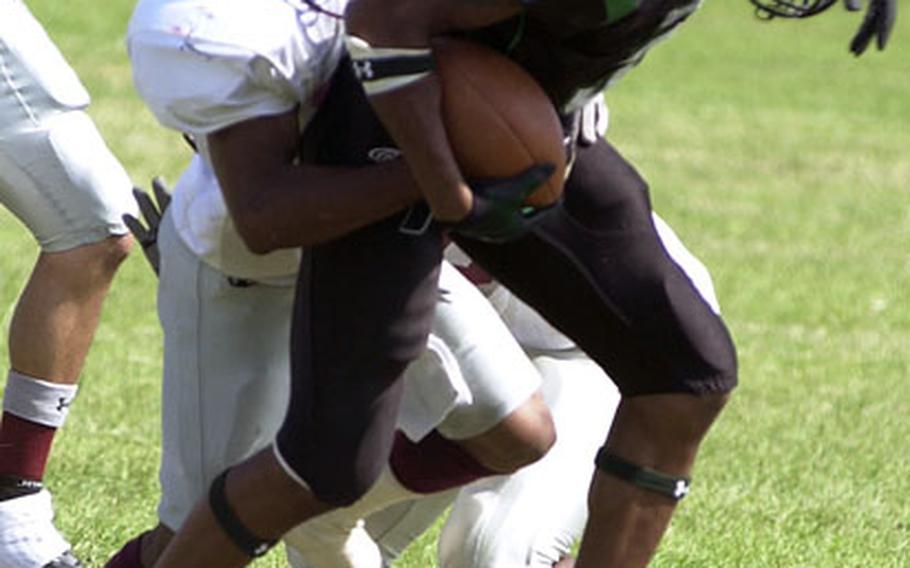 CAMP COURTNEY, Okinawa — Call Kevin Carter a one-man wrecking crew.
The defensive end recorded four quarterback sacks, two of which forced fumbles that led to touchdowns, and fullback Bronshay Limson ran for two TDs and Tarrick Jackson caught two scoring passes as the Kadena Dragons stayed atop the Okinawa Football League, routing the Kinser Knights 61-6 on Saturday at Courtney Bowl.
Foster-Futenma remained a game behind the Dragons, as Christopher Brooks ran for four touchdowns and caught another and the Bulldogs outgained the Ryukyu University Stingray 438-52 in a 71-0 whitewashing of the Stingray, setting a league record for widest margin of victory.
Kadena 61, Kinser 6Carter had always been considered a raw talent with potential just now being realized, coach Will Cupp, says, after he and his staff spent time working on his defensive fundamentals.
"All that hard work is paying off," Cupp said of Carter. "Now, he's starting to play up to his abilities as well as his expectations."
Carter's four sacks of Kinser quarterback Jacksby Sewell resulted in a combined 39 yards in losses. The first sack, 4:25 into the second quarter, set up Jackson's first TD catch of 6 yards from Adam Hendrickson 4:37 before halftime. And Carter's third sack, with 4:51 left in the third period, caused a fumble in the end zone that Kadena's Lewis Sellers fell on for a touchdown.
Jackson caught his touchdown receptions within a span of 2 minutes, 25 seconds of the second quarter. Three plays after his first TD catch, Christopher McIver intercepted a Sewell pass and returned it 5 yards to the Kinser 23. Two plays later, Hendrickson found Jackson on the same pattern, a right corner route, from 13 yards out.
A veteran of three seasons with the Dragons, Cupp refers to Jackson as a "viable threat" who hasn't seen many passes since the team focuses more on its punishing ground game.
"But now, we have a quarterback who can see the whole field and check out of a running play" and pass to Jackson instead if the opportunity is there, Cupp said.
Jackson caught four passes for 50 yards and also recovered a Knights fumble. Hendrickson finished 7-for-10 for 114 yards, and his backup, A.J. Hickman, completed 1 of 2 passes for 26 yards — a touchdown to Eric Lazenby, who caught a pair of passes for 75 yards.
Limson, meanwhile, ran for touchdowns of 6 and 4 yards en route to a 40-yard, 9-carry day. Isaac Warren led the Dragons with 89 yards on 14 attempts. Emmanuel Griffin rushed eight times for 56 yards, including a 37-yard TD which began Kadena's scoring. Calvin Mitchell turned one of Kadena's two interceptions of Sewell into a 14-yard touchdown return.
Sewell and the Knights did enjoy one bright spot, a 59-yard touchdown pass to Leopoldo Bernardo near the end of the first quarter. But Sewell finished 2-for-7 for 61 yards, and Jeremy Dean only managed 43 yards on 14 attempts for a Knights team that netted 42 yards on 37 plays.
Acting coach Derrick Wheeler said duty commitments, which limited Kinser to one Saturday practice, played a major role in the debacle. "We anticipated being rusty," Wheeler said. "We're just as good as they (Dragons) are, but without practice, it won't show."
Foster-Futenma 71, Ryukyu University 0Brooks piled up 141 yards of total offense, rushing six times for 75 yards, including touchdown runs of 25, 22, 8 and 17 yards. His two catches for 66 yards included a 56-yard TD reception from Angel Pantoja, the backup quarterback who went 3-for-6 for 79 yards and sneaked 1 yard for a TD.
Starting quarterback Chris McDougal went 6-for-10 for 177 yards, hitting Jerome McCray for a 3-yard scoring pass and John Willis for a 59-yard TD toss, and also ran 9 yards for a touchdown.
Steven Howell gained 116 yards, including a 97-yard TD romp, on five carries.
Willis finished with 103 yards on two receptions, Anthony McCormick caught two passes for 49 yards and Tracy Devero had two catches for 35 yards. James Todd had two of the Bulldogs' three interceptions, and Michael Christiansen blocked a 39-yard Stingray field-goal attempt.
Faced with a first-and-goal situation at the 1-yard line following a Bulldogs fumble, with the Stingray threatening to score its first points in 12 games dating back to last season, the Foster-Futenma defense held firm, pushing Ryudai back to its 4-yard line in four plays.
Okinawa Football League
W
L
Pct.
PF
PA
Kadena
4
0
1.000
150
24
Foster-Futenma
3
1
.750
134
19
Kinser
2
2
.500
56
94
Courtney-Hansen
1
3
.250
64
78
Ryukyu University
0
4
.000
0
189
Sunday's games
At Camp Courtney, Okinawa
Kadena 61, Kinser 6
Foster-Futenma 71, Ryukyu University 0
Saturday, Oct. 29
At Camp Foster, Okinawa
Courtney-Hansen vs. Kadena
Kinser vs. Foster-Futenma