Wrestling AOY
Carroll was a large presence for Stuttgart again
by
Gregory Broome
March 3, 2018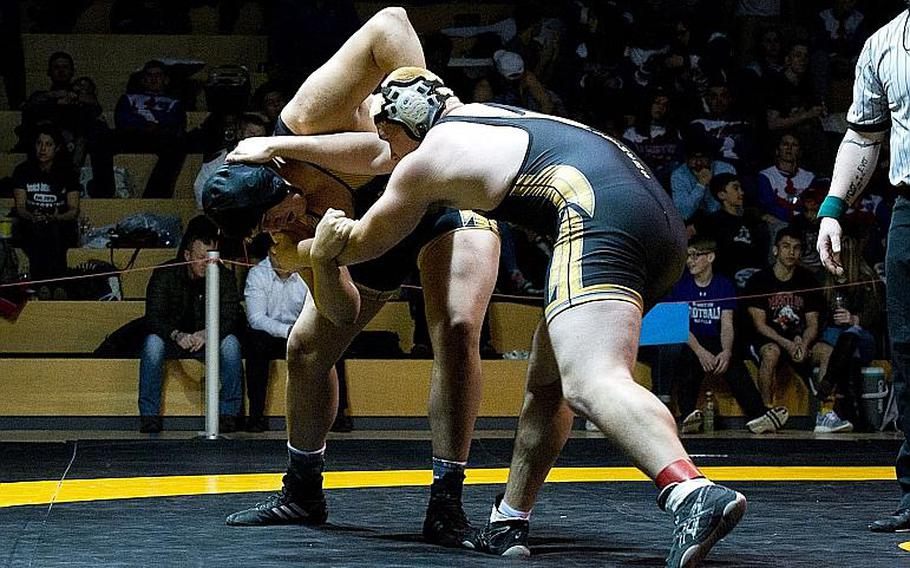 A heavyweight wrestling match is a different animal than one featuring smaller competitors. In fact, it's one specific animal.
"We do what we call the dancing bear routine," Stuttgart junior John Carroll said.
Nobody in DODEA-Europe has mastered the art of that dance better than Carroll, the 2017-18 Stars and Stripes wrestling Athlete of the Year. The Panther heavyweight won his second consecutive 285-pound European championship in February, completing an undefeated season and helping Stuttgart to a fifth straight Division I team championship.
While the typical heavyweight match is slower-paced than those in lighter weight classes - Carroll said wrestling in his weight class often includes a fair amount of "waiting around" - that facade conceals a considerable amount of strategy and technique.
In general, the routine starts off with the two wrestlers upright, testing each other's defenses with exploratory swipes and reaches that eventually create an opportunity for the savvier of the two competitors.
"Guys grabbing on each other up top until someone makes a mistake and the other guy capitalizes on it," Carroll said.
Carroll has developed an unrivalled ability to seize on those errors, which can range from an ill-timed dip of the head to a shifting of the weight to the heels, both of which leave the wrestler vulnerable to attack. He's also learned to speed up the action, a skill he's added over the course of his accomplished career.
"I prefer to be more aggressive now than I was then," Carroll said.
The slow-moving spectacle of a heavyweight match also belies the amount of preparation required to compete in one, much less win it.
Obviously, a battle of two sizeable wrestlers demands strength. That's particularly true in Carroll's case; even at an imposing 6-foot-2 and 240 pounds, he is often outweighed by his opponent. With that in mind, Carroll emphasizes deadlifts and exercises that target back muscles in his gym routine, cultivating the power necessary to destabilize some of DODEA-Europe's largest athletes and plant them in position for a pin.
But raw power isn't enough, Carroll said. His fitness routine also includes "a lot of running" - a 5-kilometer run two or three times a week, punctuated by longer 6- or 7-mile runs to build further endurance for those matches that go the distance.
"We've got to keep that cardio up," Carroll said. "Six minutes on the mat, that's hard to do, especially for a bigger guy."
For the rest of DODEA-Europe's heavyweights, keeping up with Carroll has proven not just hard, but impossible.
Twitter: @broomestripes