Softball roundup
Bitburg freshman tosses 2 no-hitters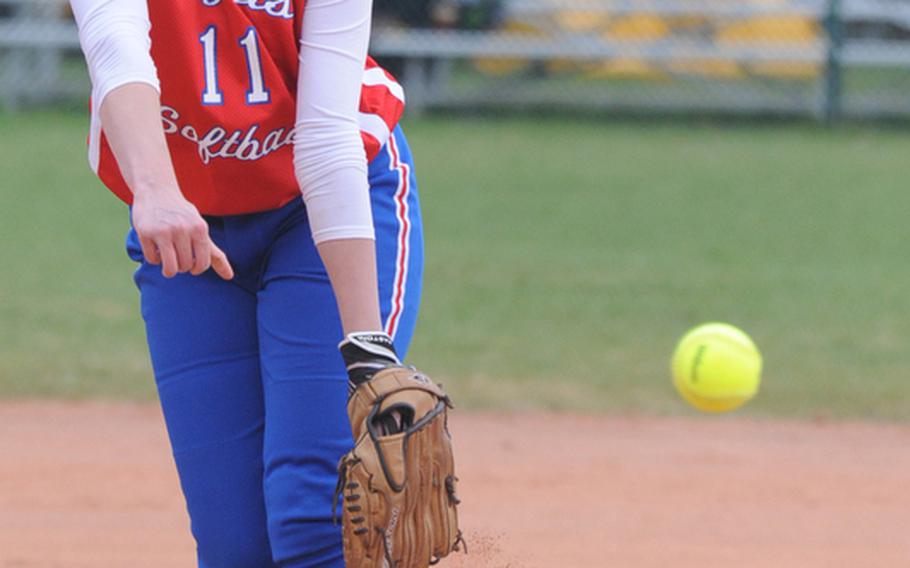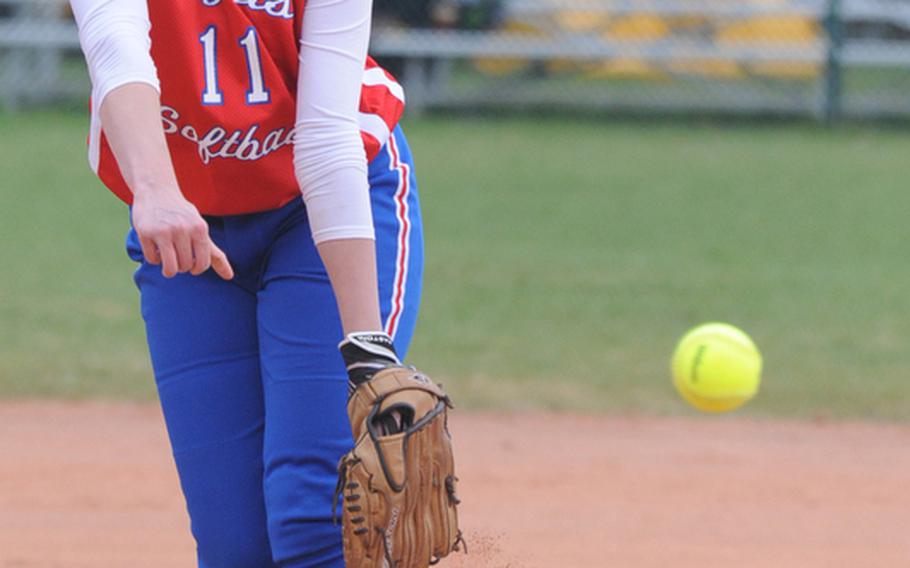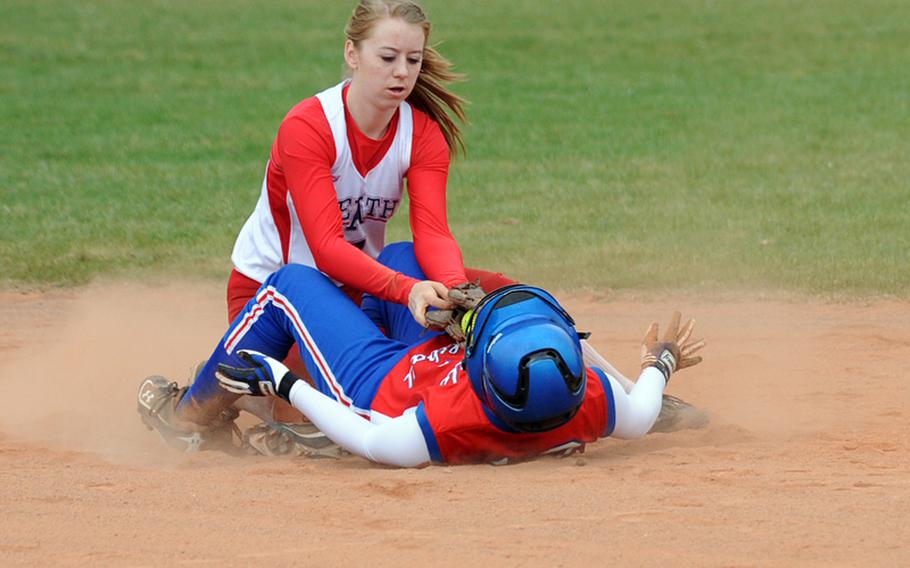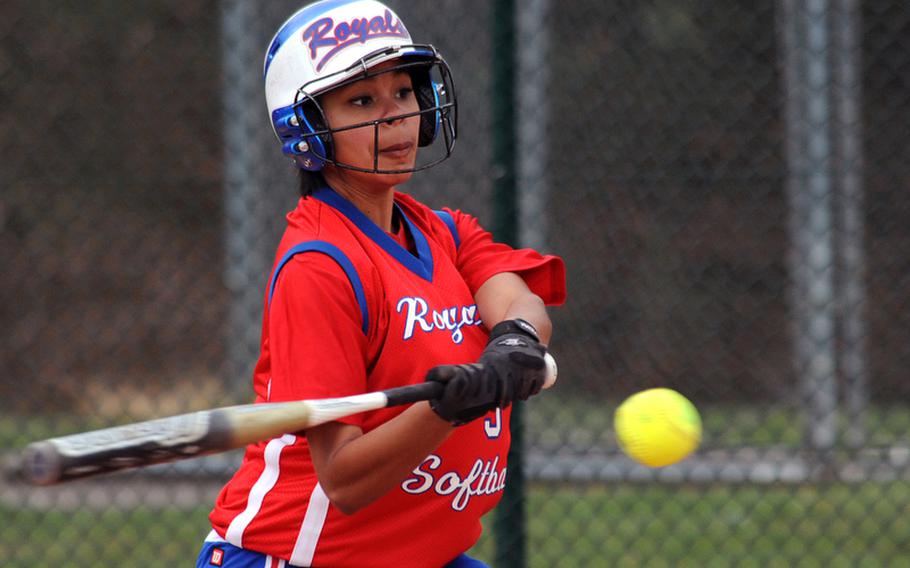 Freshman Bailey Loomis righted the ship in a big way Saturday by pitching consecutive no-hitters as Bitburg swept the visiting Alconbury Lady Dragons 10-0 and 16-0 in a Western Region softball doubleheader.
Loomis' gems followed Bitburg's 20-5 and 12-4 losses to visiting AFNORTH on Friday. She struck out seven in no-hitter No. 1 and five in no-hitter No. 2, according to Bitburg coach Daniel Vasquez.
Britney Stevenson and Brandi Oliver each went two-for-three to back Loomis offensively in the opener.
Alconbury fell to 1-4 overall and in the region.
The no-no's were the perfect antidote for Bitburg (2-2 overall and in the Western Region) after Friday's defeats.
Rylee McKinney struck out seven for AFNORTH in Friday's opener, and AFNORTH benefited from two RBIs each from Rachel Pagio, Grace Katzenson and Morgan Beal.
Beal won Friday's nightcap, striking out four as AFNORTH improved to 4-0 overall and in the West.
In other weekend softball:
Alconbury 13-9, Baumholder 5-24: Friday at Baumholder, Alconbury's Ashley Steele went the seven-inning distance in Game 1, striking out five and allowing seven hits. Marissa Cole backed Steele offensively, going three-for-four. Alconbury's Courtney Dowell went two-for-three with a double, according to Baumholder coach Stephanie Ralston.
Simone Buggett took the loss, allowing nine hits and walking seven.
In Game 2, Joanna Oviedo allowed just three hits, all off the bat of Emily Luong, and fanned seven en route to her first victory of the season.
Catcher Joella Milledge bopped two home runs in her three-for-three effort, Cole drove in four runs, and Oviedo knocked in three.
Baumholder fell to 1-4 overall; 1-2 in the Western Region.
Vilseck 18-1, Ansbach 4-0: Saturday at Ansbach, Division I contender Vilseck rode All-Europe pitcher Taylor Hall's two-hitter and an injury-induced forfeit to the sweep.
"it was so cold, they had three or four players injured," Vilseck coach Jim Hall said about Ansbach's being unable to answer the Game 2 bell. "It must have been 38 degrees with an 18-mile-an-hour wind. We had a lot of pulled hamstrings and that sort of thing."
Hall the hurler was tougher than the wind in Game 1, going four-for-five and driving in three runs. Ashton Wiggins and Hall's All-Europe teammate Deraj' McClinton, who drew four walks, each drove in two runs.
Ansbach's Farnham sisters, Mackenzie and Shelby, were the only batters to hit safely for the Cougars. Mackenzie Farnham drove in two runs with her single.
Vilseck improved to 4-0 overall and in the Eastern region; Ansbach fell to 0-4, 0-4.
Ramstein 15-21, Lakenheath 0-0: Saturday at Ramstein, the Lady Royals improved to 6-0 for the season in a Western Region romp.
All-Europeans Kelsey Freeman and Katherine Enyeart picked up the pitching victories. Freeman struck out seven in her four innings of no-hit ball in the opener; Enyeart fanned three in the nightcap as both pitchers improved to 3-0 on the season.
At the plate, Freeman, Lacee Loescher and Savannah Brooke each went three-for three in Game 1. Freeman stroked a double and triple and Loescher collected two doubles. Alexis Parker tripled and clubbed an inside-the-park home run, according to Ramstein coach Kathy Kleha.
Enyeart was the batting star in the nightcap. She drove in six runs with a double and an over-the-fence grand slam in her three-for-four effort. Cuba Cabiness hit two doubles in her three-for-three day.
Lakenheath fell to 0-4 overall and in the Western Region.
Hohenfels 17-24, Bamberg 8-3: No details were available Saturday about the Lady Tigers' road sweep at Bamberg. Hohenfels is 2-2 overall and in the East; Bamberg 0-4, 0-4.