ASIJ defeats Kinnick for championship again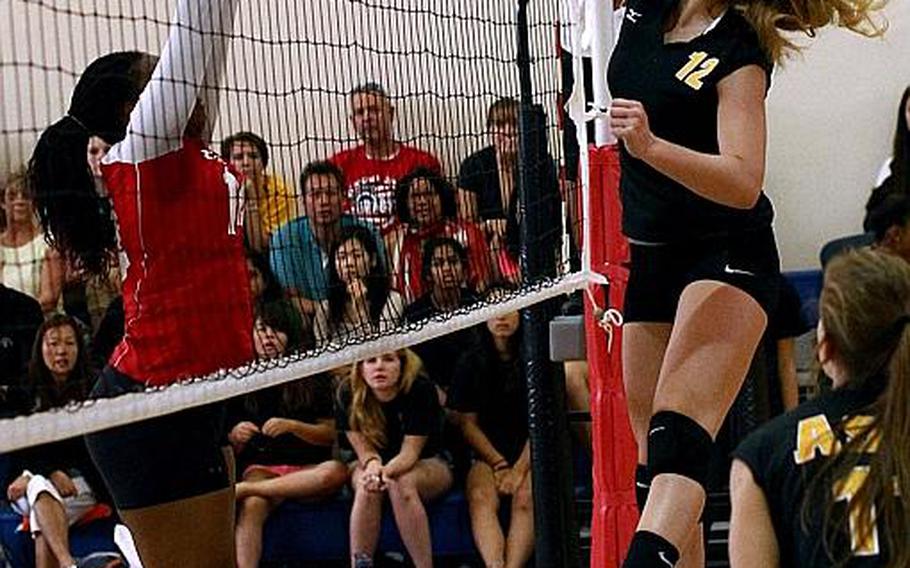 NAVAL STATION, Guam – For the third straight year, American School In Japan vanquished Nile C. Kinnick in the finals for the Far East High School Girls Division I Volleyball Tournament title.
And unlike last year, when she missed the title match due to a freak eye injury suffered during warm-ups, Mustangs coach Gail Lanier got to see it.
"It was exciting," Lanier said after ASIJ swept the Red Devils 25-16, 25-10, 25-19 in Thursday's final at Naval Station's Charles King Fitness Center. It was the Mustangs' fifth championship since 2006 and eighth in school history.
ASIJ beat Kinnick in four sets in last year's final, also at the King Center, and in three sets in 2011 at Seoul American High School.
"We rose to the occasion and played beautiful ball," Lanier said of Thursday's final, citing in particular tournament Most Valuable Player Mia Weinland and her predecessor for two years, senior Liz Thornton, who was named All-Tournament for the fourth time.
"Mia played absolutely fabulous, Liz played absolutely fabulous," Lanier said. "Liz is such a leader out there. Mia is so calm and supportive of everybody. Such wonderful girls. I'm so proud of them."
The win capped a 21-0 season for the Mustangs, who won the Kanto Plain Association of Secondary Schools with a 14-0 mark before Far East. They dropped just one set the entire season, the second set of their four-set win at Kinnick last month.
The Red Devils finished second for a third straight year, following their fourth-place finish in 2010, sixth in 2009 and eighth in 2008 as the program began its rise, first under coach Al Garrido and now under his hand-picked successor, Tony San Nicolas.
"It's a bitter pill to swallow," San Nicolas said of a third-straight runner-up finish. "You have to commend that ASIJ program. We have to be more prepared and step up our game when we face somebody like that."
After Kinnick's straight-sets semifinal win Wednesday over Seisen International, "we lacked the energy (against ASIJ) that we had against Seisen," San Nicolas said. "We were focused, but we didn't have that energy."
Still, San Nicolas said he was proud of a team that brought back just four players who traveled to Guam for Far East last year, and saw young middle blockers Noblae Wainwright and Audri Salter blossom into stars, along with outside hitter Kaile Johnson and setter Kelly Osterbrink.
"We definitely came together and stepped up our game," San Nicolas said.