Ansbach sophomore adds field event to résumé with surprising early success
by
Rusty Bryan
April 24, 2008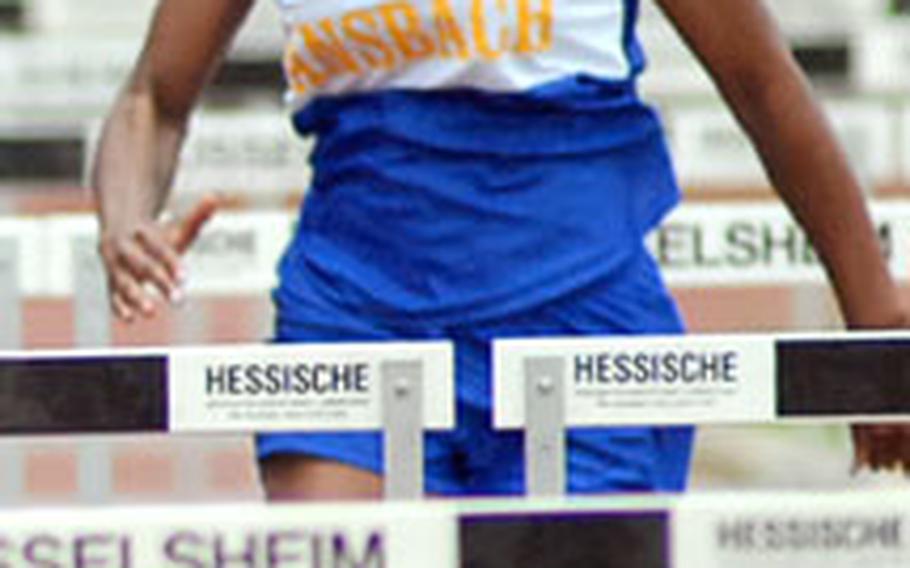 ANSBACH, Germany — Track coach Gary Feletar knows why Ansbach sophomore Tiffany Heard's first long-jump competition was such a success last Saturday.
"She really pays attention when you explain things to her," Feletar said Tuesday, 72 hours after Heard leaped 17 feet, 4 inches to win the long jump at a six-team meet on her home track. "Her body just listens to everything."
To put Heard's feat into context, 17-4 would have won or tied for every European championship gold medal since 2001. Former Kaiserslautern athlete Lynndsey Hyter won in 2003, also by clearing 17-4.
Ansbach hurdles coach Mike Jimerson won't be surprised if Heard is able to maintain her pace.
"I've had her in cheerleading and track the past two years," Jimerson said of the 16-year-old honor student. "She's so willing to work. She gives 100 percent every single day. She's willing to work year-round on conditioning."
Heard said she spent her "entire spring break working on conditioning."
Even with those extra 10 days of work, though, Heard said she wasn't expecting her long-jump debut to go so well.
"I was surprised," Heard said of her 17-4 jump, which came on a track wet from constant rain. "I wasn't even doing that well in practice — 16 feet."
If she had thought about it, Heard, an All-Europe cheerleader on Ansbach's European Division II championship squad, might not have been surprised by Saturday's events.
"I always do way better at the meets than I do in practice," said Heard, who finished third in Europe in the 100- and 300-meter hurdles last May. "At the meets, I always give 110 percent.
"I was trying to give my all on all four jumps."
The results show as much: Heard's four jumps measured 17-0, 17-1, 17-2 and 17-4.
"I felt it when I did it," she said.
Heard's accomplishments Saturday were not limited to the long jump. She also qualified for this year's Europeans with hand-timed marks of 15.85 seconds in the 100 hurdles and 48.62 in the 300 hurdles.
Adjusted to fully automatic timing, those times translate to 16.09 in the 100 and 48.86 in the 300, both bests in Europe this season and not much shy of last year's Europeans-winning marks of 15.40 in the 100-meter hurdles by Ansbach's Jonieshea Wright and 46.54 in the 300 hurdles by Wiesbaden freshman Rebecca Borner. Heard finished third in both races last May — 16.59 in the 100 and 47.64 in the 300.
With Borner, who has already qualified for this year's Europeans, back to defend her title, Jimerson sees a tantalizing showdown looming in the 300 — and some interesting races in other events.
"[Heard's] been running without competition," he said of his star, who won't go head-to-head against Borner until the European championships May 23-24. "She's been two or three hurdles ahead of the rest of the field."