Andersen Bombers' coach returns to rec center he helped design at Osan
by
Dave Ornauer
December 22, 2004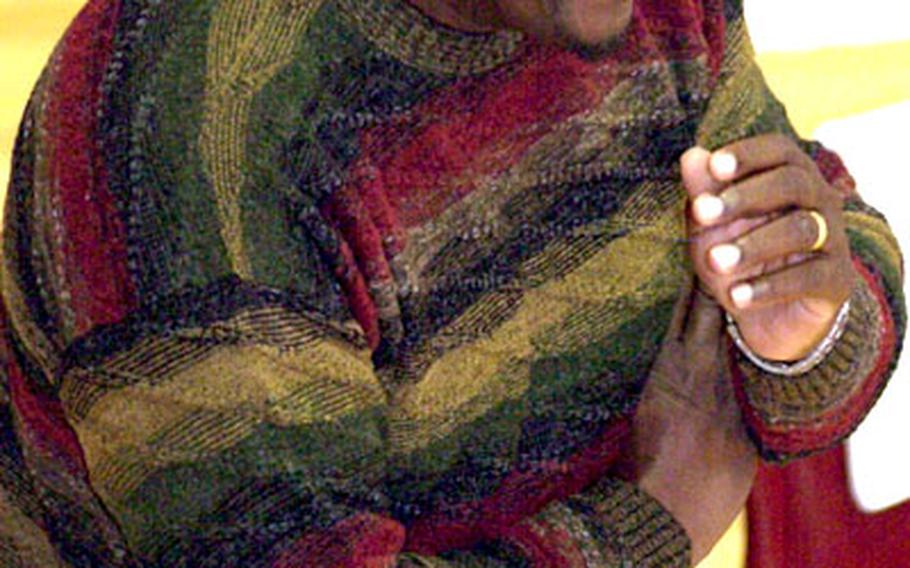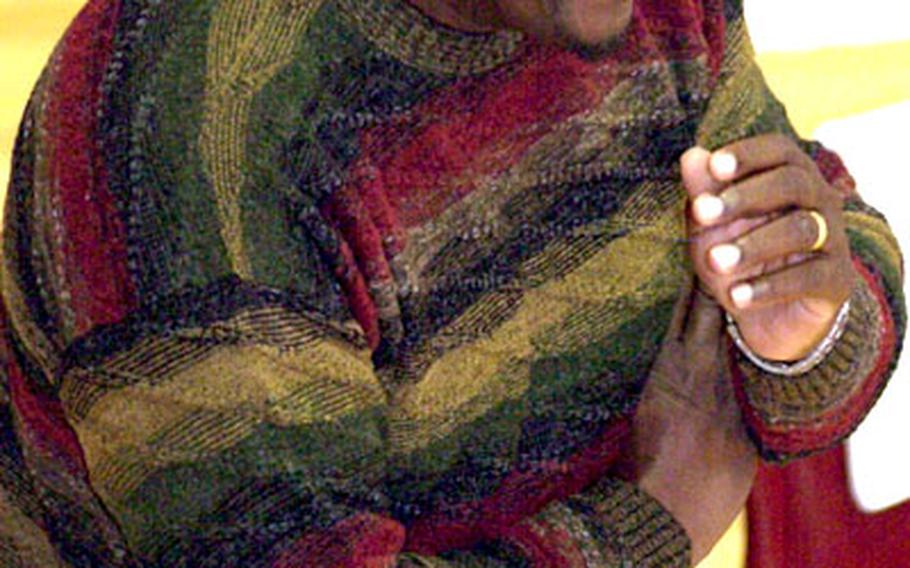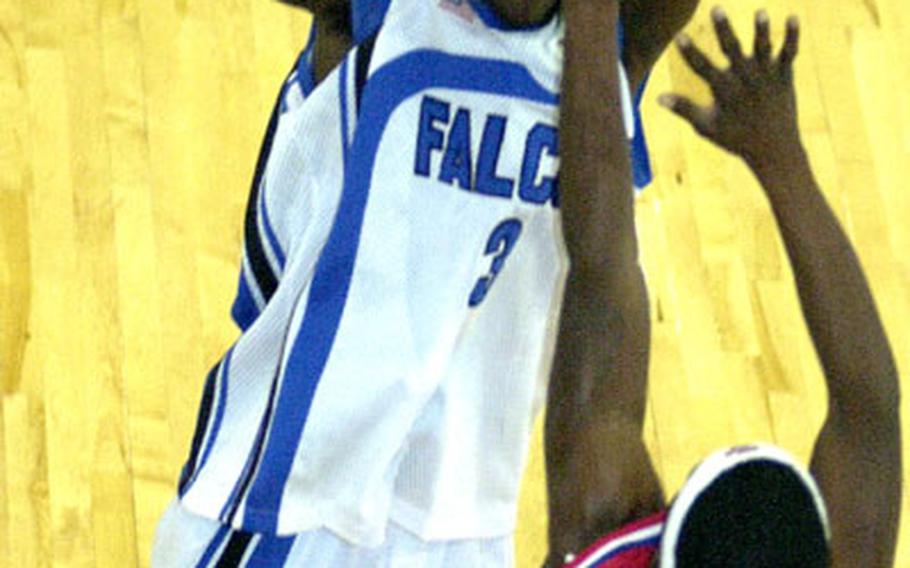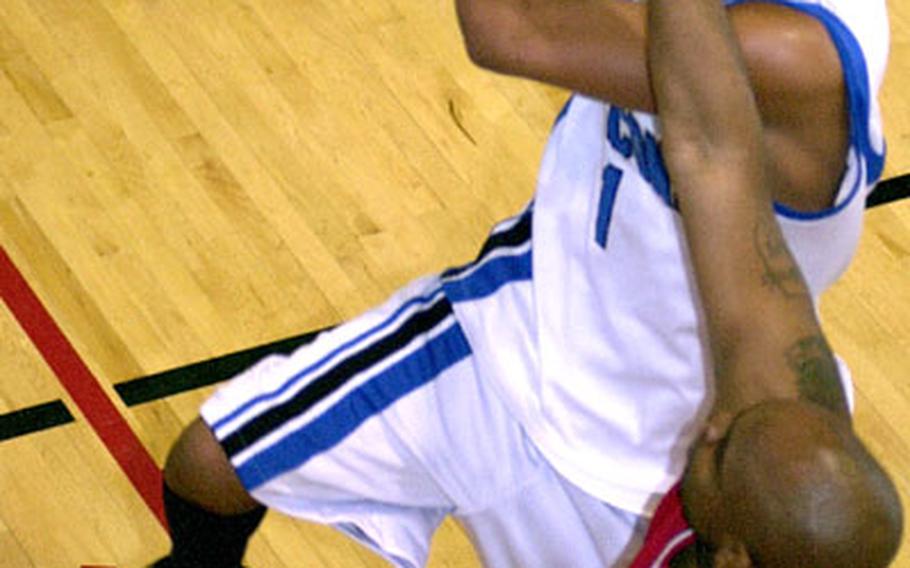 (Details on Monday's Osan tourney games at end of story)
OSAN AIR BASE, South Korea — The grand old man of Pacific Air Forces basketball is back at his old stomping grounds, coaching the Andersen Bombers of Guam in this week's Osan Pacificwide Open Holiday Tournament.
And he's doing it in a $10.5 million fitness and sports center that he helped design, architecture being one of the items on Gerrard Barnes's extensive list of achievements in 38 years of military and civilian Air Force service, most of it within Pacific Air Forces.
"Every time I come back here, I get butterflies. It brings me to tears to see this brought to fruition," said Barnes, 54, who's coaching the Bombers at this week's Osan Pacificwide Open tournament.
Osan is where Barnes enjoyed two of his finest moments as an Air Force varsity basketball coach. Two of his PACAF tournament championships were won when he was assigned here in 1986 and 1987, the other coming in 1983 when he was at Taegu Air Base, South Korea.
Also on his résumé are three turns as an All-Air Force assistant coach and nine trips to the All-Air Force tournament as PACAF's coach.
"I'll bet not many other coaches can say that," he said.
He's also coached at almost every Air Force station within PACAF since the early 1970s: Osan, Kwangju, Taegu and Suwon in Korea; Yokota, Tachikawa, Fuchu, Grant Heights and Chofu in Japan; Clark Air Base, Philippines; Hickam Air Force Base, Hawaii; and Andersen Air Force Base, Guam.
"PACAF is where my heart is," said the native of Elizabeth City, N.C.
Though he spent his 26 years in the Air Force as a security policeman, the retired senior master sergeant also developed a fondness for fitness centers, in addition to his first love, varsity basketball.
After his retirement, he sandwiched a two-year stint as civilian fitness and sports center director at Osan between two tours in the same capacity at Guam's Andersen.
In both locales, Barnes presided over decaying fitness centers that hosted two of the Pacific's major open interservice tournaments, but were the Pacific Air Forces' tweo oldest gyms.
"There was a need for the Osan community to have a new fitness center and I saw the same need at Andersen," he said.
Barnes helped draft the blueprints and launch the drive to fund both the $10.5 million Osan facility, which opened three years ago, and a new $16.5 million facility at Andersen, to open in time for the March Madness Invitational, which he began at Andersen in 1993.
"A lot of people had a hand in this," he said, naming everyone from wing commands to services commands to civil engineer squadrons.
Replete with some $500,000 of fitness equipment, such as Stairmasters, treadmills and weights, each new facility has two end-to-end basketball courts which serve open tournament purposes well.
"They're a means of giving elite-level players an avenue to develop their skills," said Barnes. "Some have the potential to play in college, the pros or the international circuits."
Such tournaments also are a way for bases to support the Department of Defense's All-Armed Forces program, a $1.5-billion industry.
Barnes cut his teeth on varsity sports when the Air Force held regular command tournaments to select representatives to its tryout camps in a variety of sports.
Command tournaments were cut in 1991, when Air Force services decided to pour the majority of its dollars into fitness and intramural and youth sports programs. On average, 75 percent of money goes to fitness, 20 percent to youth and intramural and a fraction to varsity sports.
"Fitness has become more visible, a priority in terms of keeping people fit to fight," Barnes said. The new facilities at Osan and Andersen include "the entire fitness piece. ... And, of course, quality of life."
He acknowledges that varsity sports likely never will return to the emphasis they enjoyed in the 1960s, '70s and '80s. "Varsity sports includes maybe 10 percent of a base's population," he said.
Still, he views the major Pacificwide open tournaments as a "quality of life and entertainment" initiative and hopes they can be kept alive.
Which, he says, is why he enjoys coming to the tournament at Osan — and the facility in which it's played.
"There's no other better facility in the command," he said. "Except, of course, for the one at Andersen."
Osan Pacificwide Open Holiday Tournament
At Osan Fitness and Sports Center, Osan Air Base, South Korea
Men's Pool A
Monday's games
Andersen 80, Suwon 53
Halftime-Andersen 49, Suwon 25. Leading scorers-Andersen, Marvin Harris 17 (three three-point goals), Michael Walters 17 (three three-point goals); Suwon, Josh Smith 18 (four three-point goals), Gaston Grey 11. Noteworthy-All nine Bombers players score. Back-to-back slam dunks by Deon Johnson caps 9-2 Andersen run for 17-8 lead five minutes into the game.
Osan 79, Seoul American 55
Halftime-Osan 47, Seoul American 15. Leading scorers-Osan, Nathaniel Crawford 14, Johnny Smith 13, Ryan Vaught 10; Seoul American, Andrew Luna 14, Jamaal Mohn 12, Anthony Gatlin 11 (all second half). Noteworthy-Defenders scored first 25 points and didn't allow a Falcons point until 7:40 into the contest.
Osan 82, Suwon 48
Halftime-Osan 43, Suwon 17. Leading scorers-Osan, Ryan Vaught 20, Ramon Moss 11; Suwon, Josh Smith 15, Jeffrey Mayle 11, Robert Phipps 10. All 13 Defenders scored.
Camp Humphreys 93, Seoul American 83
Halftime-Camp Humphreys 56, Seoul American 36. Leading scorers-Camp Humphreys, Maurice Graham 35 (nine three-point goals), Jacobe George 16, Mario Jones 11; Seoul American, Jay Higgins 25 (9-for-11 from foul line), Jamaal Mohn 20, Mike Goodman 18 (12 second half). Noteworthy-Bulldogs led by 22 before Falcons chopped deficit to six with 3:30 left.
Men's Pool B
Spotlight 114, Osan American 48
Halftime-Spotlight 51, Osan American 25. Leading scorers-Spotlight, Jimmy Lucas 29 (three three-point goals), Howard Reed 26 (six three-point goals), Jeremy Miller 20 (three three-point goals, 18 points second half), Aubrie Daphney 17 (12 first half); Osan American, Chris Durham 17 (three three-point goals).
Women's Pool
Monday's games
Kunsan 62, Camp Humphreys 61
Halftime-Kunsan 28, Camp Humphreys 28. Leading scorers-Kunsan, Melissa Valdez 18, NayNay Walker 16, Amoni Sutice 14; Camp Humphreys, Sanna Lopez 18 (10-for-11 from foul line). Noteworthy-Eight ties, eight lead changes.
Osan 47, Yongsan 43
Halftime-Yongsan 27, Osan 22. Leading scorers-Osan, Tonya Holmes 15 (11 second half), Arlitha Ivey 12; Yongsan, Cassandra Randall 19. Noteworthy-Osan's Lakisha Wright's backdoor layup with 2:20 left gave Defenders the lead for good in a game featuring 11 lead changes.
Suwon 74, Kunsan 71
Halftime-Suwon 34, Kunsan 30. Leading scorers-Suwon, Moore 25, Wynn 21, Casey Blasi 13; Kunsan, Melissa Valdez 22 (four three-point goals), Shae Harris 19 (five three-point goals), Amoni Sutice 19. Noteworthy-A 12-0 run put Cobras ahead to stay. There were nine lead changes.
Yongsan 64, Suwon 63, OT
Halftime-Yongsan 29, Suwon 25. End of regulation-Yongsan 57, Suwon 57. Leading scorers-Yongsan, Cassandra Randall 22, Mandi Metzger 21; Suwon, Moore 19, Wynn 14, Tina Jackson 13. Noteworthy-16 lead changes, eight ties. Vinicki Ervin's rebound layup made it 64-63 Runnin' Rebels, who led the rest of the way.
---
---
---
---