American pastime finds a home in Poland
by
Charlie Coon
July 24, 2003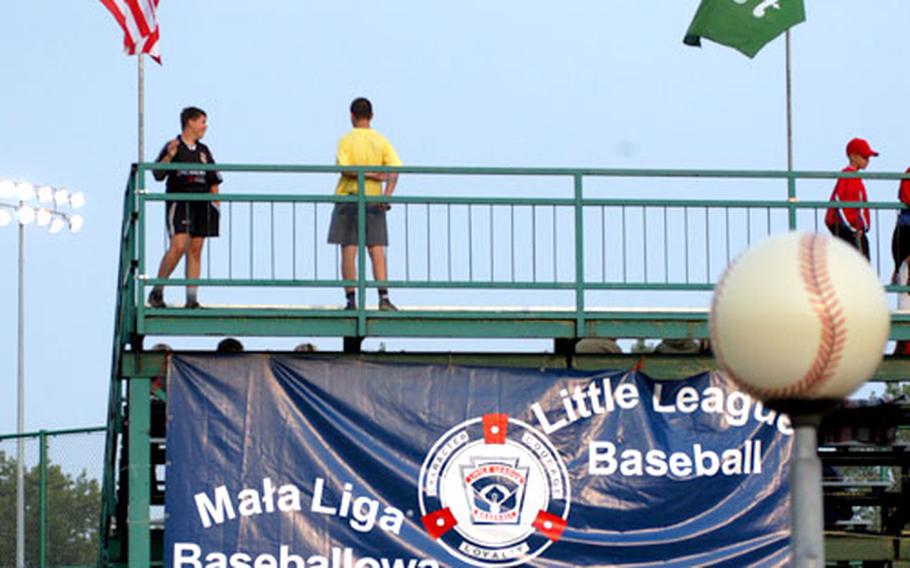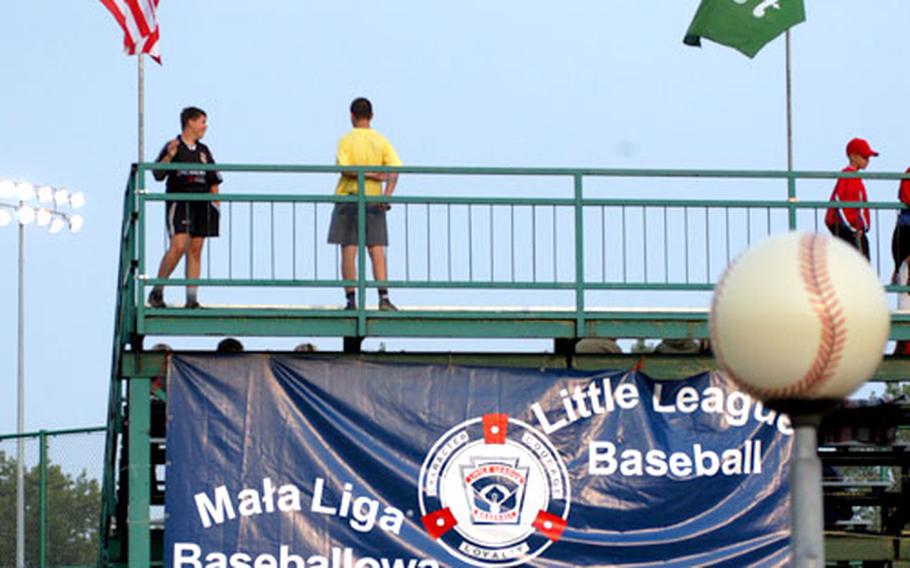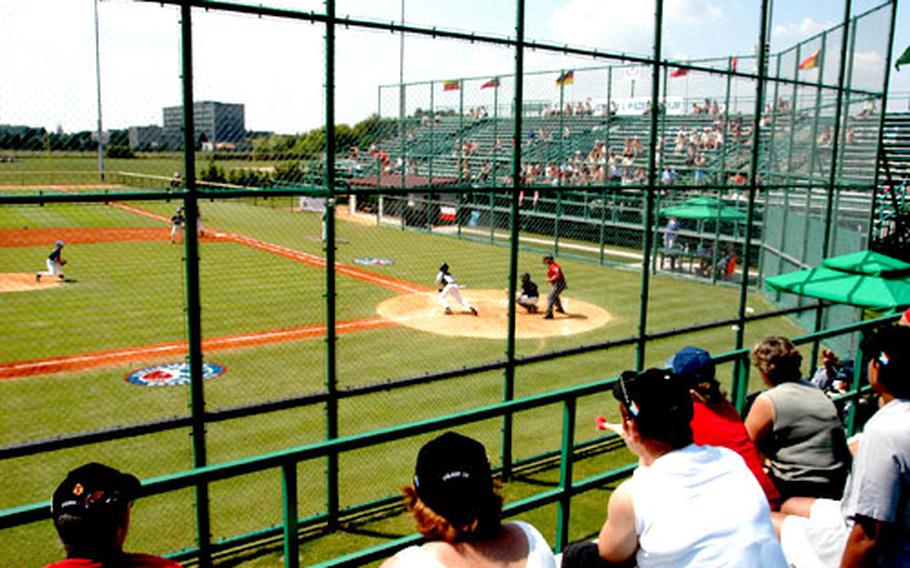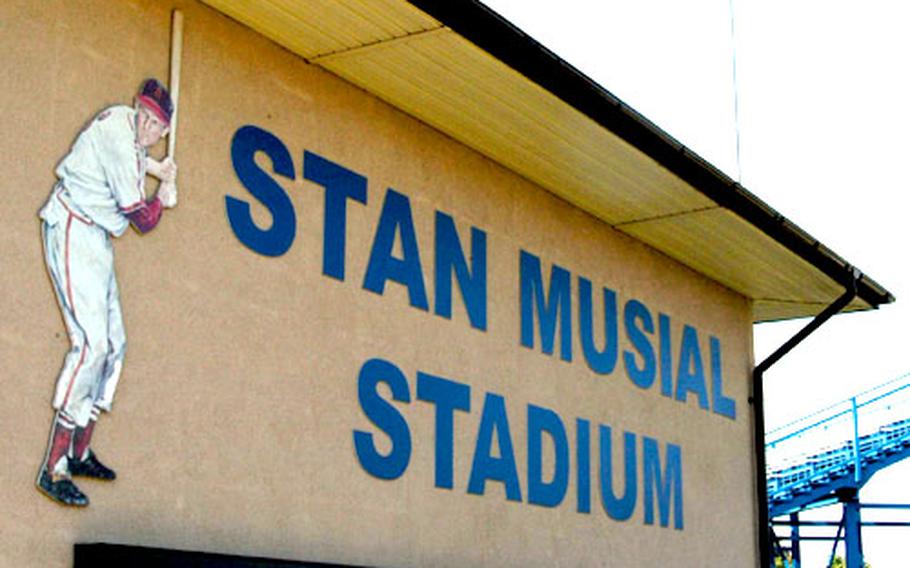 KUTNO, Poland – It's out in the middle of nowhere.
That's what visitors say when asked about the European Regional Headquarters of Little League Baseball.
Little League had considered building in other countries, but the land cost too much. So, when the city of Kutno offered to donate the land in 1996, Little League accepted. Now, players and coaches come to Poland to play the great American game.
They come from U.S. military communities in Rota, Spain; from Ramstein, Germany; and from Naples, Italy. They come from Russia and England and the Netherlands, too.
A dormitory at the complex sleeps up to 240 players, coaches and umpires. It is surrounded by a 6-foot security fence.
The rest of the complex, however, is open. People can come and go as they want, though they need permission to use the fields, which include two big stadiums, with bleachers and lights for night games.
For teams that qualify for one of the tournaments, all they have to do is get here. Little League Baseball pays for lodging, a food allowance and first aid if needed.
But getting here is not simple or cheap. Twenty-six teams were invited to this month's European and Trans-Atlantic playoffs. Only 18 showed up. Some passed because the players and coaches went on vacations instead; others couldn't afford the trip.
Lt. Bob Saunders from Rota, said his team flew to Madrid, Spain, then Warsaw, Poland, before it took the two-hour ride along Route 2.
In Poland, there are weeds everywhere. They line most roads. Some buses and trucks belch smoke like they're burning coal, not gasoline. Many buildings still have that dark-gray paint job common after World War II.
But in Kutno there is an oasis of shiny, green baseball fields. They have fine, red infield dirt and crisp, white base lines.
"I wasn't expecting anything as beautifully kept as this," Saunders said. "The people in the area have bent over backward to help us out with any situation."
The foreign youngsters who come to play baseball play a lot of it – nine games in nine days. Teams that are eliminated from their tournaments arrange "friendly" games, then round up a few umpires who don't look busy.
"We're playing tomorrow at 9 against Bulgaria, I think," Tech. Sgt. Andy Broome, coach of the team from Brunssum, Netherlands, said Tuesday. "We played against Belarus today."
The Belarus "friendly" was a big game. The Netherlands had gone 0-7 in the Trans-Atlantic playoffs. Broome asked his players if they wanted to leave Kutno or stick around to play a few more times. The vote was unanimous.
It paid off. Brunssum finally got to savor the sweet taste of victory when it beat Belarus 6-4.
"I love the game of baseball," said Jacob Martens, who went 2-for-3 against Belarus. "So I play any chance I can get."
The games have an odd atmosphere — a mix of cultures.
A local teen plays CDs over a professional-quality sound system between innings at one of the stadiums decorated by banners in different languages.
He played boxing announcer Michael Buffer's famous call, "Let's Get Ready To Rumble" after one game, instead of before it.
The music rocked Western-style. Selections included AC/DC, Christina Aguilera and Smashing Pumpkins. "Who Let The Dogs Out?" was on the heavy rotation.
In addition to the Little League tournament, which is for 11- and 12-year-olds, the Kutno facility hosts baseball for boys ages 13-15 and 16-18. There was softball for girls, too, but on the baseball fields.
Beata Kaszuba, who is in her third year as the European regional director of Little League Baseball, said the 43-acre site might add two softball fields next year.
"Kutno is a small town," Kaszuba said. "Every city and town today is looking for foreign investment."
The complex has 10 employees. In the summer they run the tournaments and tend to the ball fields. In the winter they paint, fix things and organize. Umpires and league administrators from throughout Europe come for conferences and clinics.
"We want to promote baseball through Little League," said Kaszuba, who admitted it's a hard sell in a continent where David Beckham jerseys outsell Barry Bonds' by perhaps 1,000-1. But Little League is making progress.
"Kids from poor countries and from rich countries — they're all the same," Kaszuba said. "To see them playing together, smiling and having a good time — it changes them.
"When they hear a new language it might be motivation for him or her to study better. That's already improvement, a big change.
"They will be different people when they go home."