Kaiserslautern tennis ace Aiva Schmitz signs with University of Minnesota
by
Jennifer H. Svan
Stars and Stripes
November 11, 2021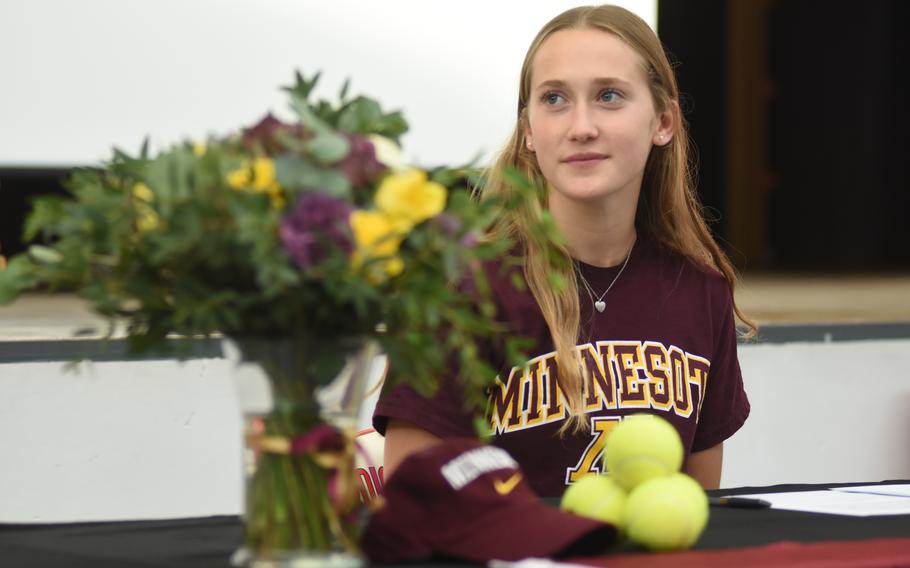 KAISERSLAUTERN, Germany – Kaiserslautern High School tennis sensation Aiva Schmitz has made it official: The senior ace will continue playing next fall at the University of Minnesota.
Schmitz signed a letter of intent Wednesday to play for the NCAA Division I Golden Gophers. The 17-year-old and three-time DODEA-Europe tennis champion earned a full athletic scholarship to the Big Ten Conference school.
Schmitz inked the letter after school during a ceremony in KHS's commons area. Decked out in Minnesota's school colors of maroon and gold, Schmitz was flanked by her family and her Raiders' coaches and teammates. Scores of students and teachers also attended.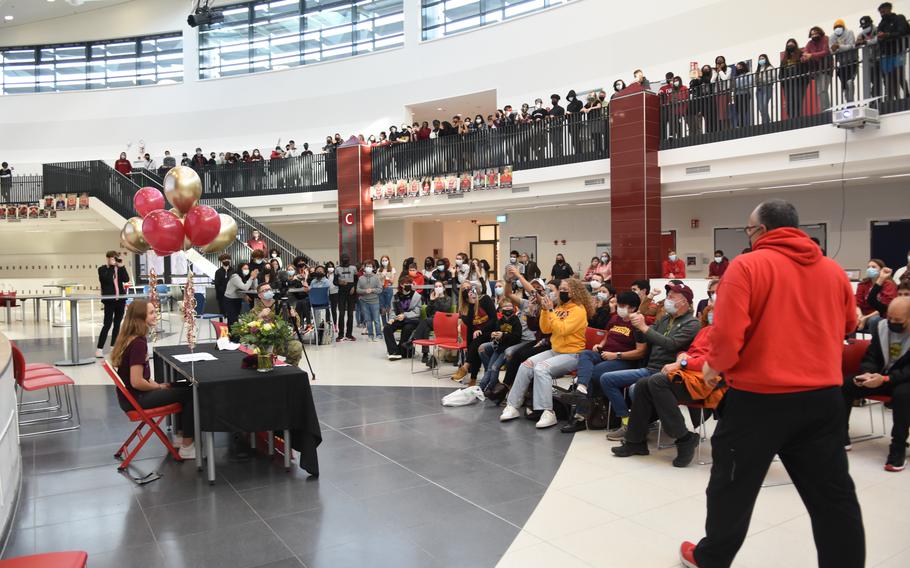 "A Division 1 athlete – that doesn't happen a lot," physical education instructor Lin Hairstone told the audience. "She's a great person, but I've also seen her work very hard to get here," he said of Schmitz.
Schmitz was a top recruit at more than half-a-dozen other schools, including the College of William and Mary in Virginia, her parents, Clare Barnard-Schmitz and Frank Schmitz, said. She chose Minnesota after visiting the campus this fall in the Twin Cities of Minneapolis-St. Paul, Aiva Schmitz said. She clicked with the coaches and was impressed by the tennis facilities. She also was eager to play in the competitive Big Ten Conference and be close to extended family in the area, she said.
"I think it's going to be an amazing four years," Schmitz said. "I can't wait to be part of the team."
Schmitz was the most successful tennis player in Kaiserslautern school history, her coaches said. During her four years on the team, she lost only one match. That was as a freshman during the 2018 regular season to Wiesbaden's Charlotte Kordonowy. Schmitz went on to beat Kordonowy that year in the DODEA Europe singles tennis championships. Schmitz currently is ranked No. 7 in Germany among 17-year-olds and 19th among females 18 and under, according to Frank Schmitz.