US soldier breaks backstroke record to win gold on swimming's final night at Tokyo Paralympics
by
Seth Robson
Stars and Stripes
September 4, 2021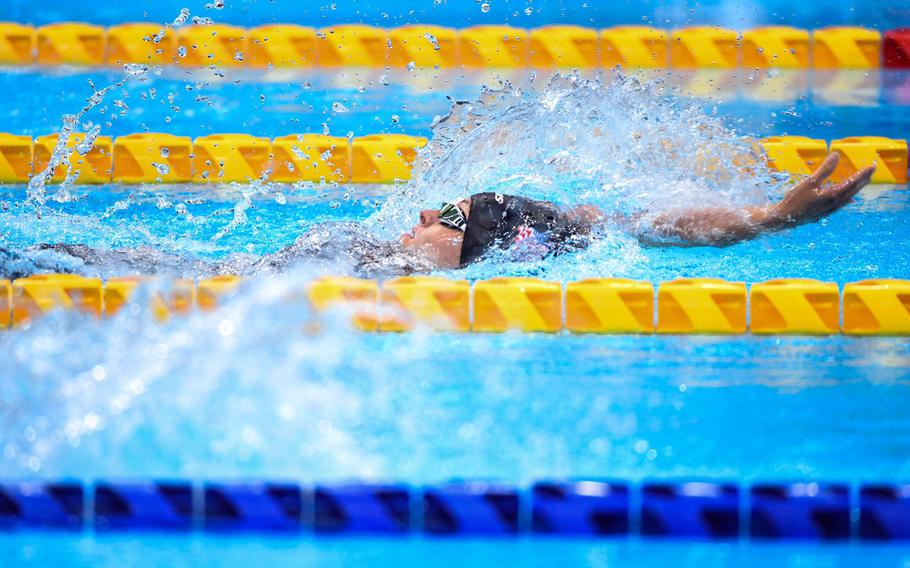 TOKYO – A U.S. soldier smashed a world swimming record by two seconds to win Paralympic gold in the women's 100-meter backstroke at Tokyo Aquatics Center on Friday evening.
Sgt. 1st Class Elizabeth Marks, 31, of Colorado Springs, Colo., finished with a record time of 1:19.57. China's Yuyan Jian won silver in 1:20.65, and Germany's Verena Schott took bronze in 1:21.16.
Marks, a combat medic and member of the Army's World Class Athlete Program, injured her hips in Iraq and later had a leg amputated. She competes in a class that includes people with several disability types, including cerebral palsy, short stature and amputations.
"Winning the gold feels great," Marks said after the race, according to the Team USA website. "I've loved every race that I've gotten to swim. This one is one of my favorites because I get to breathe the whole time, so it was amazing. There's some really fast girls in that pool so I was very excited that I could hold my own with them."
Marks' medal was one of four golds won by Team USA in the pool on the final night of swimming at the games. The team earned 35 swimming medals in Tokyo – 15 gold, 10 silver and 10 bronze.
Marks also won Team USA its first swimming medal of the games, taking silver in 50-meter freestyle on Aug. 25. She followed that with a bronze in 50-meter butterfly on Monday.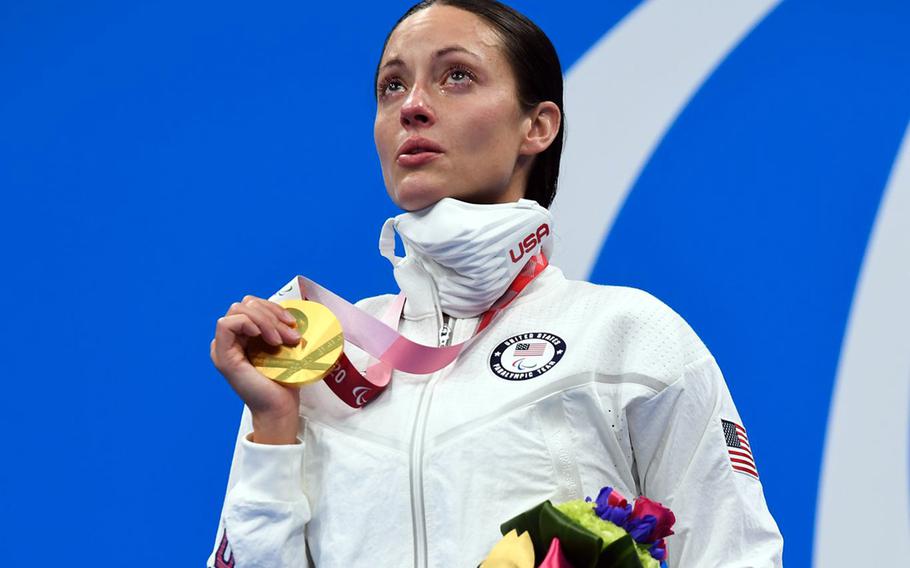 She had already won gold in the 100-meter backstroke during the 2016 Paralympics in Rio de Janeiro. She also won bronze in the 4x100-meter medley relay that year.
Marks enlisted in the Army 2008 and severely injured both of her hips in Iraq in 2010, according to the World Class Athlete Program. She spent much of her rehabilitation in the pool at Brooke Army Medical Center in Fort Sam Houston, Texas.
"No one expects to be injured. It is one of those things that no one thinks will happen to them," she said in a March 17 article on the Army's website. Marks declined to discuss how she was injured in an interview with ESPN for a March 25, 2016, story.
She underwent multiple surgeries. In 2017, her left leg was amputated below the knee, according to Team USA's official website.
The daughter of a Marine who served in Vietnam, Marks fell in love with the military as a teen after attending an at-risk youth academy run by service members, according to the Army profile.