Hours after gunfire outside its gates, Nationals Park reopens to fans and players
by
Jesse Dougherty and Emely Hernandez
The Washington Post
July 18, 2021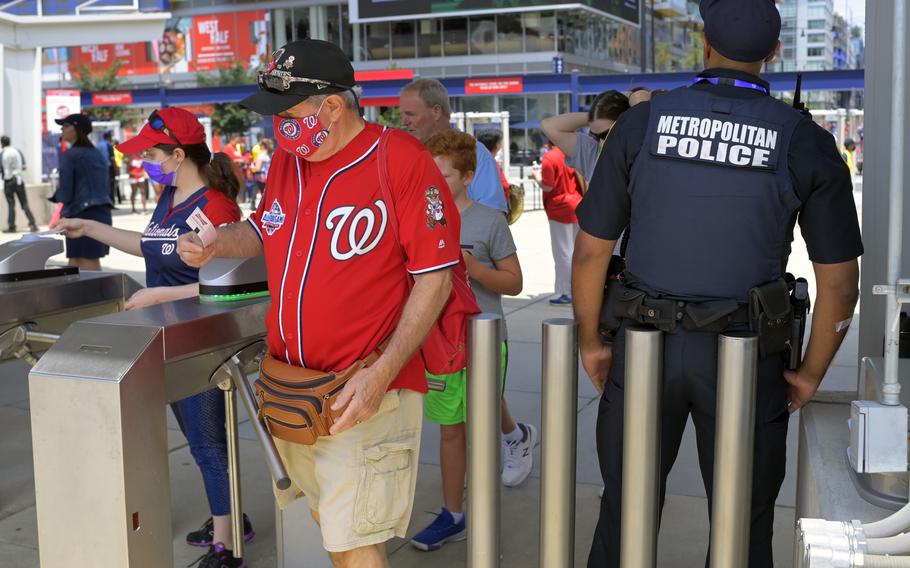 Fernando Tatis Jr. stood by the dugout that, about 14 hours before, was used as shelter for a group of fans and family members of the San Diego Padres who heard a burst of gunshots outside Nationals Park. Tatis, the Padres' 22-year-old shortstop, had rushed down the third base line to get those people to safety on Saturday night, still unaware, in that moment, that the incident took place on South Capitol Street and there wasn't an active shooter situation in the stadium.
Then Tatis, his teammates and the Washington Nationals returned Sunday morning to play a baseball game. Fans showed up, too, in small pockets around a park that fits more than 41,000. It was normal except that, in the lead up to first pitch at 1:08 p.m., for a contest that stopped amid gunfire nearby and resumed in the sixth inning, all anyone discussed was their version of the previous night.
"The situation changed immediately, there were no longer players or fans," Tatis said Sunday morning. "I feel like everybody is just people. Just human beings out there."
Police said Saturday night that three people were shot: a woman who was found wounded outside the stadium and two others who arrived at a hospital a short time later. Ashan Benedict, the D.C. police executive assistant chief, said police believed the incident involved gunfire from at least one car to another. They recovered one vehicle and, on Sunday morning, when police were still investigating the circumstances, they asked for the public's help in identifying another they believed to be involved in the shooting.
The car, which police described as a "suspect vehicle," was a gray Toyota Corolla with dark, tinted windows. Police added that they believe the vehicle is displaying a temporary Virginia tag and is missing a hubcap on the rear driver's side wheel.
Sunday morning then unfolded as Sunday mornings do at Nationals Park. A man practiced singing the national anthem at 10:07 a.m., then "God Bless America" at 10:08. The only other sounds inside the stadium were a rake scraping the infield dirt and a hose wetting the grass. It was sunny and breezy - something like perfect baseball weather.
But many still focused on the roughly five minutes of panic between the gunshots and an announcement over the PA system, telling everyone to remain inside the stadium. At first, around 9:30 p.m. on Saturday, people either used their seats as protection or sprinted for the exits beyond center field. Shouts of a "shooter" rippled through the sections, from the gates closest to the incident to the upper deck. One woman broke her nose ducking for cover, according to a fan who witnessed her injury. Many ran for the dugouts, on both the home and visiting side, with some fans winding up by Nationals Manager Dave Martinez's office.
When security asked if they were family, Martinez said they were, according to one fan's recollection. After pulling his players from the field, Martinez's top concern was making sure all family members were accounted for and brought to the clubhouse. Patrick Corbin, the pitcher who started the game for the Nationals, was seen walking the concourse, talking on the phone in his untucked uniform, while people walked past him in the other direction.
"I heard the gunshots, obviously, right away. I looked above the third base dugout, where I thought the shots were coming from," Martinez recalled. "And at that particular moment . . . I didn't know what was going on, but I wanted to make sure everybody was safe. As things went on fairly quickly, I heard that it was outside the stadium. Everything happened so quickly. People started to get a little frantic, which we don't blame. When a situation like that arises, you try to follow protocol. But honestly, protocol is to get to safety and take care of your families."
"They're going out, they're thinking of their loved one and they're getting their families," Padres Manager Jayce Tingler said of his players who sprung to help, including Tatis, Manny Machado and Jurickson Profar. "It's just human nature. Seeing fans, and seeing people in panic, they did the right thing."
Amy Mock, 45, was sitting in the right field stands when she heard the gunshots Saturday night. Sitting with her 11-year-old son, Mock watched people scramble from their seats before retreating once the danger was reported to be outside the stadium. And while Mock said the incident will not deter her family from attending games in the future, her son was shaken up and chose not to come Sunday afternoon.
Carol and John McGuirk, a couple in their 70s, did return after experiencing the commotion Saturday. Carol had crouched by a beer cooler and said a Hail Mary. She noticed a mother with two young sons, one of whom fell during a dash from their seats. She offered to help, distracting the boys with ice cream and talk of Ryan Zimmerman's home run in the third inning. By Sunday morning, she could still see the fear on their faces.
"I thought, with something like that it was either a shooter or a bomb," Carol McGuirk said. "But I didn't want to say anything because I didn't want to cause any panic."
The shooting at Nationals Park came as a recent spate of gun violence brought the District to a homicide pace that matches last year's 16-year high. It also came one day after a 6-year-old girl, Nyiah Courtney, was fatally shot while walking home with her family in the city's Congress Heights neighborhood about 2.5 miles away from the ballpark.
Courtney's death was the city's 102nd homicide this year, the same number killed at this time in 2020. After the District recorded 166 homicides in 2019, killings rose for a third straight year in 2020 to 198, making it the city's deadliest since 2004.
More than 920 people were shot last year. Just hours before the shooting outside Nationals Park, D.C. Mayor Muriel E. Bowser (D) and other officials condemned the shooting of Courtney while highlighting a new program that focuses police and health programs on the 151 city blocks where gun violence is most common. The city in recent days also brought attention to its use of the ShotSpotter program, technology that aims to detect gunfire throughout the city.
When asked for his message to fans who may not feel safe returning to the park, or for staff members who live in areas affected by gun violence, Martinez took a long pause and fought back tears.
"I love this city. This city's my home," Martinez said. "It can get crazy, we all know that. And we all want to feel safe. I can tell you that inside this ballpark, I feel safer than ever, I really do. We care about each other. We don't want anybody getting hurt. For me, yesterday, I tried to protect as many people as possible."
The Washington Post's Kyle Swenson and Dan Rosenzweig-Ziff contributed to this report.