Novak Djokovic defeats Matteo Berrettini in the Wimbledon men's final
by
Liz Clarke and Cindy Boren
The Washington Post
July 11, 2021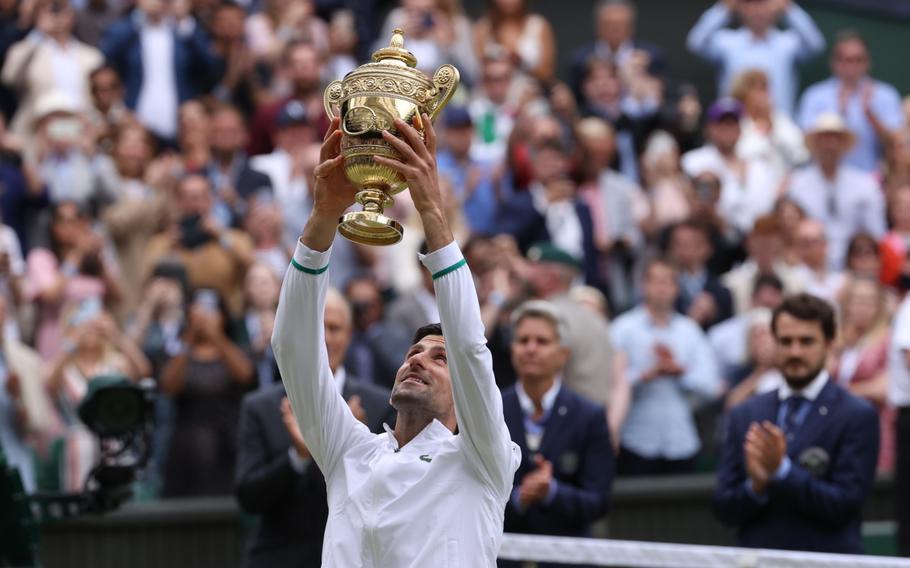 WIMBLEDON, England — Novak Djokovic overcame a less-than-sterling start against a stylish Italian opponent in Sunday's Wimbledon final to take his place in tennis history alongside the rivals he has been chasing most of his career.
With his 6-7 (7-4), 6-4, 6-4, 6-3 victory over Matteo Berrettini, Djokovic, 34, claimed his sixth Wimbledon championship and a 20th Grand Slam title to equal the men's record shared by Roger Federer and Rafael Nadal.
Djokovic's victory keeps intact his goal of standing alone atop men's tennis history at season's end, which he would achieve by winning his fourth U.S. Open in September. As a further distinction, the Serbian is seeking to become the first man to claim a Golden Slam — winning all four majors and Olympics singles gold in the same calendar year. Only Steffi Graf has done so, in 1988.
Djokovic fell flat on his back upon sealing the victory Sunday on Berrettini's final backhand error, three hours, 24 minutes after the first ball was struck, as a capacity crowd of nearly 15,000 at Centre Court stood and applauded.
Hearty cheers rained down for Berrettini, 25, as well, the first Italian to reach Wimbledon's final.
It was Berrettini's first appearance in the final of any Grand Slam, while it was Djokovic's 30th. And the difference in experience showed as the contest wore on.
Djokovic had barely put a foot wrong all tournament, conceding only one set as he breezed into Sunday's final, calibrating his excellence as each round demanded. He bluntly acknowledging feeling no need to peak too soon; conserving energy is among the lea of a 19-time Grand Slam champion with his sights on extending the mark.
While Djokovic was heavily favored, not having lost a match at Wimbledon since 2017, Berrettini boasted weapons to be feared.
At 6-5, the Italian boasts one of the game's best serves and led all players in aces (101) through the tournament's first round. He also rips a massive cross court forehand and was riding a wave of momentum, with an 11-0 record on grass heading into the final.
The challenge presented by Djokovic is well-established.
Uncommonly fit and flexible, he is an outstanding returner and defender. He has developed an unerring sense for critical moments in a match, as well as the ability to rise to meet them. And with a predatory drive he has likened to a wolf, Djokovic is willing to risk all with victory in the balance.
Sunday's final got underway shortly after 2 p.m. at the All England Club, with the Centre Court roof open and the Serbian and Italian ambassadors among the guests in the Royal Box.
Djokovic showed a rare bit of unsteadiness at the start, double-faulting three times in the first three games but was quick to right himself.
Berrettini's unease was more glaring. His timing was off, and his normally reliable forehands missed by feet rather than inches.
"That's what the Wimbledon final does to you! You lose your mind!" three-time Wimbledon champion Boris Becker blurted out on the BBC broadcast.
But after a hard-fought hold of serve at 2-5, the Italian regained his faculties, broke Djokovic for the first time and went on the claim the opening set in a tiebreaker.
Whether riled by the crowd's cheers for Berrettini or rallied by self-belief, Djokovic bared his teeth to start the second set. He reeled off the first four games. The set all but lost, Berrettini earned style points by chasing down a lob and firing back a winner between his legs. The crowd loved it. Djokovic smiled, too, then served out the set at love.
After taking a two-sets-to-one lead, Djokovic raised a clenched fist of defiance, rousing his Serbian supporters.
Berrettini fought on, but Djokovic proved the steadier man.
Holding the trophy, Djokovic paid tribute to Federer and Nadal during his on-court interview.
"They are legends of our sport," he said. "They are the two most important players that I ever faced in my career. They are the reason I am where I am today. They have helped me realize what I need to do to get stronger, physically, mentally and tactically."