Novak Djokovic defeats Stefanos Tsitsipas in French Open men's final
by
Liz Clarke and Ava Wallace
The Washington Post
June 13, 2021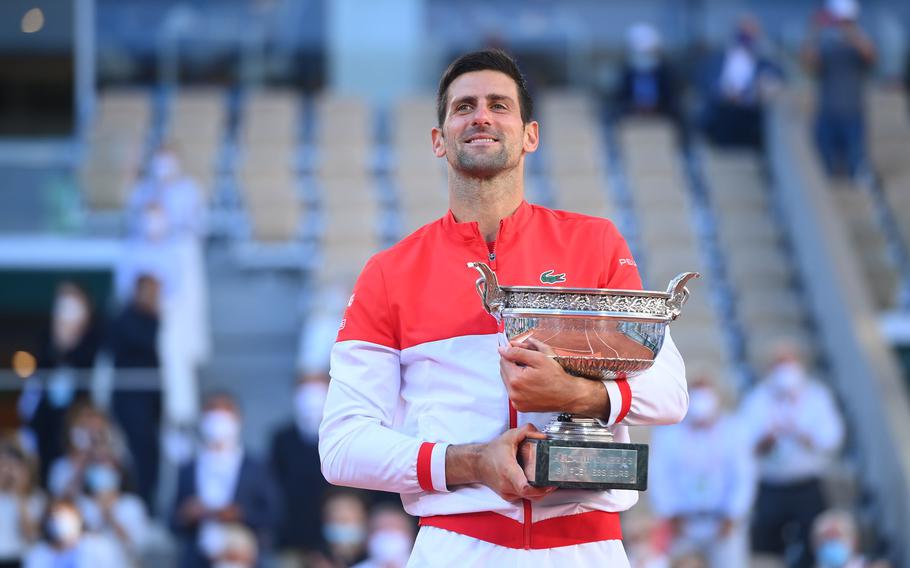 In a triumph of physical and mental resilience, Novak Djokovic battled back from a two-sets-to-none deficit against Stefanos Tsitsipas on Sunday to win the French Open and claim his 19th Grand Slam title.
The 6-7 (6-8), 2-6, 6-3, 6-2, 6-4 victory in Paris put Djokovic within one of matching Roger Federer and Rafael Nadal for the most majors in men's tennis history. His next opportunity comes in two weeks, when Wimbledon begins. The come-from-behind victory also strengthened Djokovic's case in the debate over the greatest tennis player of all time — if such distinctions can plausibly be conferred.
As it stands, the Serb is 27-23 against Federer and has a 30-28 edge on Nadal. He is also the only player among them — and the only player in the sport's modern era — to have won each of the four majors at least twice. (Roy Emerson and Rod Laver did so in the 1960s.)
The top-seeded Djokovic's triumph over the fifth-seeded Tsitsipas, who was appearing in his first Grand Slam final, is all the more impressive considering it came less than 48 hours after he dethroned Nadal on the red clay in a semifinal Friday. To that point, Nadal's record at Roland Garros was 105-2.
Addressing the crowd in French, Djokovic called Sunday's victory "a dream" during his on-court remarks — one that wasn't easy, he noted, earned through nearly nine hours of tennis in a 48-hour span against two exceptional players. Later, he pinpointed the turning point: It came, he said, in the "talk" he had with the competing voices in his head after he exited the court, two sets in arrears. One voice said he couldn't do it, that the match was "finished." The other insisted he could.
"I strongly started to repeat that inside of my mind, tried to live it with my entire being," he said.
Tsitsipas, his face a study in disappointment, said he felt the difference in the outcome was endurance, noting that playing "two good sets," as he put it, "wasn't enough."
"I don't think I have regrets," Tsitsipas said. "I could have easily cried, but I see no reason for me crying because I tried everything. I couldn't come up with anything better."
The herculean effort Djokovic expended in toppling Nadal was a powerful subtext for Sunday's final: Would the 34-year-old have enough left to subdue a hungry challenger 12 years younger? In the first two sets, the toll of Friday's physical semifinal — which lasted 4 hours 11 minutes — seemed to be the controlling narrative.
The red clay of Roland Garros looked like velvet in the Parisian sun when Djokovic and Tsitsipas walked out to a standing ovation. Tsitsipas established at the outset that he was every bit Djokovic's equal. At 6-foot-4, the Greek has uncommonly fluid movement and timing on clay. With impressive reach, he's unafraid to volley and boasts a Pythagorean command of angles on his punishing forehand.
He reached the final after weathering an arduous semifinal of his own, needing five sets to subdue sixth-seeded Alexander Zverev. And he showed no sign of jitters in his first Grand Slam final — particularly in the tiebreaker that settled the first set.
By the start of the second, Tsitsipas was clearly the fresher and more mentally sharp player, while Djokovic slumped. Tsitsipas took a two-sets-to-none lead on a series of unforced errors by the Serb and his own steady play.
That's when Djokovic exited the court to change his clothes and outlook, as he had at critical junctures earlier in the tournament. He returned refreshed and claimed the must-win third set.
"After that," Djokovic said, "there was not much of a doubt for me."
With each of Djokovic's winning volleys and line-skimming groundstrokes, Tsitsipas seemed to lose faith. As he later explained, he lost his rhythm, then lost his way.
"It was very strange," he said, noting his strong play at the outset. "Suddenly [I] just felt cold and out of it. It was difficult to readjust. I felt like I kind of lost my game a little bit."
Tsitsipas called a medical timeout before the fourth set began, and a trainer appeared to work on what Tsitsipas later explained was tightness in a hip. Neither the trainer nor a fresh white shirt slowed Djokovic's resurgence.
Shadows covered half the court by the time the fifth set got underway at roughly 6:30 p.m. The crowd, capped at 5,000 under pandemic restrictions, was full-throated and evenly divided in its rooting interest.
Again, Djokovic got the early break. And Tsitsipas, clearly frustrated, turned the battle on himself, muttering and chiding himself in Greek for each double fault and errant shot. Still, he hung in, forcing Djokovic to serve out the match.
Amid the euphoria that followed, Djokovic sought out a third voice that had been in his ear all match. It belonged to a young boy with a courtside seat who had been cheering him on.
"He was actually giving me tactics as well," Djokovic explained. "He was like: 'Hold your serve. Get an easy first ball and then dictate. Go to his backhand.' He was coaching me, literally."
As thanks, Djokovic gave the boy his racket, turning the euphoric youngster into an internet sensation.
Though Djokovic is a five-time Wimbledon champion and has won the two most recent titles (in 2018 and 2019), claiming a sixth this year will be particularly difficult given the compressed turnaround. This year's French Open was delayed by a week to allow more fans to attend under the country's pandemic protocols. As a result, Wimbledon will start two weeks after the French, rather than the usual three.
Djokovic confirmed that winning all four Grand Slams this year is his goal — as is claiming a gold medal at the Tokyo Olympics.
"Everything is possible — definitely, in my case," he said.