A new Space Force officer is the surprise NCAA champion in the steeplechase
by
Cindy Boren
The Washington Post
June 13, 2021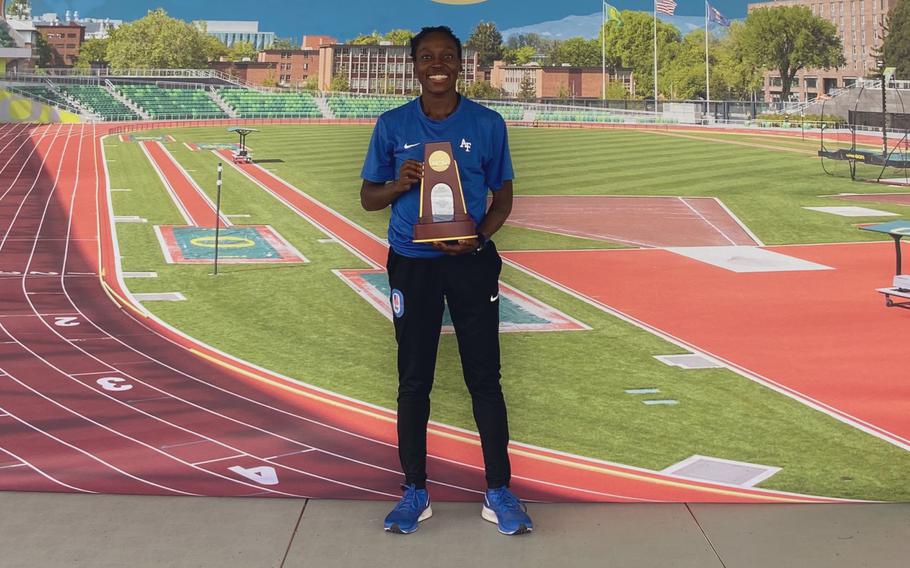 A newly minted Space Force officer turned on the afterburners Saturday, pulling off a surprise steeplechase victory in the NCAA championships.
Mahala Norris, who received her commission as a second lieutenant after graduating from the Air Force Academy this spring, edged Auburn's Joyce Kimeli by five hundredths of a second and Washington's Katie Rainsberger in the NCAA Division I championships at Hayward Field in Eugene, Ore.
Track & Field News hadn't predicted that the 4-foot-11 runner would be among the top 10 finishers in only her fifth time running an event in which the hurdles come up to her waist, but she stayed near the front and when BYU's Courtney Wayment stumbled, she was ready.
"I didn't think I was going to be there," she said (via Oregon Live). "When I was, I just tried to focus on the finish."
Norris was trailing Kimeli and Rainsberger as they entered the final stretch but was confident that she could still win the race. She finished in 9 minutes, 31.79 seconds but still looked to the scoreboard for confirmation.
"The goal was always just to hang with them," Norris said (via the Colorado Springs Gazette), "and if I could, just kick past them. I knew if I was able to stay with them it would be a kick race."
Norris, a Roseburg, Ore., native, will compete in the U.S. Olympic trials June 20, then report to Vandenberg Space Force Base to assume duties as a Guardian in August.
With a junior season erased by the coronavirus pandemic, Norris was running in the steeplechase event for only the fifth time and carved six seconds off her previous best time. She won the Mountain West cross country title in March, then switched to the steeplechase for the first time May 1 after placing fourth in the NCAA cross country championships and fourth in the 5,000 in the NCAA indoor championships. She chose to focus on steeplechase in Eugene and ran the eighth-best time nationally this year on Saturday.
Adopted from a Port-au-Prince, Haiti, orphanage as a baby, Norris came late to running. More focused on soccer, her middle-distance running nonetheless drew the attention of Air Force coaches and her first cross-country race was in college.
"I don't know if surprised would be the word," Norris told the Gazette before the NCAA Championship, speaking of her recent successes. "It just kind of happened."
Norris's win was a historic one for the Air Force Academy, which has not had an athlete win an NCAA Division I track title since Jim Murphy won the 5,000 in 1964. Dana Pounds won javelin titles in 2005 and 2006.
"Mahala's spring has been so good that the only way she could really top it is by winning a national title," Ryan Cole, Air Force's distance coach," said. "To do so with one of the fastest times in collegiate history in her fifth steeple ever is ridiculous. She's just so tough. And, while she may not be very big, she has a huge heart. I don't know how anyone could watch that race and not be inspired."