These hallowed places and history inform the Air Force's future
By
Special to Stars and Stripes
September 15, 2022
---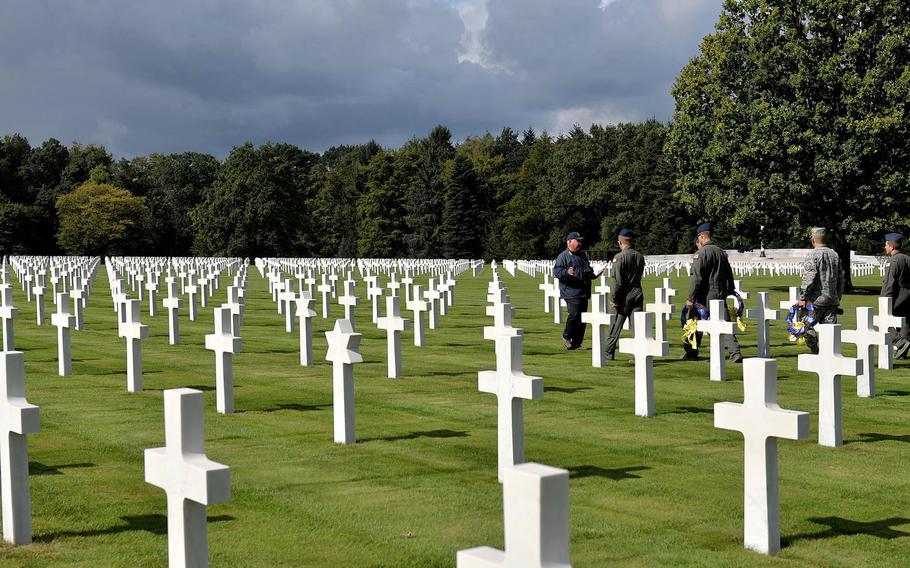 The immensity of it all is difficult to comprehend — 5,274 headstones perfectly aligned in rows atop magnificently maintained acres of green, gray and gold, stretching to the edge of vision. This tranquil setting belies the chaos that brought them to rest in the Ardennes American Cemetery near Brussels.
A recent trip, as a commissioner for the American Battle Monuments Commission, brought me to four cemeteries in Europe honoring our war dead. It was a cathartic and humbling experience, made even more so by the fact that it came a few months before the Air Force celebrates its 75th anniversary on Sept. 18. At the Lafayette Escadrille Memorial Cemetery, I returned the wings of my wife's grandfather to France for the first time since he fought there, 104 years ago. This cemetery holds the stories of some of our toughest, bloodiest and most consequential military campaigns. These stories, which can still be heard in the whispering breeze among the trees nearby, remain important for the Air Force of today.
The tellers of the stories were courageous and proud patriots who entered the chaos of battle knowing just one thing for certain — that to their left and to their right were people who would die for them, and for whom they would die. They lie together now. They would not have it any other way.
We know the exploits of many of the heroes, with headstones etched in gold as recipients of the Medal of Honor. But as you walk among these headstones and journey into history, you cannot help but sense that there are many other equally heroic tales that will forever be known only to God.
Because past is indeed prologue, it is important that the lessons of long-ago battles continue to inform today's greatest challenges. For example, as the Air Force tests a new concept known as "Agile Combat Employment," or ACE, it draws lessons from the exploits of Maj. Gen. Claire Chennault's Flying Tigers and the successes of the Allied "Island Hopping" campaign in World War II.
As executive director of the Arnold Air Society and Silver Wings, a nonprofit that has sought to build young airmen through education and professional development, I hold a unique vantage point to help curate this history.
It is because of this that I also know visits to these places come with a responsibility to bring the next generation the stories of the "greatest generation" and those that preceded them, and that followed. The inter-war years, Korea, Vietnam, Desert Storm, Allied Force, Libya, Afghanistan and Iraq, the constant global watch of airmen, came at great cost. Our youngest airmen need to know that, too.
Our future is in good hands. I know it because I see it every day in the eyes of our Arnold Air Society and Silver Wings students. But there is also a call to action in their eyes that comes from our past, and particularly from the "greatest generation," to help make those who will carry the torch tomorrow the "greater generation" still.
As we celebrate 75 years as an Air Force, I hope that every American remembers the extraordinary sacrifice that brought us here. I also hope that every American commits today to preparing the next generation to be "greater still."
As Hap Arnold, famed Air Force general, said, "The challenge with airpower is that we make it look too easy." All we need to do is take a pilgrimage to the past and look to the challenges of the future, to know it is not, and will never be. Telling that story in our 75th year is the shared responsibility of every airman.
Daniel P. Woodward is a retired U.S. Air Force brigadier general, a presidentially appointed commissioner with the American Battle Monuments Commission, and the executive director of Arnold Air Society and Silver Wings.
---
---
---
---