Permanent change of station or military exercise?
By
Special to Stars and Stripes
July 21, 2022
---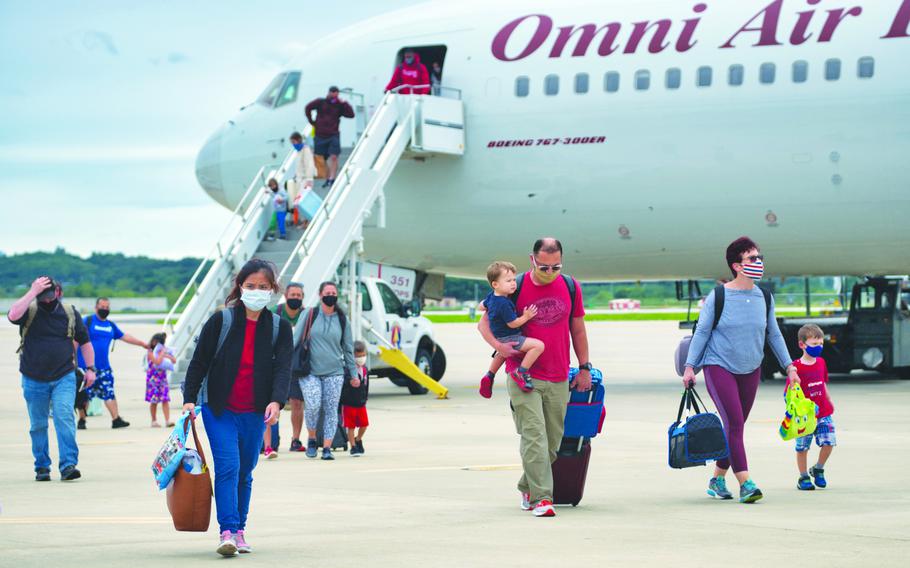 The military's permanent change of station cycle every two to four years, on average, is a way of life to which active-duty members are accustomed. Change of duty stations within the continental United States can be challenging. PCS'ing outside the continental United States adds an additional level of difficulty. Case in point: my recent PCS to Japan. Recently I found several aspects of the transportation involving the military's Patriot Express (Rotator) flight for my PCS to Japan to be sufficiently arduous that I began to question if I was PCS'ing or taking part in a military exercise.
This event for my family and I began with our five-plus hour flight from Ronald Reagan Washington National Airport to Seattle-Tacoma International Airport the night before our international flight to Japan. We arrived at Sea-Tac, approximately 10 hours prior to flight departure to Japan, loaded with gear — approximately 300 pounds that we were lugging with us. Given the foreign terrain we were dropped into at day's end, we had limited options on locations to set up our temporary camp. After conducting land navigation, we settled for the main concourse hallway. We implemented bags of luggage to fortify our makeshift base camp and our best strategies to engineer a feasible sleeping arrangement for our baby daughter. We still had several hours to endure, along with other members of the military who were arriving to join our operation, until the next evolution.
At 0430 we were directed to muster at the Patriot Express boarding counter for roll call. And at 0-dark-thirty troop movement began as this family military unit prepared itself to encounter the dreaded obstacle known as the "Check-In Counter." Responsibility to manage and advance family gear still fell on the individual service member, so we continued to slowly maneuver all of our goods to the check-in area. Successfully navigating past the Check-In Counter, it was time to move from our temporary base camp to a forward operating base beyond the terminal gates. Proceedings at this step in the exercise continued with holding in a waiting area before the call to board the "Freedom Bird" for transit to Japan.
Air transport culminated by landing at a U.S. duty station in Japan. Off-loading from the Rotator was a regimented exercise departing by rank with O-6's being given the first call to disembark. Our welcoming committee — a wall of heat and humidity — made its overwhelming presence known as we descended the passenger staircase onto the tarmac. We then marched to the austere waiting area to hear further orders for the next step in troop movement.
Overheating, groggy from numerous hours of transport and insufficient sleep, it was now time to storm the G.I. (general infantry) "Ant Colony" (also known as Luggage Quest). Gear/luggage pickup was staged from a space about as big as a large breakroom. One small conveyor belt was circulating a full-sized passenger bird's worth of luggage for pickup. Crawling over each other like a bunch of not so eusocial ants, we clawed our way to the unloading zone. With an insufficient number of luggage carts, we each toiled on like no limit soldiers to secure all pieces of our gear to one common holding place in the ants' nest.
With the exercise nearing its completion, movement now entailed transferring all our family gear to a military style bus. Once the onload was complete we engaged in about a two-hour trip to our new duty station where, upon arrival, mission accomplishment was declared.
The government advocates that the Rotator is "par for the course" in air transport for U.S. defense personnel and their families. Others say, "You joined the military so tough it out and be thankful that you get free transportation to go see a whole new country." What these individuals overlook is that it is that these exact service members who are protecting their right to be able to openly express this view in the first place.
There are several improvements to this "exercise" that can easily be instituted for a better overall experience. Move check-in time to a more accommodating hour than in the middle of the night. Establish a waiting area in the main concourse for check-in in order that the concourse hallways do not have to serve as the only available space for this.
Unloading from the plane does not need to be by rank. An alternative would be to allow everyone to disembark in an unregimented fashion carried out by civilian airlines. Provide shuttle service from the Rotator to the next stop inside the building. Welcoming accommodations in the receiving auditorium could be made to be a bit more, well, welcoming.
Updated seating and improved climate control would be two easy places to start. Additionally, increase the size of the baggage pickup area and provide a sufficient number of luggage carts for members, especially given that passengers have so much weighty luggage in light of their international move.
With "less than one-half of 1% of the U.S. population" volunteering to serve as active-duty service members and protect their country, it is a small price to pay to provide those service members and their immediate families with quality travel to international duty stations. Implementation of the improvements outlined above would help shift service members from a posture of trying to avoid the military's ticketing on the Rotator to being grateful for this transportation option.
Brock Johnson is a commander in the U.S. Navy Dental Corps.
---
---
---
---