Beijing's military experts are putting a microscope on how the Russian military subdued the Ukrainian 'fortress' of Mariupol
By
Special to Stars and Stripes
July 21, 2022
---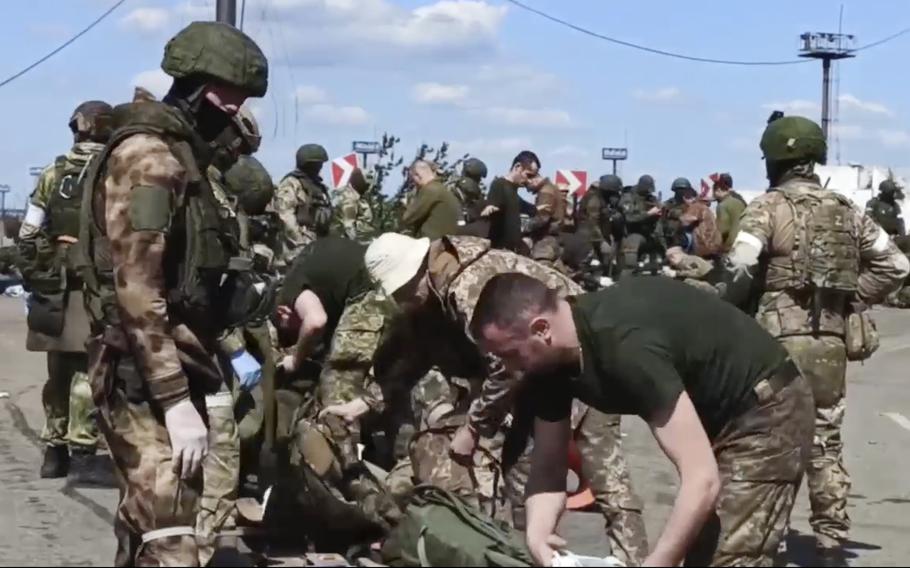 Many American strategists have hypothesized regarding Beijing's likely lessons from Russia's war against Ukraine. All seem to agree that Chinese strategists will be poring over the "lessons learned" from Russia's invasion, possibly with an eye toward a future military campaign against Taiwan. But few have delved into the actual writings of Chinese strategists appraising the Russian military campaign in order to learn what the Middle Kingdom's military thinkers are really saying on this key set of topics.
A recent article breaks new ground on this subject by summarizing a Chinese analysis of Russian urban combat in the siege of Mariupol during the spring of 2022. The detailed article, published in the Chinese defense magazine Ordnance Industry Science and Technology, is one of dozens of analyses that have appeared recently in this and other reputable Chinese defense sources. These Chinese analyses touch every aspect of the present war in Ukraine, but the conclusions on urban warfare could be particularly important.
Taiwan is a highly urbanized environment with three cities over 1 million and a higher population density than Japan or even South Korea. No wonder Beijing strategists have been prioritizing the study of urban warfare tactics for some time. Seizing cities is considered one of the most challenging aspects of land warfare, and Russian retreats from Ukraine's giant cities of Kyiv and also Kharkiv might reinforce that conclusion.
However, this Chinese analysis runs counter to conventional thinking among Western military specialists in concluding that Russia's tactics in the conquest of Mariupol are worth not only careful study, but also emulation. The article starts out by declaring that the Mariupol campaign "has enormous value for research on urban combat in the new century."
The assessment suggests that the Ukrainian forces assembled within the city amounted to roughly 15,000 soldiers and Kyiv decided early on to "turn the city into a fortress." Not only did these defenders include the famous Azov Brigade, but the analysis notes that several additional units defended Mariupol as well, including a well-equipped Marine brigade. In addition to substantial armor, that unit is said to have possessed intelligence, air defense, anti-tank, repair, engineering, electronic, artillery, communications and medical detachments. Thus, according to the Chinese analysis, the defenders "possessed a large quantity of ammunition and supplies" at the outset of the war. The point is emphasized that a large quantity of land mines were laid, slowing the Russian attack. It is also underlined that the defenders were equipped with "thousands of anti-tank and man-portable air defense missiles supplied by NATO."
The Chinese analysis admits that the initial Russian attack on the city was far too small and "came to naught." In particular, it was said to lack "meticulous preparation" and tried to avoid major damage to the city. The Russian high command was insufficiently attentive to improved Ukrainian fighting spirit and training after years of NATO assistance, according to the Chinese assessment. However, in the second stage of the fight, it is explained that the Russians brought in genuinely heavy firepower. For example, the deployment of the 240 mm self-propelled heavy mortars is duly noted. The increased use of Russian airpower is also said to have resulted in "psychological pressure" on the defenders, causing some to surrender.
The Chinese analysis states that a Russian tactic learned from the experiences in Chechnya and Syria concerned the crucial role of efficient command linkages that span fire support, intelligence and special operations. Another element in Russia's success, according to the Chinese account, concerned the safety and security of the logistics and supply nodes. It is noted that the Russian Army prioritized this aspect and that, "during the whole [Mariupol] campaign, the rear area support was basically not attacked."
Above all, this Chinese analysis underlines four Russian tactics that are said to merit further Chinese study and emulation. First, there is the tactic of "surrounding on three sides and leaving one." This seems to be a method for pushing the adversary into smaller, disadvantageous areas. A second is no stranger to Chinese strategic thinking and amounts to "luring the enemy in deep" or alternatively inviting the adversary to counter-attack, and taking advantage of the enemy's desire to take the offensive. A third lesson reported in this article is the imperative to control the "high points" – namely to seize the highest buildings for observation, command, and also operating light weapons and drones.
Somewhat surprisingly, the Chinese analysis states emphatically that "[t]anks form the core element," which may run contrary to substantial analysis in the West that is evaluating whether tanks might be obsolete. Indeed, the enduring relevance of armor is a major theme of the Chinese analysis. This Chinese analysis concludes that tanks are "mobile fortresses" that render crucial support for advancing infantry. The claim here, right or wrong, is that the Mariupol battle shows that when armor and infantry are coordinated properly that anti-tank weapons can be effectively neutralized, so their firing opportunities are few.
Unquestionably, Chinese assessments could be influenced by pro-Russian bias. On the other hand, they may also benefit from an in-depth acquaintance with detailed Russian battlefield reports. This article suggests that Chinese analysts are working hard to study the lessons of Russia's invasion of Ukraine. They are preparing, moreover, for the prominent role of urban warfare in any future campaign to conquer Taiwan. 
Among other lessons learned from this article, one may expect that if such a campaign comes to pass, that it will involve a devastating use of firepower, including against Taiwan's cities, as well as close coordination between armor and infantry as well. A broader takeaway for U.S. policymakers could be that Javelins might not quite form the "magic bullet" that many evidently hope for Taiwan's future.
Lyle Goldstein is the director of Asia engagement at Defense Priorities and a visiting professor at the Watson Institute of Brown University.
---
---
---
---