Florida saved my veteran-owned business. Will California do the same?
By
Steve Rutherford, Andre Bannister, Michele Bannister and Peter Cardenas
Special to Stars and Stripes
July 18, 2022
---
As veterans, we're proud to have served our country overseas, and know firsthand the desire Americans have to protect their homes. That's why, after returning home, we entered the solar industry to give Americans the choice of creating their own domestic power supply and wean off finite fossil fuels. It is the only way we can become truly energy independent. Together, we've helped thousands of people take control of their own electricity by putting solar panels on their rooftops. This mission is more important now as Russia's invasion of Ukraine powerfully underscores the need to create resilient, reliable domestic energy resources as Americans face rising energy and food prices. 
In Florida, five months ago, I, Steve, stood to lose my entire business when an anti-solar bill, HB741, started sprinting through the Florida Legislature. It felt like my small business in Tampa was no match for Florida Power & Light, the utility behind this legislation that threatened taxes on solar homeowners. The bill would have killed the jobs of my 40 employees, many of whom are disabled veterans, like me. Thankfully, Gov. Ron DeSantis vetoed this legislation, citing the impact high inflation and energy costs are having on Floridians.  
In California, we, Andre and Michele Bannister and Peter Cardenas of Cervus Solar and Construction, are concerned that our company will be sacrificed in a similar fight. Utilities have backed an anti-solar proposal from the Public Utilities Commission that will allow industry-killing solar taxes if successful. Utilities are pushing for an average $60 a month fixed fee on new rooftop solar customers and want to reduce the solar credit by 75%. People should be properly compensated for the energy they give back — not see their earnings slashed to almost nothing. Gov. Gavin Newsom appointed these commissioners; he is responsible for the consequences of any decision they make. In this case, those consequences are chaos and uncertainty for a thriving market and punishment for those who take control over their own power resources.
For us service members, it's even more personal. The solar industry employs 20,000 veterans nationwide. That's about 9% of the solar workforce, substantially higher than the 6% of veterans employed economy-wide. Those serving often come home struggling to find jobs in the civilian world that empower us to use the skills we acquired in the military to thrive. The solar industry allows us that opportunity. In fact, the solar industry partnered with the Department of Energy to create programs to help veterans like us find jobs that pay well and use our technical and engineering skills. 
Not only does rooftop solar utilize our military skills, but it gives veterans the freedom to create jobs, and a work environment that melds perfectly with the unique needs of our workforce.
For example, I, Steve, am a disabled veteran, and have unique needs that a lot of our country's workforce does not accommodate; only 19% of disabled people are employed in the country, according to the Bureau of Labor Statistics. But my company, Tampa Bay Solar, is proactively welcoming and accommodating of disabled employees, a luxury that's commonplace throughout the solar industry.
We, Andre and Michele Bannister and Peter Cardenas, are also disabled veterans. We co-founded Cervus Solar & Construction in 2019 with a mission to both employ veterans in Southern California and help people take control of their own electricity. We have experienced a lot of pushback with our mission due the current political climate. But we believe solar, and renewable energy at large, are emerging sectors, and we can all benefit from the expertise of like-minded, hardworking veterans in the field and behind the desk.
Utilities in two of our country's biggest and sunniest states are working hard to block our path to energy independence. We urge Newsom to stop utilities from killing rooftop solar in California. These same companies have caused wildfires, gone bankrupt, and struggled to keep people's lights on year after year. It's critical that Newsom takes a page out of DeSantis' playbook to protect our industry, jobs and consumers who face skyrocketing energy rates.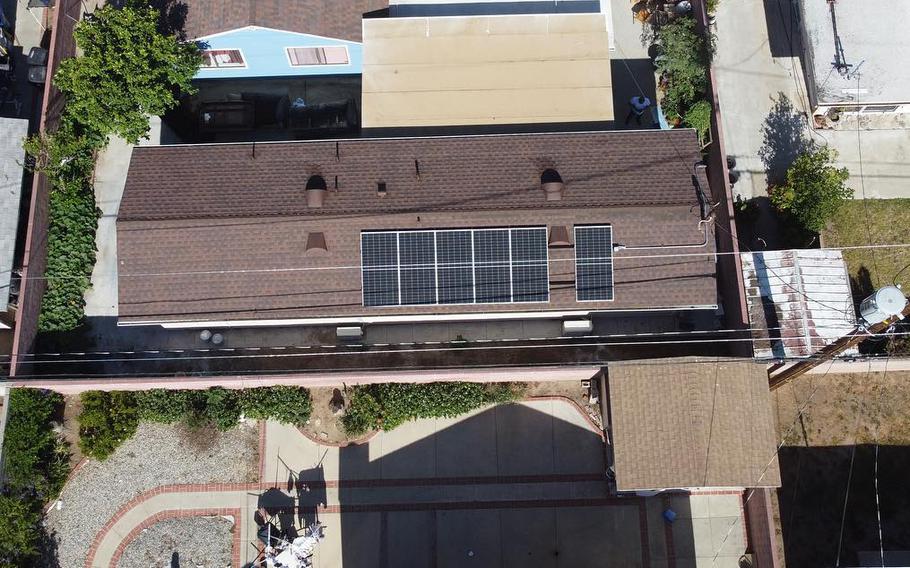 ---
---
---
---