Putin's appetite is bigger than just Ukraine: How to stop a territorial predator
By
Special to Stars and Stripes
June 15, 2022
---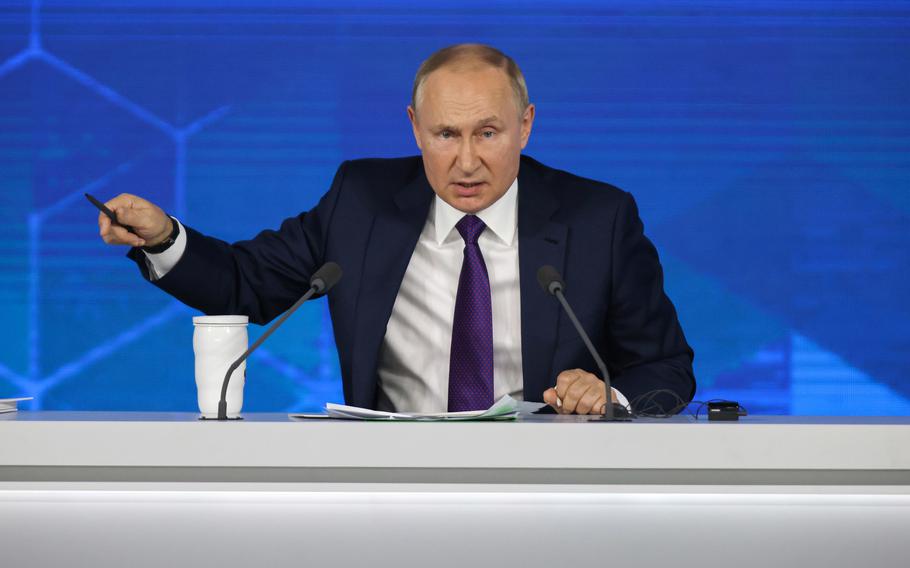 While the world's attention is rightfully focused on defending Ukraine from Russian President Vladimir Putin's aggression, a host of lesser known territories risk falling prey to Russian land grabs. Georgia's provinces of South Ossetia and Abkhazia, Moldova's breakaway republic of Transnistria and Armenia are ripe for the Kremlin's picking.
After its failure to take Kyiv and Kharkiv and the loss of an estimated one-third of its ground combat force, it's clear the Kremlin faces a lengthy and bitter conflict. In just three months, Russia has lost more soldiers in Ukraine than those lost during the Soviet Union's 10-year war in Afghanistan.
Ordinary Russians will be hard pressed to accept this staggering bloodshed while enduring an economic downturn ushered in by unprecedented sanctions. Despite his iron grip on domestic politics and the press, Putin faces internal pressures to demonstrate success to his people — even if it's elsewhere.
Russia's plan to deliver results is coalescing. It is based on a well-worn precedent: using ostensibly democratic, but in practice rigged, referendums to rubber-stamp the annexation of territories into Russia. Crimea was annexed in 2014, and soon after "voted" to join Russia. This is the Kremlin's model.
Russia is playing the same game in other parts of its "near abroad." Russian troops occupied Georgia's provinces of South Ossetia and Abkhazia in 2008. In July, South Ossetia's newly elected "president" pledged to hold a referendum on becoming part of Russia. Abkhazia won't be far behind. Moscow's military command has also spoken of taking Transnistria — a Russian-speaking breakaway region of Moldova since 1992, just east of Ukraine's Odesa.
Similarly, Moscow intends to annex the pro-Russian separatist territories of Donetsk and Luhansk in eastern Ukraine through a rigged referendum. Russian lawmakers have confirmed regions of occupied southern Ukraine will also vote "logically … more or less simultaneously."
Putin's problem is that these bite-sized annexations may not be enough. Most have been de facto parts of Russia for years. In the wake of the Ukrainian calamity, more substantial "victories" will be required to sate plotting generals and a restless population. Sights will likely be set on those nations still in Russia's orbit: members of the Russian-led Collective Security Treaty Organization (CSTO) or its European Union copycat the Eurasian Economic Union (EAEU). Economically and militarily dependent on Russia, they should present little resistance.
Putin already has Belarus under effective Russian control. President Alexander Lukashenko even allowed it to be the launchpad for Russia's invasion of northern Ukraine.
In contrast, Kazakhstan looks defiant. Putin saved the leadership in January when he dispatched troops to quell a violent uprising. But the favour wasn't reciprocated. Kazakhstan refused to back Putin's invasion of Ukraine or to assist the Russians with troops, citing respect for territorial integrity. More recently, Kazakhstan signalled opposition to Moscow by halting exports of enriched iron ore that feed Russia's most important steelworks. There were even rumors of the nation quitting the EAEU.
Armenia is somewhere in between. However, the situation is deeply precarious. It is perhaps the most dependent of all EAEU states, and even more militarily reliant on Russia in the wake of a conflict with neighboring Azerbaijan in 2020. Moscow guards a cease-fire it brokered, preventing more Armenian losses. Yet the prime minister is pursuing a peace settlement that would involve Armenia recognizing its neighbor's territorial integrity, having occupied a near fifth of it since the 1990s, the root cause for the recent conflict.
That would challenge Russian influence. It would remove the need for Moscow's defensive net. It would also open regional borders that its neighbors had closed in response to the occupation of Azerbaijan, thus ending Armenia's isolation and reliance on Moscow.
The pushback has been swift. Fronted as an anti-peace movement, a slow motion Russian-backed coup is underway and growing more violent. The opposition leader spearheading efforts has made clear he would take the country into a Moscow-led union state. Installing such a puppet would lead to effective Russian annexation.
The only way for Putin to declare victory to the Russian people when his war in Ukraine has stalled is to clean up unfinished business in the region, resolving "frozen conflicts" through annexation by various mechanisms and to deliver on his promise to make Russia great again. The West must be prepared for Russian hybrid expansionism to spread outside the Ukrainian theater. And it must spare no effort or expense stopping Putin in his tracks — whether that be funding civil society groups opposed to Russian takeover, providing cyber heft to counter Moscow disinformation campaigns in its target expansions, or supplying aid if the Kremlin turns the economic screws to destabilize dependent nations' domestic politics.
Others in the region have escaped Russia's orbit, but only with help. In the years after the fall of the USSR, the United Kingdom supported Azerbaijan and Georgia to free themselves from economic dependence on Moscow. As a result, neither are part of the CSTO or EAEU. Economic sovereignty brings with it the freedom to make political choices.
Now, those still stuck under Russia are showing a resistance that has surprised many. As the Kazakh deputy foreign minister remarked, "If there is a new Iron Curtain, we do not want to be behind it." Many former Soviet states have little sympathy for Putin's nationalist agenda and they fear Russian aggression. They want peace and prosperity. The West needs to help them achieve it.
Adam Ereli is the founder and CEO of IberoAmerican Consultants. He previously served as State Department spokesman for U.S. Secretaries of State Colin Powell and Condoleezza Rice.
---
---
---
---