A Ukraine and national security playbook for the Biden administration
By
Special to Stars and Stripes
June 6, 2022
---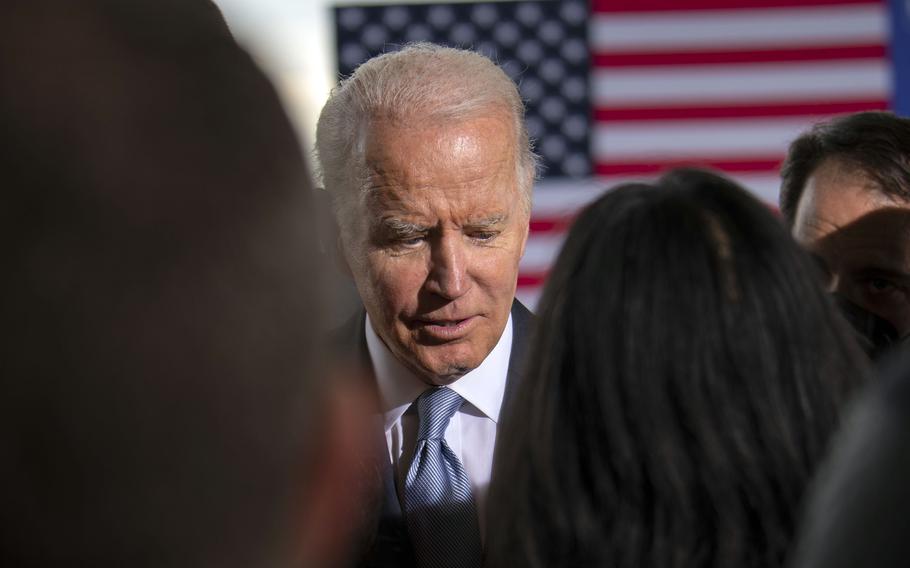 Since Russia's invasion of Ukraine on Feb. 24, the Biden administration has received high marks from the foreign policy establishment and across the political spectrum. President Joe Biden's decisions to provide key lethal and financial aid have given Ukrainians the tools they needed to wildly exceed expectations on the battlefield.
The challenge for the Biden administration will be to sustain this level of success as the war shifts to a new phase of protracted conflict. As the war drags on, the American people are naturally turning their attention to issues closer to home, such as the economy, inflation and gas prices.
It is vital that the United States has a good playbook for the next phase of the war. The world is watching to see if wars of aggression and annexation are worth the cost, and if the United States and our allies are willing to remain committed. As China and Taiwan look on, the stakes could not be higher.
Keep aid to Ukraine flowing
Since Russia's annexation of Crimea, the United States has already spent over $6.4 billion on security assistance to Ukraine. It is due in large part to this investment that Ukraine was able to withstand Russia's initial onslaught, hold nearly every major city, sink Russia's flagship in the Black Sea, and reach this next phase of the war with their country still intact. Currently, Congress is working to secure an eye-popping $40 billion in additional funding for weapons, financial support and humanitarian aid for Ukraine. This funding is critical: It demonstrates to Russia and the international community the U.S. resolve to prevent Russia from winning, it strengthens the resolve and capacity for the Ukrainians to fight and shows U.S. leadership to the coalition of countries supporting Ukraine.
The government cannot count on this level of support for the war effort forever. The Biden administration needs to constantly make the case for what we are achieving with this investment and how it serves the interests of the American people. As Americans see us spending billions overseas while paying well over $4 per gallon for gas, we need to know that we have goals and a strategy to make the spending worthwhile.
Produce as much American energy as possible
One of the most immediate and visible impacts of the war was a sharp spike in energy prices. This was not surprising since Russia is an enormous producer and supplier of oil and natural gas. That said, asking Americans to pay more at the pump has a political cost for both U.S. foreign policy and in the voting booth. To counter that, the Biden administration should have a near-term "all of the above" energy policy to bring down prices, rather than simply touting an electrification strategy. While electrification is beneficial in meeting climate goals and energy independence in the future, we need to focus on energy policy that will lower gas and global energy costs right now.
Biden campaigned on a strong green energy and climate change platform, and success in this area will strengthen our security interests and help diminish the power of energy-exporting states like Russia. But now the goal needs to be to provide as much energy as possible to ease the burden on global oil prices and at the gas pump. Biden has taken some key steps to deal with gas prices. He has tapped the Strategic Oil Reserve and implemented a "use it or lose it" policy for drilling permits on public lands.
Blaming high prices on Russian President Vladimir Putin may seem like a politically savvy move, but it is counterproductive. Tying high prices to the war will do more to undermine support for the war effort than it will serve as protection at the ballot box. There is no short-term substitute for doing everything possible to bring down gas prices and produce more energy.
Invest in technology to keep America strong
Russia's annexation of Crimea and success taking territory using "little green men" backed by Russian technology served as a wake-up call to the United States. Russia applied cyberattacks, unmanned aerial vehicles, and precision weapons to devastating effect. Since learning those lessons in 2014, the U.S. and Ukraine were better prepared. Disruption from cyberattacks has been limited and Ukraine has been able to prevent Russia from achieving air dominance, utilize real-time intelligence to attack Russian supply lines and command centers, and conduct highly effective drone warfare campaigns.
The dramatic change in fortunes for Ukrainian forces clearly demonstrates the importance of having the best technology available on the modern battlefield. To maintain our superior technology in the long term, the United States needs to make critical investments now to make sure that the vibrant U.S. tech sector contributes to U.S. military strength and our ability to deter and defeat our adversaries.
Congress must pass the bipartisan COMPETES Act and reauthorize the Small Business Innovation Research (SBIR) program. Doing so will strengthen the U.S. economy and help the government make the technology investments to maintain a technological advantage over potential rivals like China. U.S. investment in technology helped the United States win the Cold War and helped to generate the technology sector that shapes our lives and economic fortunes. Ukraine should demonstrate how critical these investments remain today.
David Vorland is the executive director of The Alliance for Commercial Technology in Government, a trade association of technology startups based in Washington, D.C. He was an Obama administration appointee at the Department of Defense from 2009 to 2017.
---
---
---
---