The military caregiver: An underrecognized hero
By
Special to Stars and Stripes
May 26, 2022
---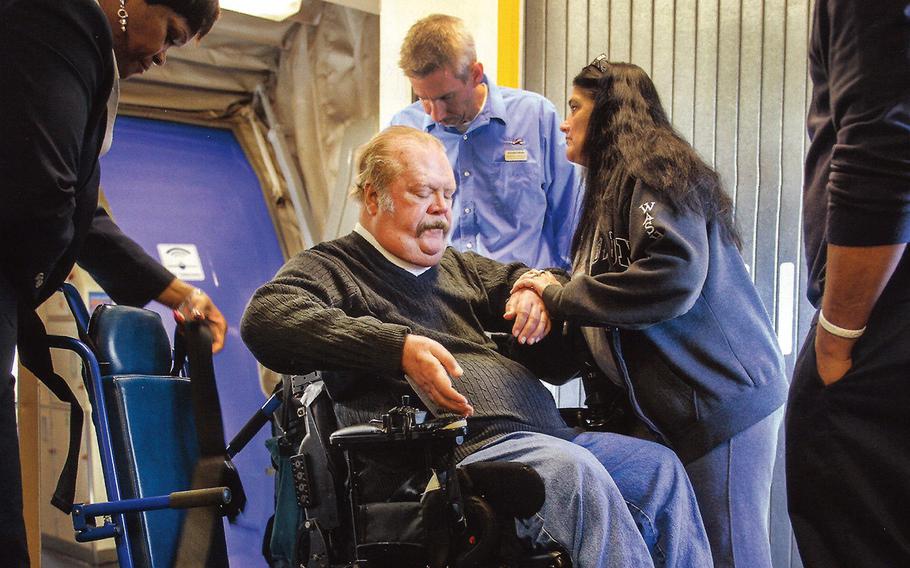 "I believe that every step Anson has taken was because Minie (his wife) was there to encourage and love him. Without a Fisher House, that never would have happened. I really don't know where Anson would be today, quite frankly, if Minie had not been staying right across the street." -- Christian Curry, brother of Anson Curry, who was severely wounded in Afghanistan
Today, more than 1 in 5 Americans, approximately 53 million adults, are caregivers who support an adult or child with short- or long-term limitations due to illness, injury or disability. Within our nation's military community alone, there are 5.5 million caregivers who do just this for our service members and veterans.
We often forget just how many of our injured, ill or disabled service members, or aging veterans, rely on informal caregivers for their day-to-day care. For many, the wounds of service aren't just from the battlefield, but can stem from years of intense physical activity, or training and preparation accidents. And for some, the wounds are invisible, but just as painful as visible ones.
The distinct challenges of recovery not only impact the lives of our service members, but also the loved ones who stand beside them in a caregiver role -- doing work behind the scenes that may sometimes go unnoticed, but that makes an enormous impact. In fact, these all-too-often-overlooked individuals save the United States millions of dollars each year in health care costs and allow millions of veterans to recover at home rather than in institutions.
I like to think of the spouses, parents and children who make up this incredibly patriotic community like another branch of our armed forces, because they lovingly provide the support our service members and veterans need to continue to fight for our freedoms. Yet, many military caregivers carry a deeply heavy burden -- often juggling other jobs and the care of other family members. In fact, it has been estimated that 44% of caregivers in military families are caring for more than one care recipient at the same time, often kids, and a parent or grandparent.
The truth is our military community bears a burden that the average American has no concept of. At Fisher House Foundation, we've seen firsthand that a family's love can be the best medicine, and we are proud to serve as a respite and a resource for the families, friends and loved ones who stand beside our nation's heroes while they receive treatment at a Department of Veterans Affairs medical hospital or military installation. Yet, at a time when almost 50% of military caregivers don't know about caregiver resources in their local community or how to access respite care, we know there's more work to do to support these unsung heroes.
This Month of the Military Caregiver, we cannot allow their support to go unnoticed or unrecognized. For us, we will continue to build Fisher Houses near VA hospitals and military bases where there is a need, expanding programs that provide college aid to military children, and making it easier for caregivers to travel to the bedside of a loved one while they're sick or injured. We know that we owe a debt that can never be fully repaid, but by coming together to offer resources for military caregivers, championing legislation that promotes support for military families, and even simply taking a moment to say, "We see you, and we thank you," we can take steps to ensure military families receive the recognition and support that is so very needed and deserved.
If you are currently caring for a service member or veteran, we applaud you for your dedication to our country and thank you for your sacrifices.
For more information and support, call the VA Caregiver Support Line at 1-855-260-3274.
Ken Fisher is chairman and CEO of Fisher House Foundation.
---
---
---
---