Continuing my fallen brother's legacy by serving Ukrainian refugees: This Memorial Day, I challenge you to consider actions over words to honor the fallen
By
Special to Stars and Stripes
May 26, 2022
---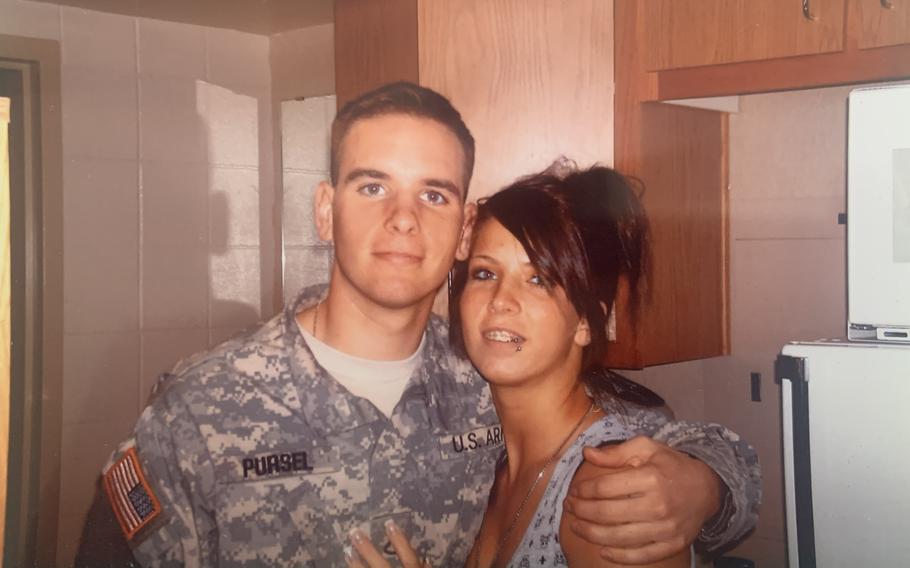 Earlier this May, I was volunteering at a center for displaced Ukrainian refugees in Poland, 4,000 miles and a world away from my home, when I saw something that reminded me of my brother. Sitting on top of the yet-to-be distributed toys for Ukrainian kids was a Teenage Mutant Ninja Turtle toy — Michelangelo, my brother's favorite turtle and prized childhood possession. My heart skipped a beat, and, in an instant, he was with me again.
You see, 15 years ago from that day, my brother, Army Cpl. Michael Pursel, was killed in action. For me, this was a sign — something that my brother loved so much as a child was now helping a survivor and child in need.
As kids, my brother and I were taught the importance of service when we watched our father put on his Army uniform with precision and pride. I have a photo of Michael at 3 years old in an Army uniform, toy binoculars in hand. It was no surprise that when he grew up, he joined the Army, this time with a proper uniform.
As an adult, my brother put his beliefs to action. At the height of the war in Iraq, despite being new to the Army, he volunteered to deploy. He said, "I don't have a wife. I don't have children. If my going allows a husband and a father to stay home just a little bit longer, then it is my duty to go." However, at age 19 he was killed when an explosive device detonated near his vehicle.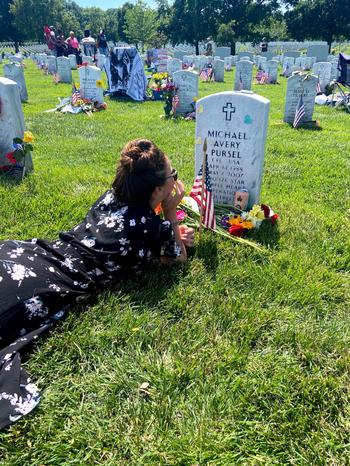 Today my brother's buried in Arlington National Cemetery and today I find myself a world away from him in eastern Europe deployed with the Red Cross. It hasn't been easy to leave my family behind and be so far from their support during the anniversaries of my brother's birthday, his passing and Memorial Day. I've had a wide range of emotions, but honoring Michael by serving others has brought me comfort and I've found fulfillment through my volunteer work with Ukrainian refugees. Being here allows me to honor my brother and continue his legacy, living my own dream through service.
Through my own grief, I've learned that the greatest gift anyone can give is the gift of time. As a volunteer, I assist Ukrainian refugees in a variety of ways, mostly through small tasks such as cleaning and making beds for refugees. As I perform these duties, I watch children play and mothers talk to counselors with tears streaming down their faces. My heart breaks for them and all they have lost and have yet to endure. While cleaning and making beds might not seem monumental, I would argue that through the small tasks, we show our love and dedication to others. This bed may not be their home but it's clean, it's under a safe roof and it was made with love.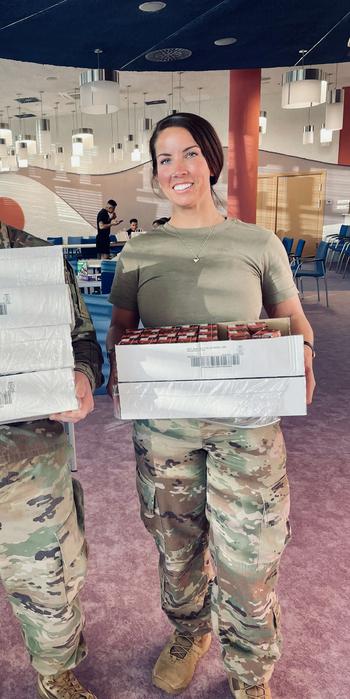 Like many family members of the fallen, I've found that people don't often know what to say to us on Memorial Day. The closest friends or battle buddies often remain tongue-tied. While I know they care, words fail them. To them and to all of you thinking about your own losses on this sacred day, I say, commit to acts of service to honor those who paid the ultimate sacrifice. Whether that be helping Ukrainian refugees or those in need in your community, those acts continue our service members' legacies. For me, although my brother rests in Arlington's Section 60, his spirit is with me now in every bed made and child helped.
In doing acts of service, big or small, we bring attention to the life they lived and keep their legacies alive.
Ashleigh Carlin is a senior regional program specialist for the Red Cross of Eastern New York.
---
---
---
---