An idea whose time has come — America needs a NATO for the Middle East
By
Adam Ereli and David DesRoches
Special to Stars and Stripes
May 26, 2022
---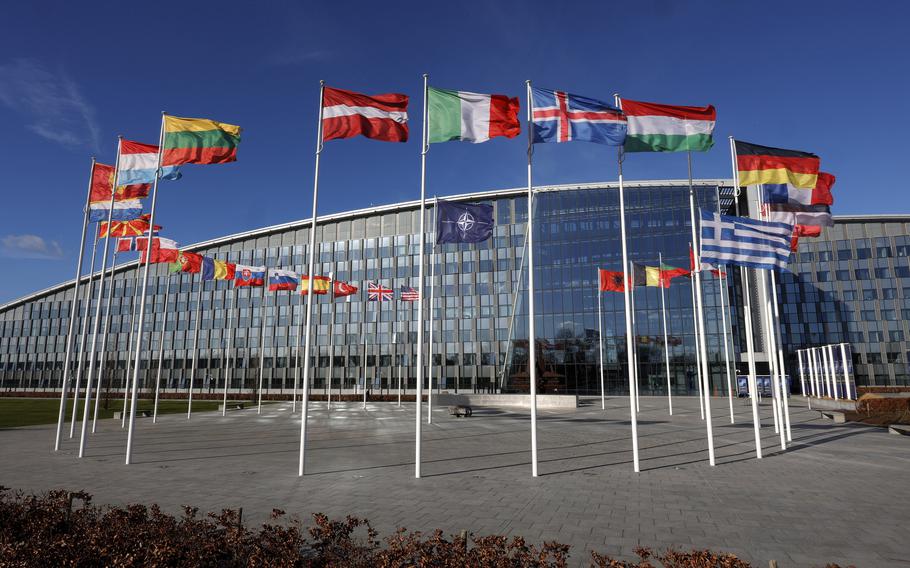 A cascading chain of global developments has given new saliency to the issue of collective security in the Middle East.
Russia's invasion of Ukraine has reawakened concerns about the inviolability of internationally recognized borders and the value of deterrence. Iran's nuclear program and the long-expected conclusion of a new JCPOA have heightened fears of a resurgent and increasingly assertive Islamic Republic. Persistent attacks by the Houthis against critical infrastructure and civilian targets in Saudi Arabia and the United Arab Emirates have exposed alarming vulnerabilities. Israel's hosting of a summit with the foreign ministers of the United Arab Emirates, Bahrain, Morocco, Egypt and the United States demonstrates the Abraham Accords have opened the door to new and potentially game-changing avenues of cooperation. 
In light of these developments, key Arab leaders have expressed interest in developing a NATO-like security architecture for the region. This is an idea whose time has come. Skeptics blithely dismiss such a proposal by arguing that the United States neither would nor should enter a treaty obligation that commits us to the defense of Arab states. Their protests miss the point, however. 
We need not replicate Article 5 of the NATO Treaty, which considers an armed attack against one or more members an attack against them all. Responding to the threat posed by the Soviet Union was only one element of the logic behind NATO. The alliance's creation was also part of a broader effort that served three purposes: deterring Soviet expansionism, preventing the revival of nationalist militarism in Europe through a strong North American presence on the continent, and encouraging European political and economic integration.
Each of these objectives applies to today's Middle East. With or without a nuclear deal, Iran will remain a hostile and aggressive regional power as long as it is ruled by a regime that derives its legitimacy from a revolutionary (Islamic) ideology. Despite (or maybe because of) multiple billions of dollars of arms sales to individual Arab states, regional integration of defense systems is woefully lacking. Intra-Gulf Cooperation Council trade accounts for less than 20% of all nonpetroleum GCC trade. By comparison, intraregional trade accounts for 41% and 57% of all trade within NAFTA and the European Union, respectively. 
America has a Middle East problem. In response to a perceived waning of America's commitment to the region, formerly reliable partners are taking destabilizing steps in the name of protecting themselves. Israel, the UAE, Saudi Arabia and Egypt have rebuffed U.S. entreaties to isolate Russia over its invasion of Ukraine. The UAE rubbed salt in the wound by rolling out the red carpet for Syria's war criminal president, Bashar Assad. Saudi Arabia has again turned to China to help develop a home-grown ballistic missile production capability. Emirati cooperation with China contributed to derailing the $24 billion sale of U.S.-manufactured F-35 aircraft. The UAE, Egypt and Saudi Arabia are working at cross purposes with the United States in Libya and Yemen, where their ill-advised and counter-productive armed interventions have greatly exacerbated the destructive scope of those conflicts.   
A concerted effort by the United States to fashion a viable collective security apparatus for the Middle East that does not entail formal treaty commitments has the potential to reverse these troubling trends in ways that serve our own national interests. Enhancing the capacities of the member states for self-defense and accelerating regional integration would deter aggression and foster closer coordination of defense and foreign policies. A SHAPE (Supreme Headquarters Allied Powers Europe)-like structure for the Middle East would go a long way toward strengthening U.S. ties to the region and countering the growing influence of our adversaries. NATO's Article 3, which focuses on resilience, is one of the alliance's most significant achievements and easily replicable in the Middle Eastern context. 
The United States has long sought to develop an integrated air defense system for the region in concert with our Arab partners. Until now, they have resisted such a system both because they preferred to pursue their defense relationships at the bilateral level and because they feared such cooperation would entail limits on their national sovereignty. Recent events, as epitomized by the Negev Summit, appear to have attenuated those reservations.
Another low-hanging fruit is collective military logistics. The Strait of Hormuz and the Bab al Mandeb are crippling chokepoints that give Iran and its proxies a stranglehold on supply routes to the Gulf. A rail network from Red Sea ports across the Arabian Peninsula to each of the GCC states would have military as well as commercial value.
Absent a serious and substantive recommitment to our security relationships in the Middle East, America's ties to the region will continue to fray in ways that go far beyond the realm of defense. We cannot afford a further deterioration in our relations with Saudi Arabia and the UAE. The NATO experience has taught us that we are stronger together.
The strategic dislocations unleashed by the conflict in Europe should serve as a wake-up call to our nation's leaders and spur them to act with a bolder, more activist vision for the Middle East.
Adam Ereli is a retired career U.S. foreign service officer and the former U.S. ambassador to Bahrain. David DesRoches, who served as an Airborne Ranger in the Army Reserve, is a former director for Arabian Peninsula Affairs in the Office of the Secretary of Defense and an associate professor at the National Defense University's Near East South Asia Center for Strategic Studies. His remarks do not reflect the views of any U.S. government body.
---
---
---
---